Shark Week may be over on the Discovery Channel but for the Brazilian aircraft manufacturer, Embraer, a hungry shark is still circling the water in the form of its new E190-E2 jet livery.
Sporting a nose that's realistically (and frighteningly) painted to look like a great white, complete with menacing teeth and a determined set of eyes, Embraer's demonstration jet recently touched down at the company's US headquarters in Fort Lauderdale, Florida to show off exactly why it's being called the E2 Profit Hunter.
We've written about this jet before after it completed its first revenue service for Norway's Widerøe airlines. And indeed, Embraer is rapidly racking up more orders for this newest installment of its commercial jets. (The airframer is also rolling out E195 and E175 E-2s.) But being inside the E190-E2 show jet during a quick one-hour tour allowed an up close and personal chance to check out the different seat pitches, play around with the individual PSUs, assess the quietness of the Pratt and Whitney engines, ogle the avionics and take in some stunning scenery.
For passengers, here are the perks that stand-out:
Light colors: The demonstration jet's seats, walls, and flooring were a blended palette of light grays, dark grays and cream topped with mood-lighting in the ceiling. This lent an airy and modern vibe to the cabin interior, not to mention it just felt roomier and happier.
Power outlets: The power outlets are incredibly easy to spot and plug in, on the back of the armrest in front. (Just a standard outlet here, no USB ports.) The first thing travelers do once they've stored their bags is look for this, so we appreciate that Embraer doesn't make travelers bend over with their phone flashlights to find the outlet.
Different seat pitches: The jet we flew on was a single class plane but with three different pitches, starting at 34" at the front of the plane with a 31" in the middle and moving to 30" at the back of the plane.
Seat layouts will ultimately be configured to the airline's preference but even the smallest seat pitch felt roomy.
Wireless Streaming: Passengers can stream entertainment via Wi-Fi to their personal entertainment devices, or access entertainment over seatback screens if operators choose either of these options.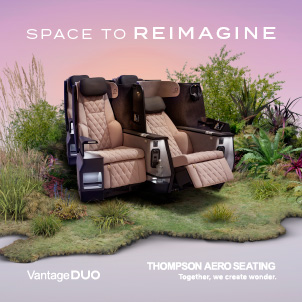 Satellite connectivity will also be offered, with Embraer pointing to a choice of Ka or Ku-band along with real-time TV through IPTV (though RGN has additional questions about development on this front).
Rodrigo Silva e Souza, vice president of marketing for Embraer, stressed that the E-Jets would have the full range of IFE and connectivity options, not only for passengers but also for the inflight teams who have a better connected cabin management system with messaging to the ground crew.
What Embraer was still working on, Silva e Souza explained, was learning the options available in the different regions where Embraer aircraft will fly.
Other design and technology aspects that Embraer is touting (particularly when comparing it to its competitor, the A220) include:
Larger window frames (this makes the windows appear larger, although they aren't)
Integrated overhead bin doors
Touchless kits in the lavatory
5" seat pitch adjustment
Low configuration costs and lead time
Larger avionics displays
Easier pilot training
Option for staggered business class seating with a 54" seat pitch
Better fuel efficiency
Less maintenance (only two hangar visits per year)
Quieter cabins
While the shark livery and the social media hashtags have gotten the E2 Profit Hunter marketing campaign noticed worldwide, Embraer is taking the safety and maturity of its next generation E-Jets quite seriously, having gone so far as to create its own "airline".
Called Pioneer Airlines*, this faux airline has been simulating real-world airline and airport conditions so that Embraer can test, tweak, finesse and accelerate maturity of its aircraft. Silva e Souza noted that the E190-E2 jet has already undergone 600 tests beyond certification requirements. A Profit Hunter and an overachiever as well.
Next up for Embraer? The roll out of its E195-E2 and E175-E2 jets and the continuing development of its new venture with Boeing which is expected to take an 80% stake in Embraer this fall, pending Brazilian government approval.
(*AvGeek history lesson: there was once an airline with this name. It eventually turned into Continental Airlines.)
Related Articles: