Aboard a media flight of Embraer's latest "Profit Hunter" E-Jet E2 during the Farnborough Airshow, senior executives at the airframer were keen to emphasise the importance of inflight connectivity, despite the fact that no system has yet been fully installed on an E2.
For his part, chief executive John Slattery immediately steered the conversation to inflight Internet when RGN asked about what passenger experience requests airline customers were making of Embraer.
"We talk a lot about inflight entertainment, and we try to figure this out," Slattery said. "Airlines are focussed on connectivity, wifi connectivity. That's the key. I travel 350,000 miles a year, and when I'm walking on board an aircraft whether it's a widebody, narrowbody or E-Jet, increasingly I see passengers, whether business or leisure passengers, young or old, they all have their device in their hand. They have their own customised entertainment that's live. Very often they want to plug into something that's being streamed, but that's it."
RGN would question this broad assertion, given the popularity of in-seat IFE on longhaul flights. But Slattery said connectivity is now the draw.
"People won't accept to get into an environment where they don't have connectivity," he added, noting that, "I think in the future they won't pay for it either." That last point will not be universally warmly received by airlines or connectivity providers, of course.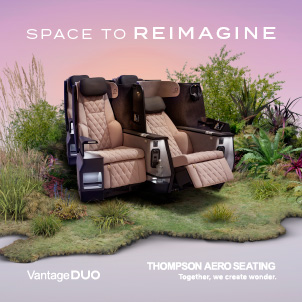 Despite Slattery's enthusiasm, the E2 generation launched without a live connectivity system installed, with launch customer Widerøe presently unconnected to the Panasonic Avionics GCS Ku connectivity system on offer.
Embraer strategy director for commercial aviation Daniel Galhardo Gomes, speaking in a followup interview with RGN, noted that "the Panasonic system is under development. The development is going very well, and we believe it is going to be the very first connectivity supplier we're going to offer for the E2."
"We're in the middle of the process, the qualifying process," Galhardo Gomes said. "After we qualify we need to certify the system, and it's going to take at least one year and a half."
Slight slippage?
After initially suggesting a 2019 availability date during the interview in the air, vice president of marketing Rodrigo Silva e Souza corrected himself in the followup meeting to say "we're talking about 2020," with Galhardo Gomes agreeing. That date would seem to represent a slippage of the programme from Panasonic's update to RGN in April, when a late 2019 date was on the cards.
At that time, a Panasonic spokesperson said both firms are in the process of executing the installation design and certification of the connectivity system which includes Panasonic's new modem and single panel antenna. Moreover, we were told that the cabin furnishings (server, WAPs, modem, etc) were already delivered with the first aircraft, and Wideroe is awaiting the availability of the antenna installation Service Bulletin to complete the system and activate at the end of 2019. Deputy COO and E2 Project Manager for Widerøe Andreas Aks said the plane has been pre-wired for "a Panasonic solution that will be available in a few years", providing speeds of up to 250 Mbps.
When RGN asked at Farnborough whether the connectivity program had thus slipped, Silva e Souza said, "It could be. But we have planned the entire program to have a slow production ramp-up — very smooth. I believe, maybe because of the customers' interest we have today, maybe the date shifted to 2020."
Radome placement
In terms of radomes, meanwhile, the airframer confirmed its plans to be system-agnostic with a single cover atop multiple types of antennas, with Embraer confirming it is still working with Meggitt Polymers & Composites. It's also offering a universal adaptor plate.
RGN asked if connectivity suppliers were receptive to this single radome move. "I haven't heard any complaints, but I deal more with the customer side than the supplier side," said Silva e Souza. Similarly, new Embraer partner Boeing offers a tri-band radome on its aircraft.
"We have already selected a radome location, and we are designing the radome to be a unique radome for both Ka- or Ku-band. The idea is to have one part number that is common to both solutions," Silva e Souza said in reference to the E2.
During a followup discussion, Embraer executives shared blueprint documents with RGN that placed the centre of the Meggitt radome above the eighth window from the rear of all three aircraft, the E195-E2, E190-E2 and E175-E2.
Neither Silva e Souza nor Galhardo Gomes expected any radome certification delays owing to birdstrikes or similar factors.
In terms of connectivity announcements, "we're working on that," CEO John Slattery assured, reiterating a promise made by Embraer back in January. "We'll have some news on that in the near term — the short to near term, and it'll be around a customer in particular. We're advanced. We're very excited about that."
Looking to the future, Silva e Souza said, "We are looking at satellite connectivity: Ka-band, Ku-band, air-to-ground connectivity. As we are starting having more sales campaigns and more customer involvement, I'm sure they'll ask for different types of connectivity, and our plan is actually to have a full range to accommodate all their needs. Nowadays it's impossible to rely on only one solution."
The E2 has presently been ordered by a number of carriers (and lessors) that are not existing Panasonic Avionics GCS customers, but which are from regions where inflight connectivity is either strongly desired or turning into a must-have hygiene issue.
"Any customer that would ask us to develop and deliver an air-to-ground or [satellite] connectivity, we can do it in time for their first delivery," Silva e Souza said, noting that Embraer has multiple customers already looking at connectivity. "We are actually very advanced in negotiations to announce a supplier for connectivity, so it's pretty straight-forward. Air-to-ground should not be a problem as well. So there's no disadvantage at all for that."
The proof, however, will be in the radome-molded inflight connectivity pudding: the fundamental details of the connectivity situation did not seem to be entirely at the immediate fingertips of the airframer's senior management, leaving some uncertainty in the eyes of this RGN journalist as to precisely how much of the leadership radar is focussed on IFC.
Related Articles: