After six years of mulling over connectivity, ultra low-cost carrier Spirit Airlines finally took the plunge this spring when it announced plans to partner with Thales to bring the provider's FlytLIVE solution to its fleet later this year. During the recent APEX TECH conference in Los Angeles, Spirit VP sales & marketing Bobby Schroeter sat down with Runway Girl Network to discuss the deal's proposed pricing structure, staggered roll-out, and the ULCC's great expectations for the service.
"Although it was much more focused during the past couple of years, we've been looking for a partner for six years and really it was about Thales being able to deliver exactly what we wanted," said Schroeter. "Thales is able to provide at-home-like service [from] day one and then they're going to continue focusing on the guest experience and connectivity."
The fact that the SES-17 high throughput satellite is expected to launch in 2021, and support FlytLIVE, made the choice that much easier for Spirit to make, he suggested, adding:
Thales is going to be a great partner for us on the technology side but also in terms of just delivery. One of our requirements for a deal was, first and foremost, that it didn't affect our cost structure, because we're a ULCC and in the end low fares are paramount to what we deliver to our guests, so, we needed to make sure it didn't affect that.

The other was making sure that we had a great guest experience around the connectivity, and so for that, the technology has gotten better and, frankly, the connections and speeds have gotten better as well. We're very aggressive in terms of trying to deliver a consistent product and so we're gonna be rolling this out really quickly starting in November and then by next summer we'll end up fully fleeted.

In terms of price points we'll have two products to start with, one will be web and text and the other will be adding streaming. The web and text will be, on average, $6.50 and then the streaming will be $9.00. Netflix, Amazon Prime, whatever our guests have in terms of an account for streaming, including YouTube, they'll be able to do that. And again, for us, it was all about ensuring that we had a value-based product as well and pricing around that.

We have a guest base that really wants to be connected, they feel the need to be connected and so we wanted to ensure that we could connect as many people as possible with some good value pricing and really increase the take rate.
Another option Spirit hopes to offer passengers over time is the ability to pre-purchase wifi, at a reduced rate, before they fly. "We want to be able to make sure that our guests' experiences are seamless and effective, so, one of the things we want to do is allow people to plan and purchase wifi ahead of time so they don't need to do that while they're on the aircraft," said Schroeter. "We're looking at what our options are on that front and frankly, you should see that early next year in terms of being able to pre-purchase. We're looking at what that means from a pricing perspective, but likely there will be some discounts in terms of booking it ahead of time as well."
Interestingly, another way Spirit hopes to keep prices low for passengers is by initially eschewing wireless IFE options like cached movies, TV shows, and games in favor of a stripped down, Internet-as-IFE approach.
Said Schroeter:
A lot of times, there are more issues, when it comes to inflight entertainment, around screens and movies, so, we're going to start with our inflight entertainment being the connectivity and then people can end up deciding what they want to do on that.

We're gonna look at those opportunities for movies later, but initially it will be purely wifi. We did that because we wanted to start with that and, frankly, it's what we think will have the most demand overall. But we're gonna look at all opportunities to make an even better guest experience when it comes to movies and things like that down the road.
And though Schroeter was tight-lipped about the finer financial points of Spirit's deal with Thales, he was also quick to point out that November's planned launch of FlytLIVE on the carrier's A321s (followed by a staggered roll-out on Spirit's A320s and A319s) was just the tip of the iceberg, partnership-wise, between the two firms.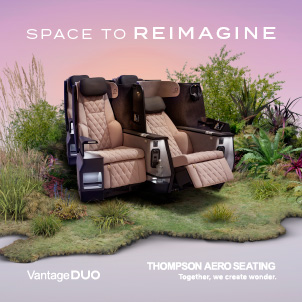 "I can't get into the contractual details, but … we do believe that this is going to be revenue positive for us and we think that there's a lot of opportunity well beyond connectivity," he said.
"I talked about things up there [during my education session at APEX TECH] like being able to do on-demand food and drink ordering and things that don't just increase the overall guest experience, but increases take rate as well. So, people will be able to get what they want when they want it."
His comments about connectivity being a revenue generator are a stark contrast to those made by Air Canada VP, products Andrew Yiu, who recently told RGN: "Connectivity is not something any airline can make money on. So nobody makes money on connectivity. It's an investment. It's an expectation."
Thales confirmed, meanwhile, that FlytLIVE will be retrofitted to Spirit's entire fleet, including new deliveries. "This ensures that all new and existing aircraft share identical installations, creating as much standardization as possible," said a spokesperson. The firm holds the type certificates to accomplish the retrofits. It's not immediately clear if Thales intends to seek linefit offerability with airframers for FlytLIVE.
Related Articles: