Today many operators use VHF and HF ground stations as well as Inmarsat or Iridium satcom, with billions of ACARS messages sent per year. But there seems to be a push in the industry, or at least a perceived push, for the rejection of HF radios, which are notoriously slow. After all, Boeing has a dual-satcom requirement on the 777X, which will benefit Inmarsat SwiftBroadband and Iridium Certus and their hardware partners.
Where does this leave the sole HF data link provider, Rockwell Collins?
Acknowledging that Rockwell Collins is still "watching to understand where the industry is going to go", company VP strategy and business development Joel Otto says, "Our feedback from most of the airlines is that they'll still stay with a single HF."
Part of the reason, he suggests, is HF provides that additional layer of redundancy to operators.
I think that what we see, as we talk to the airlines and other things, is they like the difference in the diversity of the links. Staying with a single HF, and [having] a single satcom or dual satcoms/multiple satcoms for the variety of benefits that satcoms give you.

But, satcoms have some challenges in certain conditions; we all understand that. Again, if you're running a vital operation, you need to get information, you need long-range communications. That diversity is there, and we are the only service provider that, today, does HF data link.
Intriguingly, Rockwell Collins' competitor in the cockpit communications space, SITAONAIR, also believes that HF could provide that final back-up to even multiple satcoms on board, or as SITAONAIR chief technology officer Gregory Ouillon calls it, "the fundamental, the thing that remains forever".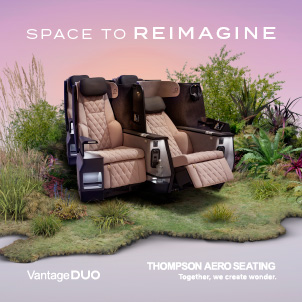 Adds SITAONAIR VP strategy, product portfolio and marketing Dominique El Bez, "For us, at the end of the day, from a cockpit and flight communications standpoint, we are going to see an increasing diversity and associated complexity in terms of communicating with the airline. Because choices will be there, even more than they are today."
Rockwell Collins acquired ARINC at the end of 2013, and this served as the foundation for its Information Management Services business. Even as it continues to embrace HF, the company is presently working to help its civil aviation customers understand how to migrate from traditional links to higher capacity, IP-based links in the cockpit and "still be able to have the kind of performance guarantees that we can give them with a traditional link", explains Otto. "That's still vital operational data," he continues, noting, "Most of the people that are providing the air-to-ground links, the high-capacity links, are already members of our ARINC global network. They use our network for some inter-operation with their customers and things, as well."
To wit, the company supported Hawaiian Airlines' trial of SwiftBroadband-Safety "to help prove that out, and help get the system qualified for use in safety services", notes Otto.
He confirms that Rockwell Collins plans to go down the same sort of trial path in aero with Iridium Certus (Iridum, meanwhile, more broadly continues to see wind in its sails; it is under review to be a Global Maritime Distress and Safety System provider).
Otto acknowledges that there is general agreement in industry that operators will ultimately need broader-band pipes to move more noncritical (but still important) flight deck and health monitoring data than what SwiftBroadband and Certus can support. But for strictly air traffic service, "the SwiftBroadband and Certus services are going to last a long, long time, in terms of the capacity to support air traffic needs, just air traffic", he says.
Rockwell Collins is an integrator and service provider for Inmarsat Global Xpress Ka-band service in the cabin. Does it believe any of the cabin connectivity providers have muddied the waters in terms of messaging around the type of data that should be routed over Ka- and Ku-band links? Not necessarily. He points again to the "value of diversity", noting, for instance, that there are many ways to tell where an aircraft is, including over cabin connectivity pipes.
"It's that blending of things, that we think is actually a better solution for the marketplace in some of the things that we can do. We have a MultiLink service that we offer to our customers, to help them comply with the ICAO mandate as well." That MultiLink service can include a GX data feed. It also includes HF.
UTC's acquisition of Rockwell Collins is expected to close in the third quarter. The merger is highly complementary, and quite specifically from an Information Management Services perspective, "there's really nothing that UTC does that's like what we do", notes Otto.
Related Articles: