SAS recently held a highly successful media test flight of Viasat Ka satellite-based inflight connectivity, and is rolling out the broadband Internet service for passengers across its short- and medium-haul fleet.
This debut comes at a time when Carlsbad, California-based Viasat is fighting the launch of another connectivity service in Europe – the Inmarsat- and Deutsche Telekom-led European Aviation Network (EAN), a hybrid air-to-ground/S-band satellite service which boasts British Airways as a customer.
The competition for European airline connectivity business is nothing short of fierce. Viasat general manager and VP commercial mobility Don Buchman reiterates Viasat's position that the spectrum awarded to the EAN is being applied contrary to the original terms of the award.
"The EAN dispute is really over global licensing," says Buchman. "The spectrum that was allocated [was] to be a primarily satellite-based system. The license holder has applied for a license that is really in violation of the [application] for which they were awarded the spectrum. Most of the spectrum is used in a structural component and the satellite piece is covering less than one percent, which is in contrast to what the granted license was. We just feel that for fair competition you need to enforce the license how it was granted, or re-compete the license."
Buchman says the dispute is not a matter of stifling competition for inflight wifi. "We still believe in our business model, but we have to be sure that everyone who enters the market enters on a level playing field and is allocated the spectrum in an appropriate way."
When asked by RGN if Viasat has direct interest in using the spectrum, Buchman replies:
If it was available, we might have bid for it. But when it was bid, it was a satellite-only solution, so we didn't have much use for it. If it was bid the way it was, you may have had more competition. It's more about fair competition. Even if Viasat wasn't going to participate in it, the market should have participated in it. It is a dangerous precedent to acquire spectrum under one set of rules and then deploy under a different set of rules – as we are all buying spectrum and using spectrum.
But despite Viasat's continued objections – and Eutelsat's own efforts to stop the EAN – a major EAN partner, Lufthansa Systems, believes the network can't be stopped. Jan-Peter Gaense serves as head of passenger experience, products & solutions at Lufthansa Systems, a partner to EAN stakeholders. He tells RGN that while Viasat may still be bullish about stopping the EAN, "I think the ship has sailed."
I also spoke to two of our friends at Inmarsat about it and to other colleagues in the industry and I think it is going to happen. There is not too much blocking it. Not a lot blocking it anymore. I don't think Viasat can stop it.
Deutche Telekom expects service to launch on British Airways by this summer. "That's what I am hearing, July-ish. First aircraft to fly on it," says Gaense.
"And Viasat has enough problems on its own right now I guess," Gaense continues in reference to Eutelsat's decision not to invest in ViaSat-3 over Europe and the Middle East.
Lest there be any doubt, Gaense adds, "I can't wait for the EAN to go live. I think it is going to be a game changer in the European and aviation market. I am really looking forward to seeing it also on carriers close to us."
Those who attended the SAS media flight to test the Viasat service (operating over the KA-SAT Eutelsat/Viasat joint venture satellite), including your author, were wowed at the service, as it showed itself capable of providing an at-home experience in the sky.
For travelers in the US, who may have become accustomed to the availability of high-speed Internet on certain domestic flights including on Viasat customer JetBlue, this may all seem ho-hum. But, in Europe, the SAS launch heralds the dawn of a new age in air travel – one which is fittingly taking off in the Nordics.
Yet Global Eagle's new CEO, Josh Marks, wasn't terribly impressed by the results achieved, saying that, "If you can't make one airplane on an entire satellite hum, you've got problems." He suggests that we ask ourselves – what happens when you scale to 100 aircraft?
Even with high-capacity Ka connectivity in North America – courtesy of Viasat – when you look at really congested areas, with a high concentration of aircraft, "you're dividing finite bandwidth to a lot of users", notes Marks. So Global Eagle's plan in Europe is to overlay capacity, and not rely on a single particular asset, he says.
Global Eagle Ku-band connectivity is offered on much of Norwegian's European fleet, and has been flying for several years. The service receives mixed responses from passengers, though many make allowances given that it's offered for free by the carrier.
Viasat's Buchman describes initial deployment of inflight connectivity in Europe as governed by "a gold rush mentality". He doesn't see other solutions, including Global Eagle Ku, as matching up to Viasat's high-capacity Ka offering.
"Everyone thinks that wifi is the next big thing, but when they showed up with wifi in the marketplace, they had two basic problems. They didn't find there was enough demand for wifi because the price was too expensive. When they did take it, the quality was very poor. Those two basic things weren't meeting the minimum requirements," he says.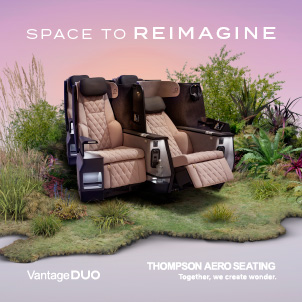 "People told us that inflight wifi is not that popular because only 7% of the people want to use it, but we say, no—100% of the people want to use it," continues Buchman. "What's the first thing people do when they land? They take their phone out to get online. So they want to be online, but they couldn't be because of those two basic problems: quality and cost. We've solved those two problems."
Asked Viasat might be interested in participating in airspace management applications in Europe, Buchman says: "It is an interesting application. We look at everything. We're not believers in just settling. We look at all communications systems. We're a supplier in almost all the satellite constellations – whether it's LEO, GEO or MEO. We have technology – especially in our government side – that is all-terrestrial based.
"So we're a technology provider throughout. We're agnostic. For us, it's a matter of what is the solution with the best economics – the best speed and the best price."
Additional reporting by Mary Kirby
Related Articles: