When Delta Air Lines revealed its newly refurbished Boeing 777 in Atlanta last week, it made a bold statement that comfort is here to stay not just in the carrier's new Delta One Suites, but in all cabins, including economy class.
Up front, Delta has completed the first retrofit of its Crystal Cabin Award-winning Delta One Suites on the 777-200ER. A total 18 777s – the ERs and LRs – will be refurbished.
The new suites, based off of the Thompson Vantage XL seat, were introduced on the airline's new Airbus A350 XWB late last year. But due to the wider fuselage of the 777, the suites are slightly wider than their A350 counterparts.
Each of the staggered suites includes its own sliding door that, when combined with the privacy partition in the middle seat pairs, provides for a very private experience.
Based on feedback from A350 customers, each suite on the 777 now includes two AC and USB power outlets, a step up from one and one, respectively, on the A350.
There are 28 suites in total, down from the 37 herringbone seats which are being replaced. This decreases the overall odds of an upgrade.
This 777 is Delta's second aircraft type with the recently introduced Premium Select cabin – its entrant into the international premium economy ecosystem.
The seats are pitched at about 38 inches in a 2-4-2 configuration, matching most global competition.
American has made a major push to roll out its premium economy product this year, while United has yet to get its installation program started. The Delta 777 does not feature the carrier's extra legroom economy product, Comfort+, at this stage, but is being considered as a future addition, according to the airline.
The biggest surprise on the aircraft is actually down back in the least premium cabin. It has become extremely rare for any airline to keep its economy seats at the factory-original 3-3-3 layout when refurbishing 777s, but Delta bucked a nearly concrete industry norm and did just that.
Air France, KLM, American, United, Cathay Pacific, Qatar, Eva Air and many others have all shifted to the unpleasant but now standard 3-4-3 configuration.
Each seat on the Delta 777 is pitched at 31 to 32 inches and is approximately 18.5 inches wide, more than an inch wider than most 777 seats these days.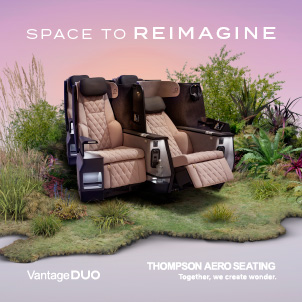 All seats now also include shared AC power outlets, something that has become standard on Delta's domestic fleet but is still not common on Delta's widebodies in economy.
While the factory fresh Airbus A350 features Gogo's 2Ku inflight connectivity system, Delta has not upgraded the 777 from its original, traditional Gogo Ku installation.
Yet this connectivity service has shown itself capable of packing a punch. Its antenna-maker, Astronics, tells RGN that "the performance has been really good and we're really happy with the performance we've got".
The refurbished 777 will enter service in July on the Detroit to Beijing route, with Los Angeles-Sydney beginning in March 2019.
Related Articles: