Four years ago, Runway Girl Network asked – can inflight magazines survive a digital world? At that time, passengers had just been given the green light to use their personal electronic devices gate-to-gate. And airlines were equipping their aircraft with inflight wifi. Would travelers want to flip through the pages of an inflight magazine if they could be head-down in their smart phones instead?
To date, the answer has been largely yes. Inflight magazines have proven to be remarkably resilient for a variety of reasons. They continue to provide a welcome distraction to fearful flyers; serve as an additional form of inflight entertainment; and present an ancillary revenue opportunity for airlines, which receive a slice of print advertising dollars. Plus, the travel content found in today's inflight magazines can be downright engaging.
In an interview with Mr. Magazine, Simon Leslie, the joint CEO and co-founder of inflight magazine publisher Ink, suggests that even in 2018, the firm sees fresh opportunities for growth in the inflight magazine sector. "There are 350 airlines in the world, we do 27 of them, " he said. "We haven't really scratched the surface. Now, we do 27 of the best ones, but there are still plenty more to go for and there are plenty of markets that we don't have a presence in. We are very much mining in those markets, quite aggressively."
Though airlines' own inflight magazines are being digitized, their printed counterparts have generally received a stay of execution for now, and are still widely available in seat pockets on board aircraft. But increasingly, the writing is on the wall for the fate of onboard newspapers.
Explaining why it removed newspapers from its international flights, United Airlines late last year told the Chicago Tribune that, quite simply, people's reading habits have changed and most of its customers "are already connected when they're traveling and are consuming news on mobile devices", particularly now that most United flights have inflight connectivity. The carrier noted that its printed Hemispheres inflight magazine would remain in seat pockets.
Now United's partner in the Star Alliance, Air Canada, confirms it is eyeing an end date for the distribution of newspapers, with company VP, products Andrew Yiu telling Runway Girl Network that the carrier boards a lot of newspapers "but is getting a lot of wastage because customers have already read it when they wake up" or accessed news via their smart phone or tablet. Even in the lounges, people are using their devices and "getting away from doing physical newspapers". He believes the carrier will be able to remove paper newspapers from aircraft before the end of 2019.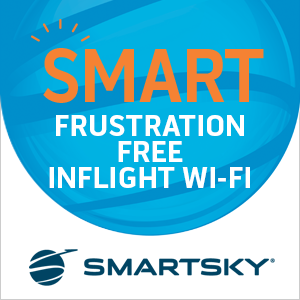 Air Canada is already getting the proverbial ball rolling on its broader printed paper reduction scheme. It recently forged a relationship with Vancouver-headquartered digital newspaper distributor PressReader, which has partnerships in place with several thousand global publications in 60 different languages. Business class passengers can connect to the wireless Internet in the carrier's lounges, download the PressReader app, and have "the entire suite" of PressReader's titles available to them, says Air Canada airport product design manager Andrew MacFarlane.
Some passengers have already noticed the new benefit, with a FlyerTalk thread highlighting Air Canada's commitment to provide "thousands of publications at your fingertips" via the PressReader app in its lounges. "Enjoy a publication in the lounge or save your favorites to read offline during your flight. We hope you enjoy your content the greener way," reads Air Canada's messaging.
The topic of removing newspapers from lounges "generates a fair amount of discussions because there are still obviously the customers who like their physical paper", admits Air Canada's MacFarlane. "There is something to be said about having a physical newspaper in your hand. But then there is also the other train of thought, which is well, digital is fine, it's the more environmentally friendly so it's finding that fine balance between the two."
Air Canada is not alone in seeking to boost its sustainability credentials in this fashion; many carriers are now offering access to e-libraries, whether through PressReader, Munich-based e-paper specialist Media Carrier, whose solution does not require an app; or other third parties. KLM explains why it made the digital leap for economy class passengers here:
The traditional approach to serving up printed media – offering newspapers at the gate, magazines and newspapers in the lounge and a small collection of publications on board for premium cabins – doesn't cut it anymore, in PressReader's view. "Not only does it not serve the needs of today's news-hungry connected consumers, it's adding unnecessary fuel costs with every flight," says the Canadian firm in a white paper on the topic.
But for Air Canada to go fully digital on board, says MacFarlane, it "has to really be a seamless solution that's integrated into the IFE platform. So, we're not going to do something that's going to reduce the customer experience. So, for us to actually take that step, to eliminate newspapers on the aircraft, we really need to have a solution that works that's viable from a wifi and IFE perspective." The carrier has "started thinking about what that could look like".
Bringing digital daily publications to Air Canada's IFE is by no means an impossible task. Indeed, PressReader has worked with Global Eagle (formerly DTI Solutions in Canada) on such integrated solutions, including for Dubai-based flydubai. But Air Canada'a Yiu is also concerned about the user experience, and incessant tapping of fingers on seatback screens. "It's intriguing [but] we're not quite there with seatback. Because we find it's still very difficult for people to read a publication on the seatback," he says.
Having fitted Boeing 777s with Gogo 2Ku satellite connectivity, Air Canada expects to equip the rest of its longhaul fleet with this broadband service at a fairly fast clip after the busy summer travel season. Its narrowbodies and large regional jets carry Gogo's air-to-ground connectivity service. So it's entirely possible that onboard wifi will be deemed a preferred delivery mechanism.
Air Canada's enRoute inflight magazine, published by Spafax, is a popular travel title that can be found in the seat pockets of Air Canada aircraft, in its Maple Leaf lounges and in select Star Alliance lounges around the world. It is also distributed at upscale outlets across Canada, and is available online. Whether this venerable printed magazine will ultimately stay on board as Air Canada removes newspapers, remains to be seen. But, more broadly, e-paper solutions could very well prove to be the gateway drug for carriers that no longer want to accept the paper weight penalty on board.
Related Articles: