When Airbus, Delta, OneWeb, Airtel and Sprint launched the Seamless Air Alliance at the Mobile World Congress in Barcelona, the combination of an airframer, an airline, a future LEO satellite operator, India's largest mobile network and the USA's fourth largest wireless telco certainly made a variety of industries look up and take notice.
But details were scant, with the alliance making lots of fairly heady promises, like "empowering member mobile operators" to "continuously provide their customers – via satellite technology – with the same high speed, low latency connectivity from ground, to air and back again," which felt more than a little pie in the sky to some observers of the inflight connectivity industry.
The alliance appeared to move from pie in the sky to offering free pie for all when the press release promised that the group "will also significantly reduce costs for everyone involved while creating a smooth, positive user experience".
After the announcement dropped, Runway Girl Network spoke at length with Airbus' vice president for digital transformation programmes Matt Evans and Eric Peyrucain from the airframer's digital transformation office to try to nail down some of the more nebulous aspects of the alliance. Then, in advance of and during the Aircraft Interiors Expo in Hamburg, RGN also asked key stakeholders in the inflight connectivity ecosystem to weigh in with their thoughts.
Airbus' Evans and Peyrucain characterized the alliance as a sort of next-gen IFC version of the Wi-Fi Alliance, setting standards but not itself selling products, with a key focus for billing and the end user shifting to the mobile telcos. This is a controversial idea, to say the least.
Evans told RGN that the group comprises "leading companies coming together across very different industries to try to make sure our technologies, particularly those that are emerging and coming into the market now, will work together seamlessly and for the benefit of the passenger".
The goal, Evans said, "is about delivering that experience. The alliance represents companies that in the past might not have overlapped much, but which are now coming to work together because we recognize that in the end it's that cooperation and that frictionless experience that passengers on aircraft really do want."
Neither executive would be drawn on whether friction-reducing initiatives like Finnair's thirty-second login cream off enough of the benefits to reduce the alliance's raison d'être, although Peyrucain said he hopes that innovators like Finnair will join.
"We are one player among many," Evans noted, "but really we will bring our expertise in the aircraft itself, aircraft engineering and manufacturing, and our ability to integrate satellite and other connectivity features for cabins and aircraft."
Likening the ideal experience to a Europe-style free mobile roaming agreement at full speed and at no extra cost, Peyrucain said, "The idea is to go to a seamless experience for the passenger. We'd like to push standardization of the whole chain up to a point that, when someone enters the aircraft, it will be just as if they were crossing a border and changing countries. You'd just receive an SMS to confirm that you're crossing a country, as simple as that, and you continue."
In an interview with Aviation Week, OneWeb founder and executive chairman Greg Wyler explained, "Customers should get on an airplane and their cellphone should automatically connect . . . their laptop, watch and tablet – all these things should function without any log in."
There is obviously nothing new about supporting inflight mobile connectivity via onboard picocell and roaming agreements with telcos. SITAONAIR and Panasonic unit AeroMobile continue to provide such services outside the US. Indeed, SITAONAIR believes the creation of the Seamless Air Alliance "legitimizes our position".
"As much as we know about it, this is a mobile play. So it's interesting to see somebody doing in 2018 with big noise what we've done in 2005, which is creating a mobile core, connecting that mobile core to the aircraft, and then taking roaming partners and making it easy for them to have a roaming play between passengers on board and the aircraft. And I say welcome to the mobile operators," SITAONAIR chief technology officer Greg Ouillon told RGN.
"I think the big question around mobile is we know it addresses a segment of requirements of passengers. Some people will want to use their mobile, as it goes to 3G, 4G, 5G, 10G, it will get easier and more seamless. There is a big question – and obviously it [the alliance] kind of transfers the value chain equation to the mobile operator because somehow it goes on the bill of the mobile operator – so it will be a great solution for some airlines, or some segment of the passengers of some airlines. But what do we see in the world of passenger connectivity? Airlines want this to be a digital engagement experience. The portal to connect is an opportunity to offer services to the passenger. And it is yet unclear how this will be done in a mobile engagement. So we want to watch this space."
Will SITAONAIR join the alliance? "Well, if they really need people experienced in delivering highly customized portals and integrated with mobile, why not? We're absolutely open to it, and will watch it, if we find it relevant," said Ouillon.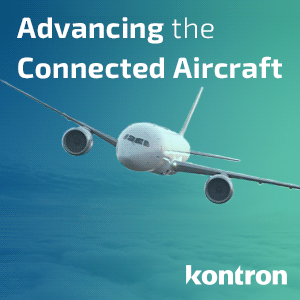 The alliance is getting started early because the members realize it's crucial to figure out how to engage with 5G, whether delivered by low-band, the millimeter wave bands, or via frequency reuse. Airbus' Peyrucain acknowledged that, at the Mobile World Congress, practically every stand had a different definition of 5G.
"It's important that we are on board quite early to be able to define the standards that will be used for passengers that will travel with their 5G smartphones," Peyrucain said. "We are a long lead time industry and we try to anticipate as much as possible on defining and certifying these complex systems on board."
RGN pressed Evans and Peyrucain about whether Airbus saw any initial problems with the spectrum being mooted for 5G from an aviation perspective, whether from interference, reuse or other issues. Stating that it was too early to answer that kind of question, neither executive highlighted known roadblocks that the airframer was seeking to avoid as part of its involvement.
It is notable that there was only one satellite operator on the initially announced list of participants – the Airbus-affiliated OneWeb – rather than any of the big players. Yet, in tweeting about the formation of the alliance, OneWeb's Wyler stated that Hughes (as well as inflight connectivity service provider Gogo), had joined the group.
Glad to have @Hughes_Corp & @Gogo, who have equipment on thousands of aircraft join Seamless. Goal is to vastly improve the experience of 4B airline travelers, providing a seamless 5G Internet experience. Members already carry >150MM passengers & ~450MM mobile users #MWC18

— Greg Wyler (@greg_wyler) February 26, 2018
London-headquartered satellite operator Inmarsat's aero services have been offered on Airbus aircraft types for many years. Asked for his thoughts on the alliance, Philip Balaam, who leads Inmarsat's Aviation Business Unit, opined:
To be honest, right now, my personal impression of the alliance is more of … it's not that fundamental. It's maybe a little bit to drum up some enthusiasm around the OneWeb project, which is maybe not advancing quite as they would expect. And Airbus, obviously is present because they're an in-kind investor … on the satellite side and if I was Airbus, on the OEM side, I'd also be open to having as many technologies as possible.

I think we could get involved with that alliance. I'm not sure if it will make a difference to anyone if we do or not at the moment. We'll have to see how that pans out in the future.
Satellite operator Intelsat is, by the way, "extremely happy about that alliance" and is "having discussion with the OneWeb team around that" though the firm is about two steps removed from the standards work they hope to accomplish, said Kurt Riegelman, senior VP sales and marketing at the firm. "We will look to engage at the right time."
Riegelman noted that the notion of offering "free" inflight connectivity might take the form of cellular economics for some business models, given the goals of the alliance is have "a standard that is 4G, 5G-based in the cabin [that] allows you to provide those services in those cellular economics versus VSAT economics."
Meanwhile, there is, Airbus' Evans promised, "interest from other airlines, aviation suppliers, other mobile network operators and other satellite connectivity providers. It's broad based, and it's exciting."
With bylaws to be written before any new members are considered, crucial questions remain about whether it can ever be as cost-effective to deliver connectivity to the air as it is to the ground when talking about gigabits-per-second 5G data speeds. Scrutinizing the first set of new members will be a harbinger of whether the key players in the industry are persuaded.
Additional reporting by RGN editor Mary Kirby
Related Articles: