Jennifer Coutts Clay has made her mark on aviation by improving the passenger experience of millions. She has contributed to the aviation community by supporting historical preservation, environmental awareness, innovation and education. She has also authored Jetliner Cabins – the ultimate guide for anyone working on airline branding and cabin design, which is now available as an E-Book App.
Coutts Clay speaks and writes from personal experience. She managed the ambitious brand and design programs of iconic airline brands, including British Airways, Pan Am and South African Airways, as well as the design of the passenger experience for the British Airways Concorde.
Speaking to Runway Girl Network, Coutts Clay explains why we need more women shaping the passenger experience.
"There is a huge need for more women to become involved in cabin and airport design," she says. This year's Crystal Cabin Awards family photo, she notes, featured many talented and deserving individuals, but was all male. "It's a wonderful field and there is a great need for more input from women who are aware of the process."
Coutts Clay sees room for improvement in air travel that women might be ready to address with creative solutions. "The average economy class cabin isn't designed for families to feel relaxed," she says. "It is designed for a briefcase and a beverage glass."
The industry, Coutts Clay suggests, needs more innovation like the Air New Zealand Skycouch. And there are other issues to tackle. "Lavatories seem to be getting smaller while seats in business class and first class are getting bigger all of the time. Women may need more space for their presentation, or accompanying children may need more space than what we are seeing on today's planes."
She acknowledges the economic realities. "Airlines want to use the space to generate revenue, and keep fares down. It is possible to offer more space, but the fares might go up," she says.
Coutts Clay doesn't believe in a lost Golden Age of flight. She argues that the experiences available on board today,  including features that were unimaginable just a few years ago – like large in-seat entertainment screens, and onboard Internet – are better than the flying experience of old. But she believes that airlines can do more to build brands that foster loyalty better than any mileage program.
"Branding is all about bonding," Coutts Clay says. "So that passengers feel that they are stakeholders … You still see it with Pan Am passengers who wear Pan Am cufflinks. It's the same thing with Concorde passengers who love to display their Concorde memorabilia."
Of the various branding projects she helped deliver to market, Coutts Clay describes the British Airways privatization re-branding as the most challenging and rewarding.
"British Airways was comprehensive branding. We were able to look across the full spectrum and grab opportunities that hadn't been thought about previously. Doing everything at once was a horrible strain for everyone but were able to identify massive opportunities," she says.
"There have been adaptations over the years but BA still has a very distinctive identity that ranges from A-Z. When you look at well-run airlines like Lufthansa, Emirates, Cathay Pacific, Singapore Airlines, you see examples of thoughtfulness and decision-making."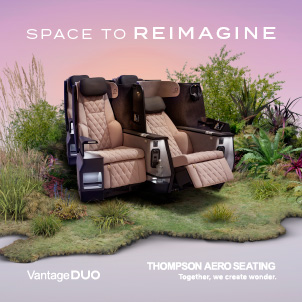 Coutts Clay sees many opportunities for improvement in the cabin and on the ground. She also sees remarkable developments in products, technology and materials, and a bright future ahead for aviation. "I'm optimistic because the links worldwide help everyone. Travel is about acquiring knowledge. It's wonderful that we will have the opportunity to travel more … the benefits of air travel are wonderful and mind-blowing."
Coutts Clay believes air travel would be even better if more women could get involved in management and design. Women in aviation have often been relegated to support roles, but women who have the ambition should be encouraged to advance in their careers.
To succeed, she suggests, women should walk into the meeting room or boardroom armed with facts and well-considered arguments. "If you have the metrics that you can display, and they are unassailable, then you have to be taken seriously."
Coutts Clay suggests that women shouldn't be shy about asking for a rise in pay and a promotion. While society may train women against taking risks, she believes it's important not to settle for something other than what you want.
"There's a training journey there," she says, but it is not impossible. "There are role models out there, and women can ask for mentoring. There are courses on the internet that didn't exist before … now you can join webinars. You can get your writing style upgraded. The tools are much more readily available now than ever before."
"If you have the facts, keep going – even when you get interrupted," she adds. "Stick to your guns."
Like their male counterparts, women should be comfortable walking away from a bad deal. "Everyone gets intimidated at times. Everyone feels insecure at times – whether they are male or female," Coutts Clay says. "Women have so many things that they have to deal with all of the time and maybe some don't want to take the risk and confront these issues, but there are women that do want to."
As the adage goes, fortune favors the bold.
"Aspire higher. Per ardua ad astra. [Through struggle to the stars]," Coutts Clay says. "Bite the bullet and move across [obstacles] like the knight on a chess board."
Disclosure: I have known Jennifer Coutts Clay from the early days of my career in aviation and have even done some work for her. She was, is, and will remain, an inspiration, an ally, and a friend. She is as intelligent, uncompromising, and savvy as she is generous, graceful and creative. But that's not why I wanted to write this story, nor why the Runway Girl Network wanted to publish it. The truth is that the whole of the aviation community – male and female – owes Coutts Clay a debt, whether they recognize it or not. It's past time we said it.
Related Articles: