Imagine this: you're a small airline that wants to get on the latest-generation slimline seats bandwagon. Or you're a carrier that has suddenly acquired some cut-rate narrowbodies after the collapse of a competitor, perhaps as a lease of a few years' duration, but the layout is all wrong. What do you do to swap the seats to something modern and efficient as soon as possible?
Lufthansa Technik thinks the answer is to lease your cabin, with a new product called, snappily, "Lease your cabin". LHT promises short lead-time, modern design and updated lightweight seats, a single point of contact for the entire refit process, an overnight swapout, monthly leasing costs avoiding an up-front investment and — naturally — an option for a full service package from the MRO operator.
Intrigued, Runway Girl Network sat down with Georg Stoffelen, head of product for cabin modification, and Christian Bienas, the supply chain manager for logistics management, both in the MRO operator's aircraft modification section, to learn more.
"Instead of engines or aircraft," Stoffelen summarises, "we'll lease cabins to customers."
With a ZIM seat that Stoffelen says is the same product for which Lufthansa Group has experience on the Swiss Bombardier CSeries aircraft – the 2014 Crystal Cabin Award-winning "ZIMunique" seat, Lufthansa Technik can offer between 28-30 shipsets a year of narrowbody all-economy (plus, of course, Eurobusiness) seating for Boeing 737 and Airbus A320 family aircraft.
Target airlines are those with multiple hard product LOPAs (layout of passenger accommodations), which can come either via acquisitions of smaller airlines, taking over leases from defunct airlines or those whose business model has changed, carriers with limited cashflow, and particularly those airlines realising that they can make more money from packing more people in with a new-generation slimline seat — as well as reducing costs and complexity around managing subfleets or variants.
Using the example of an airline with an elderly cabin but three years left on its lease, Stoffelen says, "We exchange the cabin, take the old one out, store it, refurbish it, install the new one they can use for three years, then we exchange it again, and then they [return] back the aircraft [to the lessor].
"At least you can, for three or four years, use a new product, maybe a high density, maybe a better layout, maybe lighter seats, and if this happens the [lease of the cabin] is free of charge. With a new high density cabin, you pay the lease via the revenue. It's a win-win situation."
Lufthansa Technik is promising a programme turnaround time of three months, start to finish, with the seat installation itself taking two days, potentially during a maintenance check, which of course the MRO will naturally be only too pleased to provide to its customers.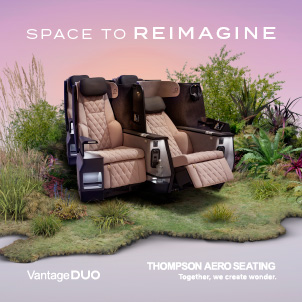 But why ZIM, and not Geven, the Italian seatmaker that just won a major fifty-A320neo shipset order tranche covering Austrian, Lufthansa and Swiss?
"Good question," says supply chain manager Christian Bienas. "We have a good relationship with ZIM, especially for Lufthansa, where they delivered the premium economy seats. We had one small project with ZIM, and they delivered very fast: three shipsets of economy seats. They are state of the art, they are in a price range that is OK, and pretty fast. That was the most important."
It's also noteworthy that the Lufthansa Group has hundreds of A320 aircraft with older Recaro BL3520 seats that it débuted as the Lufthansa Neue Europakabine (NEK) product at the start of the decade, many of which may well be candidates for a refit to Essenza. Does Lufthansa Technik see this as a potential resource for capital expenditure-light expansion?
That, according to Stoffelen, is "Step two. Step one we just started [recently] with the product. The thinking, of course, is earlier. We want to lease also used seats — maybe this one [NEK] but we also have a big provider in Canada who can provide the seats. We also want to have other seat manufacturers."
However, Stoffelen notes, they're starting with simplicity. "We wanted to keep it simple and quick, and if you have more variety it will slow you down. Maybe there's a chance in the market if you're quick."
Related Articles: