SITAONAIR has been appointed as connected aircraft service consultant and technology supplier to Taqnia Space, leveraging its significant inflight connectivity (IFC) expertize, to enable the Saudi company to bring its UON offer to airlines.
In this new role and way of working, SITAONAIR is supporting the development of Taqnia Space's-own unique UON solutions line, by drawing on SITAONAIR's leading inflight internet and mobile connectivity technologies. Going forward, SITAONAIR will be responsible for supporting the ongoing management of services and infrastructure involved in the delivery of Taqnia Space's UON solutions. Taqnia Space will deploy its UON services across both Ku- and Ka-band High-throughput Satellite connectivity.
As consultant – and the world's primary provider of inflight mobile connectivity – a key aspect of SITAONAIR's appointment is guiding the development of Taqnia Space's 3.5G inflight mobile service for passengers. SITAONAIR recently celebrated the tenth anniversary of its Mobile ONAIR service, and Taqnia Space is harnessing SITAONAIR's proven, pioneering approach in this field. For Taqnia Space's internet solution, meanwhile, SITAONAIR will expertly integrate live TV as a specific UON portal feature.
David Lavorel, Chief Executive Officer, SITAONAIR, says: "We are thrilled to have been selected by Taqnia Space for our considerable connected aircraft expertize, advising this new company to develop its defined UON inflight connectivity solutions for airlines. With us, Taqnia Space has been able to advance its innovations in the most efficient and effective way possible.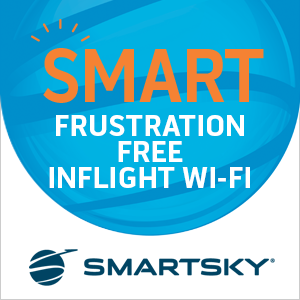 "This project reinforces SITAONAIR's openness to new technologies and consortiums that advance airline industry choice, and our sheer versatility, skill and expertize in being able to deliver new, bespoke services across different platforms and hardware, and operate them on behalf of a partner. I am proud that our company is adding yet another string to its bow as a recognized connected aircraft expert. It complements SITAONAIR's own and branded, best-in-class, Internet ONAIR, Mobile ONAIR, Link ONAIR and CrewTab inflight connectivity services for passengers and crew, with which our prestigious airline customers are already leading the charge for a modern, world-class passenger experience."
To discover SITAONAIR's end-to-end connected aircraft proposition, speak to your local SITAONAIR contact, submit an enquiry form or explore www.sitaonair.aero
About SITAONAIR
SITAONAIR is the air travel industry's trusted connected aircraft service expert, powering innovation with recognized expertise and future-proof solutions. With our unrivalled industry-backed heritage, SITAONAIR delivers the promises of the connected aircraft, empowering 400+ airlines, 60+ ANSPs and 16,000+ aircraft to navigate the complexity of connectivity with our best-in-class solutions and services for passengers, cockpit and cabin crew, flight operations, aircraft big data and air traffic management. We believe that embracing a digital shift will reinvent the operation of aircraft, flight and on-board experience – making it safer, more efficient and enjoyable.
SITAONAIR is a subsidiary of The SITA Group, the communications and IT solution provider that transforms air travel through technology for airlines, at airports and on aircraft.