Phasor is convinced that once an electronically steerable antenna (ESA) emerges in civil aviation that has the ability to support "dual beam illumination"; instantaneous beam switching; and LEO, GEO or even MEO interoperability, "the balance of power" will shift "from the satellite operator to the services integrator and fleet operator".
Non-geostationary orbit (NGSO) satellites, which will support the next generation LEO and MEO networks currently being developed by multiple stakeholders, "don't have a business case in aviation unless they have electronically steered antennas", noted Dave Helfgott, president and CEO of digital phased array antenna-maker Phasor during a wide-ranging interview with Runway Girl Network at the recent Satellite 2018 exhibition in Washington DC. He believes the emergence of viable, cost-efficient ESAs in the civil aviation sector will give airlines and business aircraft operators the ability and agility to move into different kinds of networks, and indeed different kinds of contracts.
"Everyone keeps talking about bandwidth over-supply, and prices going down [with the introduction of nextgen NGSOs]. Sure, but the next thing that happens is commercial contract flexibility, and this kind of operational agility that does not exist today," says Helfgott. "And you cannot do it with mechanical antennas, and so you and I are going to be talking in, let's call it five years to be conservative, when there is at least one, possibly three, interesting NGSO constellations up there, and of course all of the high throughput [GEO] constellations and we are going to have people doing crazy ballet handoffs between [different] types of satellites and if you do that from one aperture, everybody's happier."
At the center of this dance, however, are not the hardware companies like Phasor, but rather the service integrators because they have to live with the service level agreements they ink with airlines and other aircraft operators, says Helfgott. "They have to design and engineer the networks and put together all the aftermarket support. They have to procure the space segment. They have to buy, specify and procure the antennas. They have to integrate it onto the aircraft either through subcontractors or directly. So, they have ultimate responsibility," he notes.
That's why Phasor sees the role of service integrator as its "bullseye" in the value chain, and is working to deliver to them a solid state, non-mechanical antenna system that is "not tail-mounted mechanical, not fuselage mounted" per say, but is "two inches off, two inches high and conformal to the aircraft and I can do, you know, multiple beam illumination and go to different satellite constellations. That's a home run; that's exactly what we are designing. And that's hard, but we have been at it for four years and the core technology is there. Now comes the very hard work and we are in the middle of  … making it airworthy."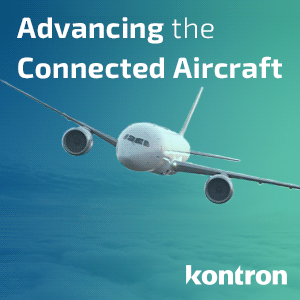 In terms of product availability dates, Helfgott demurs a tad. While the firm has two aeronautical partnerships – one with Gogo (to bring a 'release one' version of its Ku ESA technology to market for commercial regional aircraft), and another with Intelsat to support the Epic Ku ecosystem in various verticals, including aero – it also has "two other avionics-related partnerships" that it has not yet announced. "We are really good at phased array and so they are going to help us make this an airworthy product."
The firm will kick off its Ka-band ESA development "shortly". Helfgott says Phasor's 'release two' products are expected to roll out in roughly the 2020 timeframe "and that's when we are tagging some of our business aviation products as well as our other commercial aviation products come out, in release two."
Pricey proposition?
Panasonic Avionics revealed in 2016 that it opted not to pursue introduction to airlines of a Boeing Defense-made phased array antenna due to the cost. Quite simply, airlines didn't want to pay half a million dollars for the antenna.
Says Helgott, ambitiously,
I worked on Connexion by Boeing when I was at GE and I was there, I remember the early days and it was the right idea, way at the wrong time. They tried phased array, they tried mechanical. We had Mitsubishi antennas. We had Boeing's phased array. We were doing the satellite and then Viasat was doing the RF and I forget who was doing the radome.

Anyway, the problem was it was heavy, it was huge and it was super power consumptive because it was an old technology and everybody who's tried to make a pitch against a phased array [antenna] brings up the old [argument, saying] well look at how expensive and power consumptive Boeing's was or others. But … not all phased arrays are the same. We've cut power by 50% off of traditional phased arrays and that's just our first release product. We are going to do it by another one-third on top of that in our second release. We understand what the challenges are in any market especially in aviation in terms of power and heat and when you have a compact antenna that's 2 inches thick, you have to be very clever about how you decide to use power cycle time, heat all that stuff because no one is going to put it on an aircraft if it is not going to fit the spec.

We are not doing that. We are 100% solid state so there is no moving parts. The weight goes down. The profile goes down and if you design the electronics correctly … by the way the, you know, wireless industry already figured out, so pay attention to that, the cell phone industry and the 5G industry, you completely mitigate the heat and power question and that's the key for aviation. In other markets that's less of an issue because, you know, maritime and land mobile have easier environments to operate in.
Will Phasor follow the Arinc 792 standard for next gen ESAs, which is currently under final circulation before being published by the subcommittee led by "satcom guru" Peter Lemme? "We are going to do frankly what our customers ask and if it is also an industry standard we are very happy to accommodate that. But we are driven by the market more than standard."
Related Articles: