Passengers increasingly want and indeed expect a free tier of inflight connectivity, irrespective of how airlines endeavor to cover or offset the associated cost – full sponsorship, partial sponsorship, magical fairy dust. And if we're honest, the cost of providing free or near free wifi to passengers could someday be tucked into the ticket price since an equipped world fleet is in the cards and every airline will be shouldering a cost burden which could be addressed with a minor fare raise.
For these and other obvious competitive reasons, the pressure is on for inflight connectivity service providers to be able to ultimately support such a model with appropriate levels of satellite capacity to ensure solid connections for passengers.
"It is what I strive for every day at work," said Panasonic Avionics senior director – global satellite capacity Todd Hill at the Satellite 2018 conference and exhibition. Rolling out Panasonic's third generation network, inclusive of XTS satellite capacity and a high-throughput modem, is a cornerstone of this work.
Former Panasonic exec David Bruner saw the freebie wave coming, noting in an interview with your author last year, "You're seeing some airlines move forward with free-of-charge texting, a very positive move in the marketplace. Low-cost packages in Asia are very successful. When one airline does it, boom, boom, boom there is kind of a rolling effect taking place. It's really because we're in that period where [airlines are] seeing costs drop … As a retailer of the service, we give more capacity for the same amount of money."
The decision to co-design and become anchor client on its first XTS satellite, APSTAR-6D, does not change Panasonic's retail status; in short, it does not make the firm a wholesaler. Panasonic's focus remains on acquiring the capacity its airline and maritime customers need to accommodate their growth. But the scale of the purchase gives Panasonic what it would call "quasi-owner economics" and the ability to adapt the payload to better address the needs of its customers, i.e, provide cost-effective, high-quality, value-add solutions.
Owner economics are certainly key for Viasat, especially given that there is now a "drum beat heading towards free" inflight connectivity, noted CEO Mark Dankberg. Of course Viasat – and its standard-setting partnership with JetBlue on free high-capacity Ka connectivity for passengers – has served as, if not the conductor, a very loud tambourine player in the band.
Speaking to RGN, Dankberg said:
I think that if you look at other places in the travel industry, people are expecting free and I think that part of what comes with the free part is very, very high take rates, which means very large amounts of bandwidth and I think that's what our value proposition is. I think that take rates are going to be really high, then we are really uniquely suited to serve that market. It's a totally different business model than what they [airlines] started with, right? So there is some issue about that, but I think that's what the passengers want.
He later added:
So part of our value proposition is that if you are going to get really high penetration in an airplane, you can't do it at $30 or $40 dollars per passenger, right. If you are going to do streaming, you need to do it at a buck or two per passenger. And that's where the rub is – is getting both the volume of bandwidth in the places where they are and those price points. There is nothing to buy at Ku-band for that or even at Ka-band using other satellites. That's why we are doing what we are doing.
One of the points that Viasat often makes is, in its view, "it's really not about the terminal. It's really about the satellites. That is where the bottleneck is for bandwidth. And the satellites that we're doing, we're basically developing that technology," said Dankberg. "So I don't think we have seen any technology other than what we are doing that is going to make that possible … especially at the hub airports on a global basis." (Interestingly, phased array antenna-maker Phasor believes "the balance of power" will shift from satellite operators to service integrators and aircraft operators if viable electronically steerable antennas – which are interoperable with LEO, MEO and GEO satellites – emerge in the civil aviation sector.)
Even though Viasat is still in the midst of its global coverage play – after succeeding with material regional capacity plays – Dankberg does not see Panasonic's APSTAR-6D and other as yet undisclosed elements of XTS as a threat. 50 Gbit/s "looked pretty good 10 years ago. I think you know when you are making satellites that are 10 times that much, it doesn't look good," he posited.
Naturally, airlines are paying close attention to the connectivity price points of their competitors. The free services offered by JetBlue in the US, Qantas in Australia, or (even offered over low-bandwidth L-band) Emirates in the UAE, among others, are not going unnoticed. "When we see other people offering free connectivity with take rates of 100% on high density flights including free streaming, I think that is when you know that the bandwidth problem has been solved," suggested Dankberg.
Does Viasat see Thales' homegrown Ka-band offering – powered by Hughes satellites in the near-term and SES-17 further out – as a meaningful threat?
"You know I am not super focused on that," said Dankberg. "I think what we are really focused on is helping the airlines that we have figure out how to monetize [connectivity]. My own sense is that [the] issue about how does this make the airlines more money is a really front-and-center issue. So I think the original model was this concession model, which is, 'I will give you a terminal and then I'll sell it to the passengers and I will give you a check every month'. And I think the airlines really liked that model. It didn't necessarily lead to a good value proposition for the passengers right. I mean passengers became dissatisfied and I think some of that dissatisfaction then is projected on the airlines. So I think there's dissatisfaction and I don't think that model is going to persist."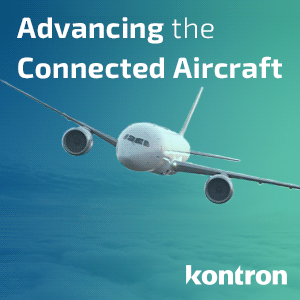 He continued, "And so the next one is sort of well, if we need to pay for it, that doesn't sound very good in the airline business right. So how do they solve that problem of giving it to all the passengers and not having it be just another expense? And I think those are the things that are really the most interesting and that's, you know, what we are doing with JetBlue with sponsorship with Amazon. Qantas has really embraced the notion that providing the Internet, bringing on really good services like live sports through streaming, things like that that will either drive a lot of satisfaction for a relatively little amount of money or create sponsorship opportunities that can offset the cost. I think that that is really where the action is, not in just delivering connectivity."
It's not crystal clear just how much the Amazon sponsorship offsets JetBlue's expenditure. But irrespective of how airlines and their service providers make it happen, it's clear that providing access to, at minimum, a free tier of Internet will be increasingly expected. Indeed, it was among the themes that emerged at Satellite 2018.
The road to free.
Offer airline passengers Internet access for free.
Streaming, browsing, chat.
This is what passengers want.
a common theme @SATshow

Todd Hill "it is what I strive for every day at work"@PanasonicAero

— Peter Lemme (@Satcom_Guru) March 13, 2018
Unlike other airline ancillary products like extra legroom seats or baggage allowances, wifi "is like air", as Emirates' Patrick Brannelly is apt to say. People – especially young people – simply expect to be connected. In five years time, the kids of today will be completely befuddled if they are met with connectivity barriers (see the lofty goals of the Seamless Air Alliance).
On the ground, a growing body of people see easy Internet access as a human right. How long before that human right takes flight?
Related Articles: