It has been a busy week for Marion Blakey. First, she announced her retirement as CEO of Rolls-Royce North America after three years on the job. Then she received the Carol B. Hallett award, which recognizes industry excellence, from the U.S. Chamber of Commerce at its annual Aviation Summit on 1 March.
On the occasion of Blakey's retirement, Runway Girl Network conducted an exit interview that looks at a career that started right after graduating from Mary Washington College in 1970 and ended with her leading the North American efforts of a major player in the aerospace and defense industries.
Blakey's first job after graduating was as a clerk for the National Endowment for the Humanities. "I spent most of my time making copies and shredding documents. I couldn't even type, so I didn't qualify as a clerk-typist, which was a higher grade."
But that turned out to be a blessing, says Blakey. "I wasn't pigeon-holed into an administrative role like some of my female colleagues. In fact, it probably helped open up opportunities that were very valuable for my career advancement."
Blakey has worked in public service for the departments of Commerce, Education and Transportation, the White House and the National Highway Traffic Safety Administration (NHTSA).
"We often use those words, 'public service', as though they were a generic noun. But, they really mean something," says Blakey. "Serving the public gives a great deal of meaning and reward to the work that you do."
After NHTSA, Blakey spent nine years working in the private sector helping companies and other organizations address transportation policy and safety issues. "During that time, I gained a great deal of experience understanding the entire transportation industry, seeing things from the standpoint of both small and large businesses, and appreciating what it takes to affect change."
Blakey was named chairman of the National Transportation Safety Board (NTSB) on 26 September 2001. "My experience as head of NHTSA showed that I could successfully run a government agency," she notes.
A few weeks into her NTSB chairmanship, Blakey was tested. "American Airlines Flight 587 crashed in Queens, New York shortly after takeoff from JFK Airport, tragically resulting in 265 fatalities," she says. The crash occurred on 12 November 2001, so the nation was still on high alert from the 9/11 attacks. And there was immense pressure on the NTSB to determine if this was another act of terrorism.
"Through the hard work of some very dedicated professionals, we were able to get to the bottom of the problem and rule out terrorism as the cause," says Blakey.
During the investigation, the NTSB established a strong link between transportation and safety officials. "And law enforcement and national security professionals paved the way for collaboration on future investigations."
After leaving the NTSB, Blakey was appointed FAA Administrator by President George W. Bush on 13 September 2002. "The idea of being responsible for the entire national air space system was fascinating to me," she says. "Air travel touches the life of virtually every American at one time or another."
Helping to manage the safe passage of all those people and airplanes is a massively complicated undertaking. "It was a challenge that I couldn't possibly pass up."
During her term, Blakey's biggest challenge was beginning the transition of moving from a radar-based system to a satellite-based, modern system for tracking air traffic. "Now this is still underway even today, but we laid the groundwork and the architecture to get it done," she says.
Blakey left the FAA in October 2007 and a month later, was named president and CEO of the Aerospace Industries Association (AIA). "My overall experience seemed to fit well with the challenges that the aerospace and defense industry was facing at that time," she says. "AIA is the most powerful voice in the industry and they were looking for someone who could effectively advocate for them."
Blakey became president and CEO of Rolls-Royce North America on 24 February 2015. Seeing more women in the aviation/aerospace industries advancing to the C-Suite is a major passion for her. "At Rolls-Royce, like many other aerospace companies, we are looking for more women leaders. And, it will continue to be a challenge."
Historically, not enough women have pursued STEM careers, says Blakey. "And while those are not the only fields that are valuable, the pool of talented female leaders is not as robust as we would like to see. It needs to be addressed at all professional levels."
She believes industry needs to do a better job of getting young girls excited about the marvels of flight and pursuing STEM-related careers. "At Rolls-Royce, we support numerous activities that target K-12 students, such as First Robotics and the Team America Rocketry Challenge. We want to reach them early, inspire them to dream big and help cultivate the future leaders of the aerospace industry."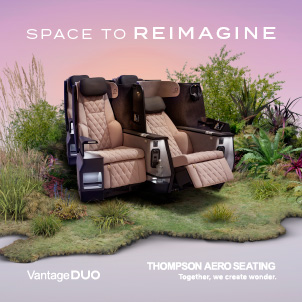 Rolls-Royce has also set higher targets for the recruitment of women into its early career programs, and established mentoring programs to help develop women who show leadership potential, said Blakey. "So, there is no easy fix. But, we are making progress. And, it's something that I am firmly committed to doing."
Blakey has learned many lessons during her career progression to the C-Suite, especially to always work hard. "There is no substitute for producing at a high level. When you accomplish things, people will notice."
It's also important to keep your eyes open for new opportunities, Blakey advises. "A lot of times, those opportunities are outside of your current role. My career certainly had a lot of twists and turns. Remember, I started out as a clerk."
Don't be afraid to take some risks, urges Blakey. "Complacency has ruined many once-promising careers. Growth doesn't come from doing the same thing over and over. So, get outside your comfort zone and push yourself."
Finally, remember that it takes a lot more than sound technical skills to be a leader, says Blakey. "In fact, the further you advance in your career the more critical it is to have strong social and communication skills. So, seek opportunities to develop those as well."
Related Articles: