French aerospace company Safran has begun flight-testing an efficient aircraft cabin electrical distribution system which it says will be 10% less energy intensive than today's systems.
As inflight entertainment and connectivity solutions become ever more commonplace, Safran claims its proposed changes could make a "very significant" difference in the amount of energy drawn from future aircraft engines to power electrical systems in the cabin.
Safran is testing the solution under Boeing's 2018 ecoDemonstrator program, alongside a new electric power generator which it estimates will be 15-20% more efficient than the power generation systems used on current Boeing 777-sized aircraft.
More than 30 fuel-saving technologies in all will be tested on board a FedEx 777 Freighter as part of Boeing's latest ecoDemonstrator campaign. Ground tests have been underway for some time. Flight tests began on 5 March and will last until the end of April, Hervé Blanc, vice-president and general manager at Safran's Electrical & Power division, tells Runway Girl Network.
The distribution system to be tested will see many of the electromechanical components traditionally used to feed electricity to various points throughout the cabin being replaced with what Safran claims is "smarter" electronic alternatives.
"A typical cabin electrical network uses a lot of electromechanical components to protect the wiring system. What we are demonstrating is the replacement of lots of components with smaller, electronic components which are less complex," says Blanc.
"When you have an electronic solution you can manage it much more easily and change the configuration quickly. So, what we are proposing is to optimize the network of the cabin by using a smarter network, instead of using dedicated wires for every load."
Blanc adds that as the trend toward installing more and more complicated electrical systems inside aircraft cabins continues, "being able to provide something that is as flexible as possible is a real benefit to airframers".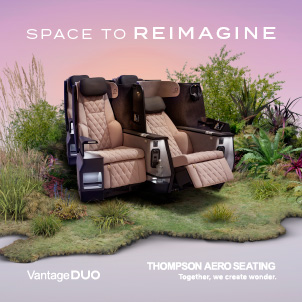 The other key element of Safran's involvement in the latest ecoDemonstrator program is its development of a new type of electric power generator, which moves away from the current method of supplying power to the cabin at a constant frequency. While today's generators use "a complex mechanical system" to draw a constant amount of energy from the aircraft engine to power the cabin, Safran's solution enables energy to be drawn only at the rate it is required.
"The main target is to deliver something that is as efficient as possible…to avoid taking too much energy from the main engine," says Blanc. Safran's proposed system also involves the removal of many of the mechanical parts used to power the constant-frequency generators, which Blanc says makes it a much lighter-weight alternative.
"If you can reduce the volume you can reduce the amount of drag on the nacelle," he adds.
To translate this into fuel savings, Blanc says that when deployed alongside the next-generation engines that power the Airbus A320neo and Boeing 737 MAX – which themselves are marketed as being up to 15% more fuel-efficient than their predecessors – Safran's proposed new electrical systems could add an extra 1-2% improvement on top.
By taking part in the ecoDemonstrator program, Safran hopes to "validate on a real aircraft that the benefits we are expecting can be effectively demonstrated", says Blanc.
The aim is that the power generation and electrical distribution systems it has designed will not only find their way on to the next generation of aircraft, but will also bring "incremental improvements" to existing airliners.
"The need to improve the efficiency of aircraft and to make aerospace greener is really important – these solutions contribute to that target," says Blanc.
Related Articles: