As pressure mounts on airlines to ensure their passengers can use inflight Internet in the same manner as they do on the ground – to complete work, use social media, and stream entertainment – and indeed offer a viable free tier, Intelsat assures that its Epic Ku-band high throughput satellites can ably and amply support such an onboard environment.
"The concept that there is not enough" Ku capacity "is a total fallacy", says Kurt Riegelman, senior VP sales and marketing at Intelsat, which boasts Gogo, Global Eagle and Panasonic Avionics as service partners in aero.
"That Gogo demonstration doesn't happen unless it's connected to Epic so if there is a prove point question, we've nailed it and are moving forward now," says Riegelman in reference to last spring's successful demo of Gogo 2Ku with the new Gilat modem and Ku capacity on Intelsat's Epic 29e HTS.
But one does not need to cast one's mind back to a 2017 demo to see evidence of streaming activities over Ku – and "classic" Ku at that. Routehappy data research manager, and RGN contributor, Jason Rabinowitz recently tweeted that he was aboard a Delta 757 with Gogo's regular Ku system, and that a high-speed Internet service was being advertised.
Though it was later determined that Rabinowitz witnessed an advertising glitch on the Delta 757, and that the messaging he saw on board is not intended for regular Ku, but rather for the carrier's 2Ku-fitted aircraft, he was in fact able to stream both Netflix and YouTube TV, underscoring the streaming capability of regular Ku antennas together with HTS capacity.
These types of results don't surprise Intelsat's Riegelman. Ku "has a fantastic working logic" for aero, including how it behaves in different weather patterns, he suggests, noting that "rain attenuation isn't a problem for us".
There are still questions around the economics of offering streaming-capable Ku connectivity, as price points continue to pinch. But Riegelman suggests that Intelsat and Ku as a whole are more than capable of supporting free inflight connectivity models.
The notion of "free" might take the form of cellular economics for some business models, he notes, given the goals of the new Seamless Air Alliance to have "a standard that is 4G, 5G-based in the cabin [that] allows you to provide those services in those cellular economics versus VSAT economics."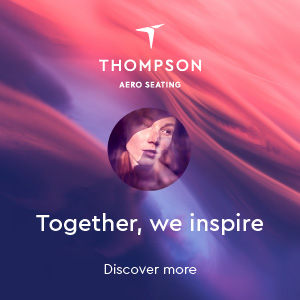 Intelsat is, by the way, "extremely happy about that alliance" and is "having discussion with the OneWeb team around that" though the firm is about two steps removed from the standards work they hope to accomplish. "We will look to engage at the right time."
But more broadly, Riegelman cites Intelsat's roadmap as readying the firm to support its partners into the future. Though industry analyst Chris Quilty noted in his 5 March report about Intelsat's 4Q earnings that the firm will "cut its 2018 capex guidance by 9% while forecasting subdued spending through 2020", Intelsat expects to launch its sixth HTS in 2018 (a JV satellite, IS-H3e), is working towards Epic 2.0, and intends to align with the OneWeb constellation in the coming years in a shared network scenario. This "will take it up one step further", says Riegelman in reference to the Ku-powered IFC proposition.
"I understand what people want to project on Ku, but I don't buy it," he adds.
"As a corollary, we're working with KVH on a global basis in maritime. They provide an 'always on' channel delivering content data; they've got multiple layers of service to customers and it's working very well, so if you take that forward into airlines, why not move up a scale of services based on what a consumer wants? So absolutely. I think our work is never done. We're continuing to design the next generation of high throughput capacity for our customers. You were at the first launch. So we've got our last of the first generation [Epic satellites] taking off as we launch this year and will continue to move forward with that, and now have the full global footprint, and it's just day-to-day work with our partners to understand where our roadmap is taking them, so they can deploy as quickly as possible."
In terms of whether Intelsat would ever want to take a more direct approach to service provision, Riegelman says, "Our CEO has been asked that question several times and our response has been very consistent. We like to work with the people who bring the value in that chain. When you think about the capabilities required to develop, qualify and install an IFC network, we understand that is not a core skill set that we have.
"We see ourselves very aligned with Panasonic, Global Eagle as well as Gogo to drive that connectivity. We are very excited about the overall sector, when you look at the potential for growth. It's still early days around IFE, then moving into cockpit and machine to machine … We're busy supporting our three value added providers, that's where we see our role right now."
Intelsat's comment, in this specific regard, is in sync with fellow satellite operator SES.
Photo at top credited to Jason Rabinowitz
Related Articles: