Dassault is leaving the choice of inflight connectivity up to customers on its latest business jet, the Falcon 6X, the company told Runway Girl Network at the aircraft's recent launch in Paris, although satellite-supported connectivity solutions and Gogo's latest generation air-to-ground system are expected to be offered as options on the jet.
"It's basically at customer request," Olivier Villa, executive vice president for civil aircraft, explained in response to a question from RGN at the jet's unveiling.
Given the fact that this is not entirely a new-build aircraft, with the 5X cancelled during the flight testing phase, and given a tight timescale — Dassault wants to fly the 6X in 2021 and deliver from 2022 — one might have imagined the airframer to have been further along the line in either pre-selecting or at least picking the runners and riders for connectivity.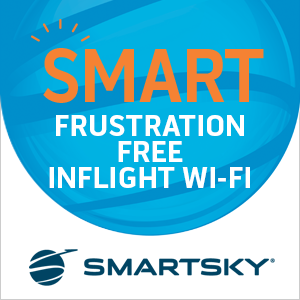 "One system, which is under development but which we will not disclose today, which will give very good performance, will be offered with the standard aircraft," Villa told RGN, adding that Dassault is "capable of offering at request" other systems that are popular in the United States "with 4G high-bandwidth system, or satcom Ka-band".
A Dassault spokesperson later confirmed to RGN that the 4G system to which Villa referred is the Gogo Biz 4G product, rather than the competing air-to-ground option offered by SmartSky. The spokesperson was unable to provide comment on specific satellite systems that Dassault was either considering or had ruled out at this stage in the 6X's development.
It would be surprising if Inmarsat's Jet ConneX Ka-band offering was not in the running, however. Inmarsat in the fall of 2017 noted that Jet ConneX is the only global high-speed wifi option available for Dassault aircraft today.
An Inmarsat spokesman tells RGN: "We do believe that Jet ConneX will be offered on the new 6X. We were part of the F5X programme from which the F6X grew. We have a lot of satellite capacity coming between now and 2022 which will ensure we are still the very best option for Dassault's customers in 2022."
Customers of other Dassault types have been using Ku-band radomes while they wait for a fully approved Ka radome for Jet ConneX on their aircraft. The Inmarsat spokesman says, "Dassault Ka-band radomes are still in development and are expected to be certified and begin installs in Q3 2018. Until then, Dassault customers, over 25 in the last few months alone, are participating in the Ku-radome program, which allows Dassault customers to use their current radome and we offer them special data plans with speeds up to 11Mbps."
The 6X is a relatively light-touch rethinking of the large-cabin two-engined 5X offering — which was announced in 2013, unveiled in 2015, and cancelled late last year. It is slightly larger and more capable than the 5X, which Dassault cancelled owing to disputes with Safran's Snecma Silvercrest and replaced in Dassault's Falcon line with the 6X.
The fuselage itself remains largely unchanged from the 5X in diameter or shape profile, and the aircraft is still a rear-engined twinjet, meaning little redesign should be driven by engineering requirements around connectivity provisions.
The lack of engagement with inflight connectivity is notable given the connected benefits of Honeywell's EASy III avionics suite and the evolution of Dassault's FalconScan, an Internet of Things-enabled aircraft health monitoring and maintenance system offered on the 5X and now on the 6X.
Describing FalconScan in a technical briefing following the unveiling, Dassault called it a "highly connected system" offering real-time diagnostics using the FalconBroadcast online maintenance diagnostic and analytics suite. Electronic logbooks are synchronised with automatic maintenance reports, with centralised aircraft system software upload on the ground, plus playback-enabled remote analysis via Dassault's technical experts.
Surprisingly, the company's technical briefers were unable to provide even example bandwidth and transfer data requirements in response to questions from Runway Girl Network. Clearly, there is a point at which slower systems are unable to deliver all benefits of a system like FalconScan, and just as clearly there is an inflection point where the choice of a system with faster speeds, less expensive capacity and greater global coverage opens up new options, as does terrestrial 4G or wifi on the ground.
For its part, Dassault still seems to be viewing much of the predictive maintenance benefits of the IoT as a future capability rather than something for the present. Indeed, the technical briefing characterised FalconScan as "ready for next generation health and trend monitoring program development", citing prognostic algorithm integration and big data services as future opportunities.
John Walton was a guest of Dassault.
Related Articles: