Given that ViaSat and Inmarsat are now more directly serving airlines, Runway Girl Network sees a benefit in occasionally checking in with other prominent satellite operators in mobility to ask if they have any interest in following suit. And so your author once again put the question to SES in a broad interview with the Luxembourg-based firm.
"We really truly believe that our partners add a lot of value, and each partner has a different level of value, a different kind of value," says SES Networks EVP, global sales Elias Zaccack. For instance, some "are strong in content and other areas", like antennas and roaming agreements. "Each one brings different value that we can never replicate ourselves and it is not our intent to replicate."
Adds Zaccack:
They add a lot of value to the airlines, and it's not our intent to do that ourselves. Others have decided to do it; they may or may not get there but I can't see any one entity replicate what these aero service providers have been doing for the last 15 years…what they provide.
SES has arrangements in place to provide broadbeam and HTS Ku satellite capacity to inflight connectivity service providers Gogo, Global Eagle and Panasonic Avionics. Gogo recently announced that more than 200 2Ku-fitted aircraft are now using the increased capacity provided by the SES-15 HTS, and said it is the first IFC service provider do so.
Passengers "absolutely" will see a difference in #PaxEx, says Gogo CTO Anand Chari, noting that in the plane, more bandwidth equates to a better user experience. "HTS brings more bandwidth and more affordable prices. [There is] a performance difference in addition to getting a better value for the money they spend."
SES also has a unique partnership with Thales to support the French multi-national firm's rollout of its own FlytLIVE Ka connectivity service over the Americas.
But Zaccack assures that when it comes to its different partners, "We love all our children equally."
Our strategy is to build a very robust network to add capabilities to offer better and better end-user service and our strategy in terms of go-to-market is aero service providers. That's why we work with Global Eagle, Thales, Panasonic, Gogo. We deal with them on fair footing. We don't share information from one to the other.

We look at them as our go-to-market channel. We like working with our partners. We ask for a seat at the table so we understand end-user requirements but have no desire to have direct contractual relationships with the airlines.
Given SES's caution about not disclosing its partners' news, Zaccack declined to provide specifics about Thales' FlytLIVE service launch in the Americas, other than to say that SES's interim solution for Thales – which sees a combination of currently operating SES satellites (AMC-15, AMC-16) and Hughes satellites (EchoStar XVII, EchoStar XIX) provide capacity over the Americas – "is ready and up and running right now, and it's beautiful".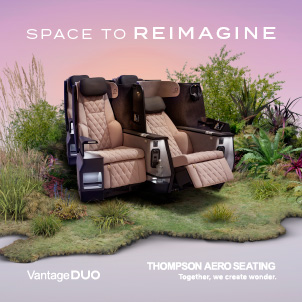 "As far as who is riding on that solution, I would refer back to Thales in terms of specific airlines. But the network is up and running. All I can tell you is what the network is doing from the SES side. As far as we're concerned, our network is delivering."
Thales has remained mum. But after an Air Canada hump-laden Boeing 737 MAX broke cover last month, two US financial services firms, William Blair and Northland Capital, said Air Canada has tapped Thales for MAX connectivity.
Meanwhile, Zaccack says SES-17, the high-capacity Ka satellite which will ultimately support FlytLIVE, "is under construction right now" by Thales Alenia Space "and will launch in 2021", to cover "North America to Argentina and western Europe".
Acquiring mind or no?
In the ongoing discussion over whether the inflight connectivity industry will further consolidate, it's not unusual to hear SES's name mentioned as a possible acquirer.
"In terms of within the IFC providers, it would be pure speculation so I won't go there but in terms of what SES might do, I can tell you we have an M&A department in SES and are always looking at whatever opportunities come our way. But [there's] really nothing we can talk about at this point or are actively pursuing … that's not to say an opportunity won't present itself, but as of today there is nothing in that regard that SES is contemplating," says Zaccack.
Related Articles: