Participating in the creation of inflight connectivity system installation standards is not everyone's cup of tea. The work is highly technical, and every industry stakeholder that gets involved – be they an OEM, antenna maker, inflight ISP or airline – has a vision for how the spec should be drafted. That vision usually tracks closely to their own self interests.
The recent AEEC Ku/Ka-band satcom subcommittee meeting on the ARINC 792 spec for next generation low-profile antenna provisions saw robust industry participation, says William Milroy, CTO of ThinKom, which hosted the meeting at its Hawthorne, California headquarters.
Milroy tells Runway Girl Network that attendees from Boeing, Airbus, Bombardier, Delta Air Lines, Panasonic and Gogo were present. "On the Ku/Ka antenna supplier side, we had (in addition to ThinKom) attendees from Smiths (Tecom), Rockwell-Collins, and Phasor," he adds.
For the uninitiated, the forthcoming ARINC 792 standard is, as subcommittee chair Peter Lemme explains in his latest post, all about "embracing the emergence of highly integrated flat-panel, phased-array antennas".
Says Lemme:
It strips away the ARINC 791 satcom installation to the bare bones. The KRFU (radio frequency unit) is removed. The APM becomes virtual. The KANDU (aircraft networking data unit) is reduced to a power supply: the KPSU. The connectors are smaller, the wiring is a greatly simplified.

The standard [project paper] 792 provision is fully complete, there are no manufacturer-supplied interconnections, the equipment, including the antenna, is bolt-on, plug and play. The critical RF paths are gone, leaving a simple IF interface for signal processing.
Not all inflight connectivity stakeholders adhered to the ARINC 791 spec when installing their Ku- and Ka-band satellite data airborne terminal equipment over the last decade (see Global Eagle's recent candid comments about its own dance with the spec; ViaSat, meanwhile, says its Gen 2 kit adheres to 791 provisions). And similarly, not all connectivity stakeholders are in total agreement about what makes sense for ARINC 792.
For instance, there is an accommodation for a lot more power in the latest ARINC 792 project paper, notes Milroy, which ThinKom thinks is way more power than is necessary for any kind of system. "And with that power, the challenge is what to do with all of that heat", especially if you're "sitting at a gate in Dubai in the summertime… But we understand that is in order to accommodate specifically Phasor."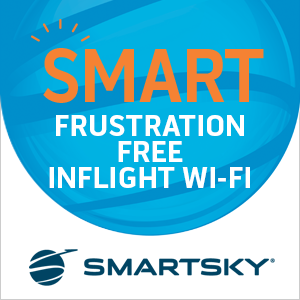 Phasor confirms to RGN that it has been active in the subcommittee meetings, but could not provide immediate additional comment about its power priorities [it is understood the firm wants to be able to operate gate-to-gate].
Broadly, Milroy says the subcommittee is making good progress in accommodating a wide range of antenna types and sizes (smaller LEO-only antennas up through larger Hybrid/GSO antennas, up to 42" in size), which is obviously great news for an array of hardware suppliers.
One item that strikes your author as particularly intriguing is that despite concerns, ARINC 792 is leaning towards accommodating the airframers' interest in tucking everything under the radome (as compared to the 791 option of putting electronics in the fuse or under the radome). "The airlines don't like that [the all-in approach] as much unless it comes with the reliability, because it's a bigger hassle for them to remove the radome," notes Milroy. System reliability and the complexity of repairs as they pertain to 792 were also flagged by Global Eagle.
Providing additional colour, Lemme says:
In short answer to your question, yes we are very concerned about equipment reliability under the radome. But, emerging phased array antennas have a distributed amplifier embedded within the aperture. Thus, there is no single ended high power amplifier in those antennas. Putting the HPA (ARINC 791 KRFU) inside is unworkable for Ka band, and has been an issue with some airframes (787 no room). 792 abandons the KRFU and embraces the outside amp.

For antennas using a single ended amp (ThinKom), we are appealing to the industry to bring a fail/op amplifier to market. Phase-matched amplifiers can be combined efficiently allowing loss of one or more components, leaving usable functionality (get home mode) that can limp along for the weeks it might take to repair it.
It's notable to your author that Kymeta – which generally has been an active participant in the past – is understood not to have taken part in recent meetings. RGN has sought an update on Kymeta's aero activities, given that Panasonic has ceased working with the firm on a maritime solution, and Inmarsat's comments about the timeline for bringing the tech to aero, as reported by SpaceNews, weren't necessarily rosy late last year.
It's also notable that Delta Air Lines was the only airline in attendance at the latest subcommittee meeting. The carrier is currently fitting a hefty portion of its fleet with Gogo 2Ku, inclusive of ThinKom's Falcon-Ku3030 antenna. And it is wisely paying close attention to how the standard is shaping up for nextgen antennas, with Mark Sorensen, senior principal engineer, cabin avionics engineering at Delta, seen as a lead participator.
Any airlines that attend these meetings are generally considered the top dogs in the room. "If there isn't at least one major airline involved, we'd be doing the specs in a bit of a vacuum. Even with the airframers, they would be assuming what the purchasers of the planes want. The spec is to help accommodate the airlines so that in principal they can mix and match common systems under the spec," notes Milroy.
Delta obviously has the heft to go in its own direction if it so chooses down the road. After all, the firm shifted 2Ku equipage work from Airbus' post-delivery retrofit hangar to its own Delta TechOps division. It could certainly self-equip any certified flat panel system, whether said system fits the standard or not.
It's a good sign that major airframers are participating in the meetings as well, though that doesn't necessarily mean they'll commit to the standard yet. Indeed Lemme says Airbus has not made a commitment to 792 installation, and Boeing is currently studying 792 lug layouts "and makes no claim for installation at this time".
Will a plug and play approach make it easier to rip and replace – or indeed simply rip off – a system? It certainly seems logical that it will. And reducing the cost and complexity of returning an aircraft to its owner in near original condition will be favorable to certain parties, most especially if they don't have to reskin the bird.
The next subcommittee meeting will take place this spring at ViaSat's headquarters. Milroy notes that the group has "closed-out almost all open items on pace to a March draft release and targeting a late-April formal approval".
Panasonic, Gogo, SmartSky, Eutelsat, Thales, Inmarsat and SIE weighed in with their thoughts on the spec during last month's APEX Tech meeting in California; read what they said here.
RGN is keen to learn more about which parties will ultimately agree to adhere to the forthcoming standard, as these decisions will shape the connectivity landscape going forward.
Related Articles: