Hard on the heels of China's decision to allow airline passengers to use their smart phones in-flight, the Chinese inflight connectivity market is heating up, including for IFEC players Astronics, Lufthansa Technik and Gilat.
On 12 February, Astronics announced that it has been selected by Air Esurfing, a unit of Chinese digital media company Air Media Group, to support Chinese airlines' equipage of connectivity on narrowbody aircraft by providing supplemental type certification (STC) work for the antenna and cabin distribution system, plus other products and services.
Astronics Connectivity Systems and Certification (CSC), a new group which combines recently-acquired Telefonix PDT with Astronics Armstrong Aerospace, will perform the certification and validation work, which initially includes trial kits.
Also involved in the project is maintenance, repair and overhaul giant Lufthansa Technik, which last year brokered a MOU with Air Esurfing to ultimately "install high-speed and state-of-the-art Ku-band/Ka-band antenna and on-board distribution systems in 200 Airbus A320 family and Boeing 737 aircraft".
But the deal could potentially be even larger, judging by the latest messaging from Astronics. "Once the system is tested and approved, Astronics will support the installation of connectivity systems on up to 300 Airbus A320 and Boeing 737 aircraft from its operations center in Toulouse, France," Astronics said in its statement.
Astronics CSC president Michael Kuehn declined to discuss the antenna selected for the project, telling Runway Girl Network: "We cannot comment on any specific details that haven't already been made public." But antenna maker Gilat, which boasts a close partnership with Air Esurfing, told RGN it is working with Astronics.
Gilat VP commercial aviation, mobility and defense Michael Barak said: "I can confirm that Astronics, among others, is working on the STC for the Gilat Ku/Ka terminal." The exact number of aircraft to be fitted with the Gilat hybrid antenna, specifically, is not immediately clear. But the hardware recently reached speeds of 130Mbps with dozens of concurrent users during a ground demonstration with Air Esurfing in China.
China is an exciting market for virtually all major players in the IFEC space right now. "We recognized early on that we needed to make a long term commitment and we believe we are well poised to serve as many customers with the full line of aircraft power, connectivity, interior, and lighting products that we offer across our company," said Kuehn.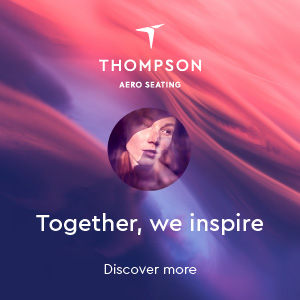 In terms of China's addressable inflight connectivity market he said, "As has been pointed out by published industry studies, the Chinese market is projected to be a strong growth market and Astronics is aligning with this projected growth."
Gilat's Barak is also enthusiastic. "We see great momentum in China for IFC. We estimate that all airlines (small and big) are involved in IFC related evaluation and are making concrete plans to introduce IFC to their respective fleets (domestic as well as regional and global)."
Astronics on the march in China?
Beyond the present award, RGN asked if Astronics sees an opportunity to grow its own antenna hardware business in China (its portfolio includes the F310 Ku-band antenna for commercial airlines and the T-Series tail-mounted antenna for business aviation).
"Astronics' strategy is to support the Chinese market with the full spectrum of Astronics products and will serve its partners and customers through technology innovation, support, and service. Our expertise across disciplines and network agnostic approach and support of multiple modems provides the most flexible option for many airlines and IFC providers. This holds especially true in a market like China," suggested Kuehn.
Would Astronics ever consider entering the service side of inflight connectivity if the right opportunity presented itself? Noted Kuehn:
We have many partners that excel at this segment of the market.  The service side is a very specialized area of the market as the Runway Girl staff knows all too well. Our greatest value to the market is achieved by providing solutions are configurable, agnostic, and ready to serve any IFE provider.
Looking to the future, Astronics is engaged in R&D work for antennas that support next generation constellations, including new LEOs. "Astronics has many leading edge R&D programs that are focused on this market and we have a view to optimize technology, market reach and timing and will announce new technology at the appropriate time."
Related Articles: