Deutsche Telekom assures that airline passengers "will be introduced" to European Aviation Network-powered inflight connectivity in the first half of the year, and that "every passenger will be served equally" with the wifi solution.
Providing an update this morning on the rollout of the hybrid air-to-ground/S-band satellite service, the German firm noted in an online press briefing that IAG-owned British Airways, which is serving as the launch customer for the EAN, is already "well underway" in installing the connectivity system on its aircraft. It also reminded viewers that a test aircraft has been flying with the EAN kit for months, and the system is "meeting its parameters".
The integrated LTE ground network portion of EAN, which features 300 ground stations, is now complete. It is designed to meet the inflight connectivity needs of European operators for decades to come, as it is "fully scalable", according to Deutsche Telekom, which is partnered with satellite operator Inmarsat and others on the EAN project.
Due to the density of traffic in Europe, satellites are struggling to meet these needs, thus requiring a different offering, it said.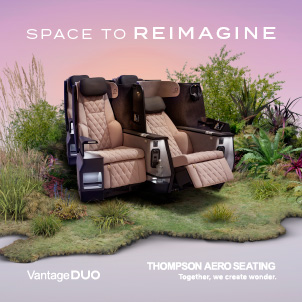 "With the completion of the first ever integrated pan-European LTE ground network component we are now able to fully support EAN's satellite connectivity and maximize the performance of the EAN system," said Rolf Nafziger, SVP, international wholesale business at Deutsche Telekom, in a statement.
Added Thorsten Robrecht, VP vertical network slices at EAN tech partner Nokia, "EAN's ground network had to meet technical prerequisites that are quite different from 'normal' LTE networks: it needs to work at speeds of up to 1,200 km/h, at heights of 10 km and requires large cells of up to 150 km. Our joint endeavor breaks the technological boundaries between ground and air on connectivity".
Asked whether the launch of EAN-based inflight connectivity will be delayed by Viasat's legal action against Ofcom and other European regulators, Deutsche Telekom said it believes Viasat's case is without merit, and will not affect plans.
Related Articles: