Having accepted delivery of its first two Bombardier CSeries CS300s, configured "dual class" with a total 127 seats, Korean Air intends to offer an extra legroom product to passengers and call it "premium economy".
Korean Air certainly wouldn't be the first carrier to create a separate fare class using the same seats as found down back on board aircraft – consider how European legacy airlines offer short-haul Eurobusiness by blocking middle seats (and upgrading inflight service) on narrowbodies.
But while Korean Air's PR messaging stresses that the CS300 is "dual-class" including premium economy and economy, the carrier's web site refers to premium economy as "Economy Plus" – the same sort of branding used by United Airlines for its extra legroom economy class product (which is not a separate fare class).
"There's not much difference" in premium economy and economy class on the CS300 other than seat pitch, a Korean Air spokeswoman admits to Runway Girl Network.
"But then, on some flights, those four inches matter," she adds.
The Korean Air CS300 is configured with 25 seats pitched at 36 inches as "premium economy", and 102 seats pitched at 31-32 inches as economy class.
But it is presumably the CSeries' naturally wider seats, enabled by its cross-section, which allows Korean Air to call the extra legroom forward section premium economy without being verbally skewered by savvy travelers.
As is standard for the five-abreast CSeries layout, middle seats on the Korean Air CS300 are 19 inches wide and all others are 18.5 inches. That means that CSeries seats are wider than economy class seats on the Boeing 737 and Airbus A320, which are 17 inches and 18 inches, respectively, and the middle seats are – in terms of width – on the narrow end of international premium economy, which ranges from 19 to 21 inches wide (with some outliers).
Somewhat naughtily perhaps, Korean Air's press release states, "The CS300 also will allow the airline to introduce Premium Economy class to its fleet. With the single isle dual class configuration, customers will be able to enjoy a wider pitch (4 inches wider) and a wider seat width of 19 inches." To be clear, only middle seat passengers will have the full 19 inches of width, but 18.5 inches is nothing to sniff at.
Seat width makes a "huge difference" to the passenger experience, even if legroom has been tightened up, Colin Bole, senior VP sales and asset management at Bombardier Commercial Aircraft told Runway Girl Network last year.
That might also explain why Korean Air is technically offering less legroom in economy class on the CSeries than it does on its Boeing 737NGs, which feature a 33-34-inch seat pitch.
While the CSeries provides a worthy canvas for airlines to adopt creative interior elements – see, for instance, Swiss' albeit higher density implementation including a 1-2 Eurobusiness layout up front– Korean Air's CSeries cabin is somewhat modest in appearance. But what it lacks in style it makes up for in living space.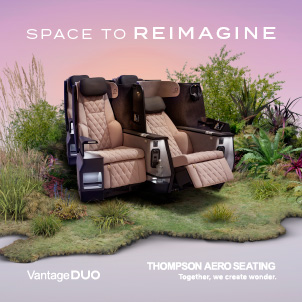 Passengers will appreciate the inches afforded them in economy and premium economy. Zodiac Aerospace produced the seats, says Korean Air.
Passengers with reduced mobility will also welcome the accessible lavatory on the CS300, which features a large entryway for maneuverability. And Korean Air will offer wireless IFE and in-seat power, according to Bombardier.
"The aircraft will be used domestically, that is, only in Korea and then later probably in Asia," notes the Korean Air spokeswoman. In turn, Korean Air will "allocate its larger single-aisle jets and widebody aircraft to routes requiring their capacity", says the carrier.
Korean Air's first CS300 arrived in Seoul on 25 December, and a second has since arrived in Seoul. The carrier will become the first Asian operator of the Pratt & Whitney geared turbofan-powered CSeries when it launches scheduled service on 16 January. It is planning to receive a total of ten CS300s from the Canadian airframer.
Related articles: