When rumblings recently emerged from consultant Alan Gottlieb that Panasonic Avionics was no longer working with Kymeta on a flat panel antenna for the maritime industry, some industry observers were not surprised. During the big Satellite 2016 exhibition, Panasonic execs seemed decidedly underwhelmed by the Kymeta antenna which was displayed on a yacht docked at the National Harbor in Maryland. At that time, Panasonic confided that it was not seeing meaningful improvement over a traditional Ku connectivity system, but said it was still early days.
Fast forward about 18 months, and Kymeta CCO Bill Marks has confirmed to Gottlieb (page 31 of Satellite Mobility World) that the maritime deal with Panasonic "is done", noting, "That doesn't prevent us from working with them on other types of projects. I don't know how dedicated to maritime they are, but they have certainly been dedicated to aviation. At some point, maybe we will work with them again."
Panasonic Avionics VP global sales and marketing David Bruner tells Runway Girl Network that the inflight entertainment and connectivity giant believes "some liberties were taken in headlines" when news first broke that Panasonic is no longer actively trialling the Kymeta system. "Saying we're not participating in a maritime trial is not the same as dumped. We still have a contract with Kymeta. Nobody wants them to be successful more than we do," says Bruner.
Kymeta's mTenna technology is pitched as providing software-enabled, metamaterials-based, electronic, beamforming satellite solutions that are flat, lightweight, small, and use software to steer instead of mechanical parts. The hardware will be exploited across industries, including maritime, rail, automotive and aero.
"It wasn't ready from our perspective," says Panasonic's Bruner in reference to the Kymeta maritime system "and we did not move forward but it doesn't mean that if they were able to address [our] items that we wouldn't still be interested. It is a unique design. If they could meet the market requirements … it would be successful."
He adds, "Sometimes these things are disappointing. We wish them luck and progress and meeting the goals because we would love to have that product if it can meet the requirements we need."
This is the second high profile antenna partnership that hasn't born desired fruit for Panasonic. Readers will no doubt recall that Panasonic teamed with Boeing Defense for a phased array Ku-band antenna for aviation, which proved too costly a proposition.
Explaining Panasonic's broader requirements, Bruner says:
A couple of years ago, we had a program with Boeing and that particular antenna was the best performing antenna that we have seen to date, even now. But the cost that we could bring that to market was going to be more than what airlines pay today for the mechanically steered antenna. And the market doesn't want to pay more. The market wants things to get less, not more. So beautiful performing antenna, great RF performance…it met almost every objective set by us. So what we really need is that kind of performance and an antenna at about half the cost. And so that is what we've been working on.

And kind of like a lonely guy at a dance, I walk up to every girl there and say, "Hey, have you got a phased array?" And we try to find who's got the technology to deliver the performance but also in the cost profile that we need and we've danced with almost everybody including our own in-house development but all have had one KPI where they fall short, at least one KPI."
That doesn't mean that Panasonic takes a negative view on beamforming flat panel antennas, and phased array solutions. It is fully aware it will need a system when new LEO constellations launch, or very shortly thereafter.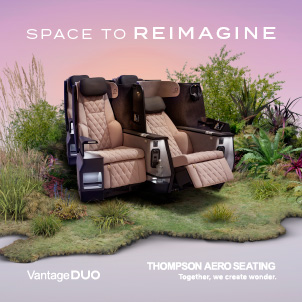 In general, these antennas have "had some very good progress in the last four or five or six months….and new players hold some possible breakthroughs", says Bruner.
But having encountered its share of disappointments, Panasonic is "going to be quiet for a while" as it assesses the latest technologies.
In the meantime, the company is focusing on enhancing the reliability of its current mechanically steered Ku antennas. "Reliability is most important particularly with our own product than anything else. We're putting more cost into reliability because availability" is key.
Airlines expect the antenna to work on every single flight because "passengers are demanding access. It's a hot issue, they don't want to fly a flight where the antenna is not working. So we're focused on how do you drive more reliability to get higher availability," adds the Panasonic executive.
Related Articles: