Gogo's decision to jump into in-seat IFE in the form of Gogo Vision Touch is being heralded by the firm as "disrupting the legacy inflight entertainment market". The first deployment of Gogo Vision Touch is expected to occur in the spring of next year, as the first CSeries is delivered to Delta Air Lines (presumably if tariff-based protraction doesn't occur).
Though Gogo, Delta and Bombardier have stayed mum on key details of Gogo Vision Touch – including how the tablet-based IFE solution will be able to pass challenging head injury criterion (HIC) tests – a number of stakeholders have anonymously weighed in with their thoughts on how it might be accomplished.
Multiple sources tell Runway Girl Network that, before IFE firm Lumexis went out of business, Gogo and Lumexis were preparing to introduce a solution that would springboard off of the Lumexis iPAX product, a wireless seat-centric hybrid system.
One of the key ways in which iPAX was positioned at the time was that it would use plastic OLED screens (rather than integrating an iPad or Galaxy Tab), and ergo was expected to be able to pass HIC.
If Gogo did indeed work with Lumexis, such a revelation would not come as the biggest surprise to your author. In a February 2016 interview with RGN, Lumexis' then VP of sales Jon Norris declined to comment on whether Lumexis and Gogo might work together in the future, but noted, "Most of the IFE players have already made their bid for doing their own connectivity or [announced] who they will partner with. At the moment we're an exception to that, but things might change with who we choose to work with in an upcoming installation."
Moreover, your author posited at the time:
One does wonder if Gogo has finally come to accept that embedded IFE will remain an important part of the long-haul (and in some cases medium-haul) passenger experience for some time to come, and that teaming with an IFE provider might make sense
Asked specifically whether Gogo previously worked with Lumexis to offer iPAX, including to Delta, and whether the Hitachi tablets that will be used for the Delta CSeries implementation will feature plastic OLED screens, Gogo's VP of communications, Steve Nolan, says: "In regard to questions about Lumexis, we won't comment on market speculation."
Norris, who now works as Panasonic Avionics senior director – corporate sales and marketing, tells RGN he is not aware that any company or individual purchased the Lumexis IP. "After the majority of the staff were terminated in June 2016 it took several months to fully wind down Lumexis and I don't know what transpired during that period."
Does Panasonic, the dominant provider of in-seat IFE, intend to offer a low-cost, iPAX-type solution as part of its own portfolio? "Panasonic is continuously innovating and assessing technologies and opportunities in the market so I wouldn't rule out a move into this lowest-cost area. If and when we may decide to do that we'll share that news with the market," says Norris.
During an earnings conference call this morning to report a third quarter net loss of $45.3 million on a 17% increase in revenue to $172.9 million, Gogo management said the Chicago-headquartered firm is seeing a high level of interest from airlines for Gogo Vision Touch.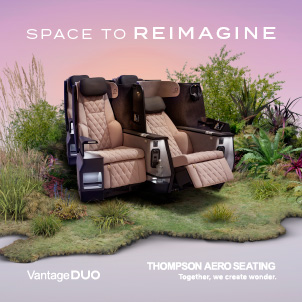 The product "evolved out of an airline need; Delta wanted a seatback solution without the weight, cost and complexity of legacy solutions", explains Gogo chief operating officer John Wade. The "commercial grade tablet" will be supplied by Delta in the seatback and will be wirelessly connected to Gogo's in-cabin network.
Gogo CEO Michael Small says the commercial relationship with Delta includes "some economics for Gogo that will begin to appear next year. It won't be a large number next year due to the number of aircraft that have it, but our ability to revolutionize inflight entertainment, make it lower cost per seat, get more modern screens in there, make it more upgradeable over time and make it more uniform from one aircraft to the next" is going to be a big deal for the IFE business.
Meanwhile, consumer electronics makers have been showcasing flexible, plastic OLED screens for several years.
Related articles: