Realizing it needs to step up its onboard #PaxEx credentials, TAP Air Portugal will adopt Panasonic Avionics' Ku-band connectivity solution when it takes delivery of new Airbus A330-900neos with the Airspace by Airbus cabin.
The decision is timely; TAP is well aware that its current connectivity offering is not fit for the modern web. As do its passengers. During a flight this month from Boston to Lisbon, your author accessed TAP Internet, as provided by SITAONAIR's low-bandwidth L-band offering, and was billed $45 for three completely unusable sessions.
Keen to understand the drivers behind TAP's choice of Panasonic Ku connectivity, and to get a fuller understanding of TAP's plans for improving the passenger experience – and luring more American tourists to Portugal – Runway Girl Network recently sat down with head of inflight and onboard product Joel Fragata during a TAP-sponsored tour of Portugal's wine regions which culminated in the TAP Wine Awards in Porto.
Noting that TAP is "in the middle of a transition", and will be moving to the new "state-of-the-art" A330neos as launch customer of the type, Fragata confirmed that "those in fact will be prepared to get connectivity with the latest technology offered by Panasonic".
Obviously, Panasonic's eXConnect Ku solution is linefit offerable on the aircraft type. But Fragata cited the carrier's long-standing relationship with Panasonic for IFE as informing its decision. "Panasonic and TAP have been partners for quite a long time right now, and the proposal they had, and the package of products they offered, seemed to be the more seductive ones, and we decided to move on with Panasonic for the eX3 IFE system with all the other new products."
He added, "So we come from an actual Panasonic reality, where TAP has eX2 already on some some of its [current A330] aircraft now or the eXLite so we decided to give continuity to this partnership and use evolution of eX2 to bring a new approach to the IFE where everything will be based on the client approach and to optimize the passenger experience, rather than just the usual IFE system where people can select a game or movie to watch."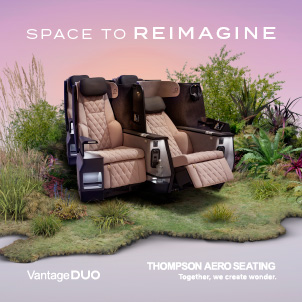 Will a more personalized experience be offered on the A330neo? "Yes, it will be much more so," confirmed Fragata, "and in fact there will be a new passenger interface specifically designed by TAP's team and Panasonic, where we will focus exactly on this passenger experience and what we'll be able to do with the passenger in terms of communications, of advertising, of promoting destinations.
"It will be used to promote the company, to reinforce the CRM to know our customer and to decide what will be the best approach to each and every passenger."
TAP is already using its current Panasonic IFE systems to highlight programming about the wine regions of Portugal. And it is reaching out to Portuguese social influencers to create content that promotes tourism and aims to attract those "who have a particular interest in culture".
But could passengers one day be able to order Portuguese wine over Panasonic eX3 on the A330neos, see the transaction supported in real-time with Ku connectivity, and then be greeted with the product on landing? TAP is "chasing it", noted Fragata, but there are other considerations – "customs and the legal aspects".
"Technology is easy, the rest is a nightmare."
TAP fielded multiple proposals from inflight connectivity vendors for the A330neos, he confirmed. The carrier had a "hard time making a decision" but in the end Panasonic satisfied the requirements outlined in the RFI, and offered an all-encompassing IFEC solution that "will be the best for the passenger".
TAP is still evaluating pricing and whether to offer a free tier of connectivity to passengers. "Text messaging is something we are looking at and we are actually evaluating the financials of this possibility. Of course, giving the service free to passengers would be the best option as long as the airline is not too disadvantaged by the cost. The Internet is still quite an expensive solution so we have to find the correct balance."
Short-haul IFEC considerations
For TAP's short- and medium-haul narrowbody fleet (including forthcoming A320neo family) the company is evaluating an array of wireless offerings, including the Inmarsat hybrid ATG/S-band solution as well as various streaming IFE solutions which would serve as a stop-gap until it is ready to offer connectivity.
One scenario that doesn't tempt TAP is the portable wifi boxes which are gaining traction among ultra-low-cost carriers. "We have to think a little bit further than that," said Fragata, and therefore TAP is eyeing retrofitable wireless IFE hardware.
Lufthansa Systems' technology path is among the options being studied, as this has been pitched as tiding-over carriers until connectivity pricing is more palatable. "That's one of the proposals we have on the table but it's not the only one. We have three or four other proposals," revealed the TAP executive. "I don't think we'll be making a decision until the end of this year."
Irrespective of the decision made for the A320s, IFEC has become "very important to the passenger to be able to be connected or to be able to be entertained so we have to invest in the solution".
Upgrades to current A330s
TAP has been retrofitting its current A330s with a new business class cabin, and this was made possible by its semi-privatization, which enabled TAP "to make some big investments and it was one of the first things this administration were able to do", said Fragata.
"It's seven aircraft in the TAP fleet where we had definitely to invest on upgrading the business class service … we were able to add one seat in business class, from 24 to 25, adding more comfort because all the seats are full-flat seats with the traditional options of a business class seat in terms of technology and comfort. So this was a major upgrade."
Though a handful of the full-flat seats on each A330 are not aisle-access, TAP believes the cabin compares right now "with the standards of the industry".
The cabin refresh, meanwhile, has given TAP a new spring in its step.
"It's amazing," enthused Fragata. "We had to, of course, be able to get some financial capacity to do it but we were working on some ideas for quite some time. We started to really find the carrier's identity when we were in the A350 project [the carrier later changed its A350 order to A330neos], where actually in terms of marketing, we really found the cabin interiors approach – bringing this Portuguese identity inside the aircraft and to make sure people know this is a TAP Air Portugal aircraft … a lot of companies use blue inside aircraft so we decided to go outside of the box, bring our colours and take advantage of the nice sunshine and colors we have in our country."
The service has also been upgraded, with meals from Michelin starred chefs "and we're introducing a new wine list beginning in 2018". The winning wines were announced at the TAP Wine Awards. New amenity kits will also launch in the first quarter of 2018.
Differentiating Airspace by Airbus on the A330neos
From an aircraft interiors perspective, TAP's forthcoming A330neos with the Airspace by Airbus interior "will be fully personalized to the TAP branding colors. So hopefully we'll be doing the coming launch in the first months of 2018 and we'll define what will be the LED lighting scenarios for TAP based of course on our colors," said Fragata.
"I can't tell too much about this because it is not frozen yet, because we have some small adjustments to make but there will be for sure a new approach and I think people will be surprised with what we're preparing," he continued.
Though a true Premium Economy offering will not be adopted on the A330neos, TAP will continue to offer extra legroom economy with new comfort options on the seat. Said Fragata:
Premium Economy obliges the airline to a bigger investment whereas the return on the investment is [still unclear].
TAP will take delivery of the A330neos configured with the standard eight-abreast in economy. It has zero interest in going the ULCC route with a super-snug nine-abreast layout. Offering a comfortable seat on long-haul flights is important to an airline which is working hard to promote Portugal as a destination for business and pleasure, and the carrier's own 'Portugality', noted Fragata.
"It's our culture and we want people to see and find our country."
TAP covered the author's travel to, and stay in, Portugal
Related Articles: