This is an Op-Ed contribution from Daniel Stecher, VP and head of sales for airline operations at IT solutions provider IBS Software Services.
Since 2008, I have visited several airline Operations Control Centers (OCC) around the world. The OCC is tasked with managing and coordinating the execution of a carrier's daily schedule. At low-cost carriers, legacies and even top-tier airlines, what I've seen in my travels is pretty consistent – rooms full of operations controllers and crew controllers using technology and data provisions from the 1990s. In some cases, if you can believe it, rigid, old systems are not connected with each other or just show green letters on a black background. Pen and paper are also still in the airline ops tool set in this digital era.
OCC system integration has been a major topic within the airline industry for a decade, without much action to show for it. But integration is key to predicting and preventing disruptions which affect aircraft rotations, passengers, and crews, and cost airlines billions of dollars every year. IT is often perceived as a commodity. This perception changes quickly when system outages begin affecting thousands of passengers. The technology gets a headline only when things go wrong.
Almost all airlines use Gantt chart-based IT systems on the day of ops. The forerunner of the typical airline Gantt chart was created in the mid-1890s by Karol Adamiecki, a Polish engineer. A decade-and-a-half later, an American engineer and project management consultant named Henry Gantt made a modified version of the chart which gained great popularity around the world, particularly in industrialized Western nations. As the Gantt chart became a common tool among airline users in the 1990s, the OCC was transformed to what it is today.
Yet, as Gantt screens proliferated, navigating to them individually to perform simple tasks has become cruelly inefficient.
OCCs can, quite simply, do better, with the implementation of new digital platforms and data visualizations principles like "situational awareness" which give entirely new views into airline operations. Indeed, I posit that the era of the Gantt chart is about to come to an end, at least in the airline operations sector. Situational awareness windows with various operational widgets and notifications are going to be the most important screens in your airline OCC – not the Gantt chart.
These windows are great because ops and crew users can extract at-a-glance views: Ops Gantt, Crew Gantt, Notification Browser, even check available standby crew at the hub. Widgets can also be individually positioned on the screen, minimized or completely switched off, a useful feature if you are doing anything with maintenance control, or crew training planning or aircraft tail assignment or connecting passengers. Widgets change everything by countering the bulkiness and complexity of the Gantt chart. They provide a focused and event-driven experience, that beats a broad information overloaded ops and crew system screen. Moreover, the solutions that can make best use of single click efficiency will soar in usage.
It is nearly impossible to overstate how much technology will change the way OCC staff – primarily ops controllers and crew controllers – will use these technologies to completely transform airline operations systems in the future. Interactive notifications will spur all sorts of new behaviors. Some of these will be simple, like the ability to swap a tail or assign an open duty – without quitting whatever you're already doing. And this interactivity is not just limited to ops and crew management tasks. Duty managers, station managers, and hub controllers can take advantage of this new capability as well.
When we can interact with our data in short bursts via notifications, we make remarkable efficiency gains, especially on tasks that we perform again and again.
Improving #PaxEx, whilst driving out cost
Delayed flights and canceled flights obviously have a negative impact on the passenger experience, passenger loyalty and airline brand. In fact, it costs airlines billions every year. IATA statistics suggest that delays cost up to roughly $25 billion annually. Airlines cannot influence weather or ATC issues; however they can mitigate delay and passenger compensation costs if the OCC staff has proactive visual awareness of disruptions. That means that isolated IT systems have to be mastered.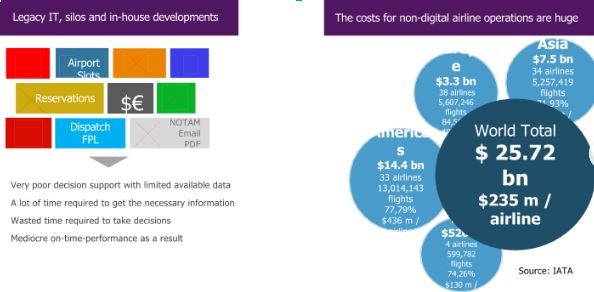 Every airline OCC has a sophisticated disruption management policy to mitigate the impact for passengers and crews. Unlike in the past, the heat is on airlines as passengers quickly communicate via social media channels if things go wrong. Tweets about runway closures communicate faster than airport NOTAMs these days. Furthermore, airlines have to cope mobile, social, vocal, device-laden passengers.
Some important work has already been done. Eurocontrol's Airport Collaborative Decision Making (A-CDM) aims at improving the efficiency of airport operations by optimizing the use of resources and improving the predictability of events. System Wide Information Management (SWIM) and data sharing between airlines, airports, ground handlers and air traffic control under the SESAR project in Europe requires the individual parties to share data and prepare the individual IT systems for upgrades.
Hence the question now is, are the airlines and their alliances ready for the next step of collaborative disruption management?
The following questions also beg answers, in my opinion:
What hinders airline groups in the exchange of information among member IT systems?
What is the disruption management policy if an aircraft is AOG (aircraft-on-ground) and cannot operate to the hub of another member of the group?
What happens if the Captain is sick and no standby from the same airline is available?
How much time passes before an airline group is able to share all resources among members?
Why is a group of airlines not operating with an aircraft from one member, cockpit crew from another member and cabin crew of yet another member airline?
Why do things which work out when creating flight schedules for each group airline suddenly not become possible on the day of ops?
Why do members of the airline group go back to operations on an individual level when IT disruptions occur?
Of course, the legislations in some countries do not enable airlines to flexibly deploy available airline group resources. Or sometimes unions do not support the notion of making use of synergies and economies of scale. However, the reality is that the IT infrastructure is often the bottleneck for collaborative resource management.
The year 2007 heralded a new era. Instead of carrying a digital camera, a navigation system, a cellphone and a game console, people just replaced all four devices (and their cables and chargers) with one single device called the iPhone. For ten years now, people have been enjoying the flexibility and just-in-time communications wherever they are and using a digital cloud platform which eases data integration with any other device they have. Taking a picture on one device makes it available on other devices through the cloud.
In 2017, airlines still deploy a large number of "devices and cables and chargers" in their OCC. Adding to the complexity, even airlines belonging to a single airline group rely on different systems and suppliers. There is immense potential for simplification by integration.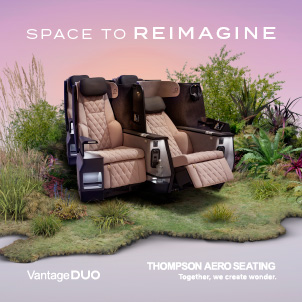 Several group airlines can collaboratively work together on one set of data which is available in real time for each individual OCC. Every airline can see deep into the activities of the other airlines, while still protecting privacy and data security of highly confidential data. It follows the same principle as Facebook or LinkedIn where each user can define what's visible for friends and followers. This has been in vogue in all walks of life since 2004, yet seems so far away in airlines – this can easily become a reality if a digital platform is deployed.
A true single operations platform for all activities on the day-of-ops enables airlines who operate as a group to flexibly respond to disruptions. What has been collaborative decision making at airports can be Collaborative Disruption Management for airlines. Information sharing is a no-brainer if all group airlines have access to the same digital platform which is integrating all relevant operations data like reservations, load planning, flight planning, weather, maintenance, airport, passenger data, aircraft, crew, Air Traffic Control, station and hub data. Disruption is most certainly afoot.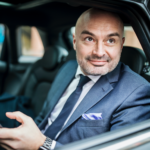 About the Author
Daniel Stecher is VP and head of sales for airline operations at IT solutions provider IBS Software Services. He has more than 20 years of experience spanning the logistics industry and has traveled more than one million miles in order to meet with experts and customers from the air cargo industry and airline business IT solutions industry. Before joining IBS, he was responsible for the market development of the NetLine suite of products (Schedule Management, Operations Control, Crew Management) at Lufthansa Systems as product manager and product consultant.