It remains to be seen if Inmarsat's decision to directly secure STCs for its Global Xpress connectivity service – on top of seeking prime positioning with airlines – will ultimately convince some GX value added resellers (VARs) to walk away. But as momentum for GX grows – it is still the only near global Ka-band GEO constellation managed by a single operator – Thales, SITAONAIR, and Rockwell Collins presently seem content to take a wait and see approach.
"Right now our partnership with Inmarsat is very strong," Thales Inflyt Experience CEO Dominique Giannoni told RGN at the recent APEX EXPO. "They continue to invest on their network, which fits our needs and it's a very good value proposition. We have been very successful in selling AVANT IFE coupled with [the] GX solution. We have more than maybe 200-300 aircraft on order to deliver with this technology and more to come. So [the] partnership is quite strong.
"We'll see how the strategy of Inmarsat evolves as well. But right now, we have a strong partnership. And the key thing for us is to find partners, and maybe it is different from others. We want to remain positioned where we are in the value chain. Meaning having a satellite provider that actually manages service for us and we are not interested in buying payloads…"
So Thales is not interested in being anchor tenant on satellites? "Not on a rule basis. We want a managed service."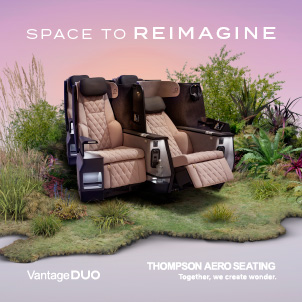 Naturally, Thales isn't putting all of its eggs in one connectivity basket, having secured an arrangement with SES and through it with Hughes to support Thales inflight connectivity over the Americas. And it has received a license from the FCC.
"We are building the readiness of our system. We are in final stage of qualification of our antenna," said Giannoni. "We have already the cabin network ready and we are finalizing as well our ground infrastructure to be able to connect. We expect to do some flight tests in the coming weeks and open service beginning of next year with an undisclosed airline…"
Does Thales need one or two big customers on this new service to make the numbers work? "We believe we really do have a very good differentiated solution that [is] differentiated not only because we have a strong partnership with SES and have a state-of-the-art solution [but] open as well. We don't want to confine us to a proprietary standard as some others are doing because technology will evolve. We believe as well that we are positioned because we have a huge legacy. You know right now we have JetBlue and United."
He emphasized that Thales is "the prime contractor" for both JetBlue and United, though ViaSat Exede provides the service. "So this has given us a huge experience of what the airlines are expecting and what the passengers are expecting. So moving forward we want to continue expanding our footprint to go to major airlines for sure. So we need, [a] substantial amount. Obviously it is a huge investment only possible because we are part of the Thales Group."
Staying agile
Flexibility seems to be the name of the game these days, as inflight connectivity providers seek to evolve as both technology and opportunities evolve.
To wit, where once there was a bit of turmoil over the pricing of Inmarsat Classic for cockpit safety services as the migration to Inmarsat SwiftBroadband-Safety began, SITAONAIR seems content with its relationship with Inmarsat. It has signed on as a service provider for SwiftBroadband-Safey (as has Rockwell Collins), and it is celebrating the fact it is the first Inmarsat VAR to activate GX in Asia, on a Singapore Airlines 777-300ER. SITAONAIR will also deliver GX to Philippine Airlines' existing SwiftBroadband-fitted 777 fleet.
Admitting that SITAONAIR has had "our high and low moments" in recent years, as the foreign market pivoted to broadband cabin connectivity (and away from SwiftBroadband for the cabin), company VP of strategy Dominique El Bez said, "You know that's the life of commercial companies. Sometimes you win and sometimes you don't win, but we are very proud to see that, at the end of the day in the race of the first GX VAR implementing and delivering connectivity – high-speed connectivity on board the aircraft – SITAONAIR is one of the first that will be doing [it] and it's probably because of the trust the company have on us.
"You know we are a value added reseller for Inmarsat and with a value added reseller, you have value add. We definitely do more than just reselling an access to a pipe. We have expertise in creating value on top of it. And that's the model we have at SITAONAIR, that everybody has in the company, which is to really not just deliver the connected aircraft, but to deliver the promises of the connected aircraft to the users and the users being … the passengers obviously, that is a user, a stakeholder of the connected aircraft; but as well the cabin crew. We are doing a lot for cabin crew solutions so that they are able to have a digital work environment. To work the 'back office', but as well to support in the 'front office', the passenger."
On the cockpit side, SITAONAIR is now bullish on SwiftBroadband-Safety, and it is willing to work with all of the hardware providers supporting the service: "We have a very long tradition of being the leader in datalink and ACARS. We have a lab in Montreal where every single avionics manufacturer will come and anyway certify their service against our datalink," noted El Bez. So for SwiftBroadband-Safety hardware manufacturers, "we tell them, come to Montreal [and] we'll just validate it with our infrastructure."
As reported by RGN, SITAONAIR is also working more closely with Panasonic these days. Your author is old enough to remember when such a relationship would have seemed surprising to say the least. "As you know, our open cabin concept kind of developed on the top of what we do for Emirates. And Emirates was all about, 'I want to unify the portal and passenger experience on top of the connectivity I want for my aircraft,'" said El Bez.
"So we are the company that [operates] on ALNA Airbus, Thales, now Ku Panasonic, we are on Zodiac, so we now say, 'yeah, we know how to do that, our infrastructure just allows it'. And then with the success and more and more requirements from our friends at Emirates, our relationship with Panasonic lets us work together and maybe there are other areas of collaboration together."
That includes working with Panasonic to move non-safety ops data over Ku. El Bez said SITAONAIR has taken the initial steps, having "done that recently with them for a Chinese airline" wherein notifications for the IFE are transmitting over Ku. The integration also includes Teledyne, which "lets us push the data over the Ku links and we're going to 'productize' that now and I think we're going to extend that concept. We have an extended relationship with Teledyne for ACARS over IP over cellular. But this will expand to onboard connectivity as well. It's coming."
The shared network factor?
Rockwell Collins is also benefitting from its relationship with Inmarsat, including in the business aviation world where it offers GX-powered Jet ConneX. But like Thales, it remains alert about potential market shifts, having developed a phased array antenna that senior director, global marketing Richard Nordstrom said will be able to facilitate "LEO/GEO, or MEO/GEO or MEO/LEO".
Panasonic and Gogo are also staying alert on this issue, with the former now demurring on specifics about XTS in this hotly competitive market.
But with specific regard to Inmarsat's more direct approach, Nordstrom said: "I think right now Inmarsat is going through a reorg, at least at the higher levels, and we are going to have to see how that plays out to see if there is going to be a change in direction, to see if they are going to reassess how they are going to market. That's all right now up for discussion, I think. And I think we just need to sit back and wait and see what their decisions are. What I can tell you is we communicate, if not hourly, at least every other hour with them. We have a lot of communications and quality feedback, back and forth between Inmarsat and us. And you have to do that because they are an important partner to us, as a source for a network, but also we're important to them because we bring other insights and other objectives that they just still don't have yet."
More broadly, SITAONAIR CTO Greg Ouillon believes the inflight connectivity market is experiencing a shift.
I think you can look at the connectivity market or industry as a process that is going through phases. These phases are maturity phases and as the airlines build their experience, there is more demand and there is a certain level of complexity that starts appearing. For probably the first phase of that connectivity world, most of the airlines were wondering, "how do I connect, what is my choice?" And they were doing that for their fleet. We are now at the next phase, which is that they know how to do it through a partner like us, but they are doing it for many things and as they do that, for each fleet, they have chosen the best technical option that was available to them at the time of their decision. So it results in a number of airlines having disparate set-ups…
But ultimately, he posited, passengers will expect consistency across every touch point of the experience, and buy connectivity independently of where they are in the journey.
Image at top credited to Inmarsat on YouTube
Related Articles: