ViaSat, which has taken legal action to prevent the launch of the European Aviation Network as conceived by Inmarsat, is vowing to continue the battle, despite statements from Inmarsat that the go-live date for EAN-supported inflight connectivity service for airlines is "imminent".
The Carlsbad, California-based satellite operator and service provider – which was joined in the suit by partner Eutelsat, and publicly supported by Panasonic Avionics – argues that the ground portion of the hybrid ATG/S-band network "is supposed to be complementary to the satellite" not the primary means of transmitting data. ViaSat president and chief operating officer Rick Baldridge suggests that the vast majority of EAN – "over 90%" per Inmarsat's "public information" – will be supported by the terrestrial side of the network, and does not meet the parameters of the original MSS license.
Eutelsat director of spectrum management policy Wladimir Bocquet says, "We are not against ATG; we're against implementing ATG in a satellite band, the S-band…"
The two firms felt compelled to act after the EC issued an initial letter "that looked like it had authorized the use of this network and they retreated from that, and at that time they delegated this to the member states", explains Baldridge. "And so that's when our team went over and began briefing both the EC and went to see some of the very influential member states as part of that process, and what we told the EC is 'if you're going to continue down that path, we have no other choice than to file a claim'. They weren't happy about that. [They informed us] it 'will change the way we communicate with you going forward but we understand your position'."
In meeting with the various member states, he says, "some of them completely agree with our position in the EC, but what they've been told to do is to issue licenses in accordance with the initial way the original license [was stipulated] and enforce it that way and so we felt we had an education job to do with the member states to let them know what enforcement looks like and it's completely inconsistent with Inmarsat's public data."
Baldridge believes ViaSat and Eutelsat "have a very strong position". Belgium was the first to move forward with sanctioning Inmarsat's EAN plan, he says. "We filed an appeal in Belgium; they were one of three to move forward and we will continue that, the legal path of objecting to this. I personally have read all of the requirements associated with the initial license, and there is zero chance that [Inmarsat is] adhering to this. [We're asking:] 'are you a regulator or not, and if you are, and you're going to hold them accountable to the conditions of the license agreement, what are the enforcement rules?' [We're] just trying to hold Inmarsat accountable to the parameters of the original license and if they do that, they cannot operate this ground network as they're planning."
Leo Mondale, president of Inmarsat Aviation, recently described ViaSat and Eutelsat's efforts to RGN as "pretty obviously sore loser behavior". He suggested, "Eutelsat had a license just like Inmarsat's at one point and couldn't find anything to do with it, and they were proposing to do 5G or 4G service with it way back when. I think they're complaining now because they weren't able to build a business case around the band, which has always been hybrid terrestrial. So it's very late in the process and frankly hypocritical to say you're [fighting] something that [you] didn't do basically. We already have the bulk of the regulatory approvals and expect the remaining ones to complete in the next few months so we don't see it changing."
But Eutelsat's Bocquet says there is more to the story, including that, in 2008 when the EC selected two candidates for S-band licenses – Inmarsat and Solaris (a JV at the time between SES and Eutelsat) –"the selection was very clear. You needed to articulate a number of elements what you were planning to do for the MSS – the MSS part is key in this topic. So you had to describe what you were doing with MSS services, and there were a number of milestones and obligations associated with the license." In 2014 Solaris was sold to EchoStar.
"What we have seen recently coming from EAN and Inmarsat is a completely different picture of the regulations. As we understand the regulations," says Bocquet. He echo's Baldridge's comment that ATG was supposed to be complementary. "Now what we have seen from our own analysis, over 95% of the signal and data will be transmitted from terrestrial, and less than 5% from the satellite."
He says France, the UK, Germany and the Netherlands have not yet given the all-clear to Inmarsat. There is currently a consultation in France "where we're planning also to respond, and [are] in contact with a number of regulators so what we're trying to do is make sure we have the right understanding of what's happening and interpret the regulations, but one of the key elements here is the action of the ATG".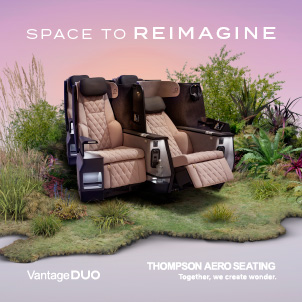 Asked by RGN if these four countries have not approved the EAN, Inmarsat spokeswoman Mary Whenman says: "The claim lodged by ViaSat, Inc. against the European Commission is based on arguments previously put forward to the European Commission and national regulators without success.
"Inmarsat considers ViaSat, Inc.'s assertions to be entirely without merit. We are ready to intervene in this process and evidence the correctness of the Inmarsat use of the 2 GHz spectrum in accordance with the MSS Decision."
She continues, "Despite attempts '…to slow this thing down' – a public reference to EAN made by ViaSat, Inc.'s CEO [Space Intel Report – 20 June 2017] – the European Aviation Network remains on schedule to commence commercial services this year.
"Inmarsat believes that ViaSat, Inc.'s allegations are intended solely to undermine Inmarsat's legitimate business interests, while strengthening their own position in the competitive tender processes that are currently underway with European airlines."
ViaSat and Inmarsat are competing for European airline contracts; both sides have won business, with ViaSat recently adding Finnair and SAS to its roster of clients for high-capacity Ka-band satellite connectivity via the Eutelsat KA-SAT satellite (its global plan entails the ViaSat-2 satellite with coverage over the North Atlantic, pictured at top) and Inmarsat tapped to provide EAN service to IAG and Lufthansa. IAG's British Airways is expected to launch the service.
Baldridge says ViaSat's argument to regulators is also consumer focused. He says "the low-cost install" of EAN kit on aircraft, makes it "pretty attractive to the buyer. Once they get on, they have this stranglehold on the consumer and it's the consumer getting hurt here. That's what we've seen in the US…"
He assures that "yes, we will" fight EAN on a member state level and push for enforcement. "The reason why they [EC] gave the original license was to harmonize the spectrum across the EC and they're not doing that job now."