Air Inuit, a regional airline in Canada serving Quebec's northernmost communities in Nunavik, has selected Bluebox Aviation System's portable wireless IFE system – Bluebox Wow – for deployment across its Boeing 737 and Bombardier Dash 8 fleet.
"We were looking for a system to offer our passengers a courtesy entertainment service under a 'BYOD' model," said Christian Busch, Vice-President, Operations and Chief Operating Officer for Air Inuit. "Plus, as our Boeing 737s and Dash 8s are combi Passenger/Cargo aircraft operated in flexible passenger configurations, the portable Bluebox Wow solution suited our mixed-use and mixed-fleet requirements. Its simplicity, power, portability and passenger friendly interface convinced us Bluebox Wow was the right solution for Air Inuit's onboard customers."
"We're extremely pleased to add Air Inuit to our growing list of Bluebox Wow customers, all of whom recognise the benefits of having a portable wireless system that can be moved on/off and between aircraft," said Kevin Clark, Chief Executive Officer, Bluebox Aviation Systems Ltd. "Our award-winning Bluebox Wow is helping make IFE an accessible and affordable option for those airlines that might not have otherwise considered it previously. And we're delighted to help regional airlines such as Air Inuit enhance their passenger experience with an IFE service."
Bluebox Wow provides wireless content streamed to passenger devices in any aircraft cabin, including film, TV, audio, games and other digital content, accessed through any web browser. With a remarkably low cost of ownership, Bluebox Wow is a discrete, portable, lunchbox-sized unit. Stowed in overhead lockers, each box's swappable rechargeable battery offers 15 hours of streamed content to 50 passengers.
Air Inuit operates a fleet of nearly 30 aircraft specially adapted for northern operations. Its Boeing 737s can carry up to as many as 112 passengers while its Dash 8s carry up to 45 passengers. The Air Inuit designed Dash 8-300 45-seat "combi" allows a cabin seating of 45, and expands the aft cargo hold to accommodate 4,000 pounds in a self-contained C class cargo compartment, providing a functional balance between passenger and cargo/baggage load for heavy industrial as well as commuter missions. Both aircraft types as well as the other types of the fleet offer cold weather adapted passenger cabin enhancements and operate comfortably on paved or gravel runways.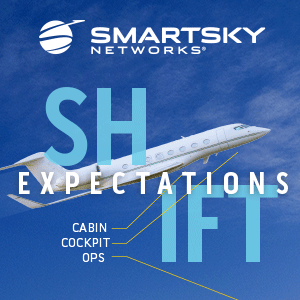 About Bluebox Aviation Systems Ltd. (www.blueboxaviation.com)
Bluebox Aviation Systems Ltd. specialises in the provision of software solutions to the aviation industry.
The Bluebox in-flight entertainment (IFE) portfolio provides airlines the latest technology in tablet-based and wireless IFE solutions (fitted and portable) as cost-effective alternatives to seatback IFE systems, and exploits these platforms to address a range of IFE requirements: service enhancement, service recovery, accessibility services (for passengers with hearing and visual impairments) and ancillary revenue generation.
Headquartered in Dunfermline, Scotland, Bluebox Aviation Systems serves over 40 airlines and aircraft operators across the globe, and has a global support network in Europe, the US, Australia and Singapore.
About Air Inuit (www.airinuit.com)
Founded in 1978, Air Inuit is a Canadian regional airline owned by the Inuit of Nunavik through Makivik Corporation. Its mission is to keep Quebec's northernmost communities connected by providing air transport services across the vast territory north of the 55th parallel known as Nunavik, homeland of the Inuit for centuries and to connect the territory to the South. The airline provides vital passenger, charter, medical, cargo and emergency air transportation services across the northern Canadian region of Nunavik, of Quebec, of Canada and beyond. Air Inuit operates a fleet of nearly 30 arctic-adapted aircraft which include Boeing 737-200C, Bombardier Dash 8 Series 300 (Q300) and Dash 8 Series 100 turboprops, Hawker Siddeley 748, Twin Otter, King Air 350 and 100. Its dedicated team of more than 650 employees are committed to delivering safe, punctual and courteous air service.