Global Eagle is not pursuing linefit offerability on new twin-aisle aircraft. That was just one of the revelations recently made by Global Eagle's top executives, who provided a comprehensive business update to analysts even as the specter of a delisting notice from NASDAQ hangs over its head.
Explaining Global Eagle's decision to effectively opt out of the widebody linefit connectivity race for now, Global Eagle EVP connectivity Josh Marks cited "additional complexities to composite skin" of new twin-aisle types, and Global Eagle's "focus on single-aisle aircraft".
Global Eagle stressed to RGN, however that it isn't ceding the widebody market. "We will serve it with service bulletins and retrofits", said spokesman Michael Miller.
Incumbent linefit broadband connectivity system provider Panasonic Avionics – which has seen more than 1,700 aircraft (widebodies and narrowbodies) fitted with its eXConnect Ku system – will face competition from Gogo 2Ku, ViaSat Ka and Inmarsat GX, which are chasing linefit offerability across platforms.
Global Eagle's focus on single-aisle aircraft is understandable given that the firm recently vowed to focus on its proficiencies, and those proficiencies include enjoying linefit offerability for its Ku-band system on the Boeing 737NG and 737 MAX. With "deep" installation and engineering knowledge on the 737NG and the new MAX "we connect more 737s in general and more MAX aircraft than any other provider", said Marks. And Global Eagle is nearing Chinese certification for the Airbus A320.
Contradicting comments made to Runway Girl Network by Gogo and Inmarsat – which made the case for why linefit offerability is less important these days – Marks said offerability proved to be "an important advantage" in Global Eagle's win of business with new client LOT as well as flydubai. "Linefit was key," he said.
Global Eagle anticipates that an initial eight flydubai 737 MAX aircraft will be fitted with its system and the company is in "active discussion" with the carrier for additional work.
China remains a key focus for Global Eagle's connectivity work. HNA has purchased equipment for installation on Hainan-operated 737s, a service trial with Air China continues, and a low-cost carrier trial will begin in the fourth quarter. As the Chinese government allows airlines to transition from trials to revenue service, Global Eagle sees itself as well positioned. And as the A320 certification is achieved in China, "that will support other Asian operators going forward".
Interestingly, Global Eagle provided nice colour around the Ku-band satellite capacity and pricing environment with Marks saying the firm is seeing "declining per megabit pricing with ample capacity". Indeed, since 2014, the firm's global average cost for Ku "has declined by more than two-thirds" (C-band has declined by more than three-quarters). Global Eagle currently uses 54 satellites to support connectivity for aviation, maritime, government and enterprise customers, of which two are exclusive to its use including "100% of a satellite which will be repositioned over the US to support new installs on Southwest fleet".
Has Southwest signaled any interest in de-installing Global Eagle's system prior to 2025, as has been intimated in the market? "At this time we have no knowledge of any retrofit that might happen in the future," said Marks, noting that over 700 Southwest aircraft are fitted with Global Eagle Ku. He said the firm is "positive" on the Southwest relationship, and "more than doubled capacity on the network this year with significant additional capacity" forthcoming. This resulted in a number of installs in the second half of the year and into 2018 "that we had not originally forecast".
Global Eagle's Ka-band antenna, meanwhile, will be rolling out shortly, underscoring that Global Eagle doesn't lock itself or its airline partners "into a specific technology, pricing structure or capacity rule", said Marks. One day before the APEX EXPO opens its doors in Long Beach, industry insiders wonder if Global Eagle will reveal its Ka-band antenna kit this week during scheduled media flights on its Albatross seaplane.
Content remains strong suit
Providing an update on the content side of the business, Global Eagle chief commercial officer Walé Adepoju said a total of 10,000 aircraft are fitted with IFE systems, an 8% growth from 2016. The market "remains heavily concentrated on twin-aisle aircraft" with 92% of long-haul aircraft fitted with the IFE systems "needed to play our content". By comparison, only 39% of single-aisle aircraft have the ability to provide content, but Global Eagle sees this segment "as a potential for growth".
In addition to the inflight environment, Global Eagle in 2017 focused on creating technology and acquiring rights to content for pre-flight, post-flight, maritime and buses. And even as there were "distractions" with its financial reporting, Global Eagle successfully renewed service agreements with Air France, Air New Zealand, KLM, Kuwait Airways, Air Transat and others. Some renewals extend beyond music, into micro-sites and advertising sales, said Adepoju.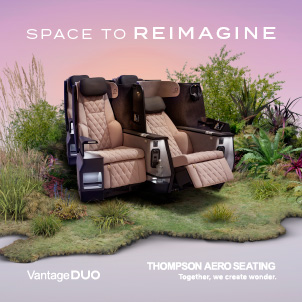 Global Eagle also acquired new customers for a suite of seatback applications, including an app that allows passengers to order food, called AirMeal, and an app that enables passengers to read newspapers and magazines; these work across multiple platforms provided by the different IFE vendors. "But most importantly this group of products includes user interface and experience design," said Adepoju, noting that they've helped the firm snag Air Canada, Aerolineas Argentinas and Gulf Air as new customers, and helped to offset the loss of American Airlines' business in 2016 due to the music rights issue.
Global Eagle also recently saw the "successful launch" of its mobile entertainment app with Qatar Airways, which gives customers the opportunity to access content directly. "We will release a new version of this in the coming months and this really shows a view of what we can do in the future in terms of apps for consumers," said Adepoju.
Global Eagle is also working with TIME Inc for digital mobile content for travelers, dubbed TIME Flies; this will launch in the next month. The firm is also now a supplier to REI Inc, the leading integrator for motor coaches, for a new generation wireless entertainment solution using Global Eagle's portal. "They have approximately 90% market share" and represent Global Eagle's foray into this type of ground travel.
Committed to getting its house in order
Meanwhile, though it has received a NASDAQ notice of delisting, Global Eagle said an appeal is in the works. The NASDAQ panel reviewing the appeal, at its discretion, could give the firm six months to meet requirements. That is, at least, management's hope.
Company CEO Jeff Leddy said his first order of business when starting with Global Eagle was to "stabilize the company" and its financial reporting. Several areas following the EMC acquisition "needed triage", but the content and connectivity business units "are executing on new wins and major renewals and offer strong tailwinds for growth".
Global Eagle continues to believe it will not have to restate its financials or EMC's standalone financials for any period, and it is strongly committed to filing its long-overdue 10K "on or prior to September 30, and Q1 and 2 within 30 days after the 2016 form 10K filing" said CFO Paul Rainey. It also doesn't expect to violate any financial covenants.
Auditors are looking at EMC goodwill as part of an "impairment analysis" under the audit. But Global Eagle has not discovered "and have no reason to believe we will discover" any fraud with its financials or historical EMC financials.
For full year 2016, Global Eagle expects to report a net loss of $109 million on revenue of $530 million. This compares to a net loss of $2.1 million on revenue of $426 million for full year 2015.
Related Articles: