Cobham, whose satcom hardware successfully transmitted prioritized voice and ACARS/Future Air Navigation Systems data over Inmarsat's SwiftBroadband aeronautical service during a Hawaiian Airlines trial, says "three positive takeaways" emerged from a recent meeting of the FAA Performance-based Operations Aviation Rulemaking Committee (PARC), paving the way for commercial rollout of SwiftBroadband-Safety (SB-S).
Firstly, the PARC assessed data gleaned from the Hawaiian trial and deemed it "sufficient for them to recommend that SB-S be used for the support of air traffic control services", says Cobham Satcom marketing director Willem Kasselman. Inmarsat will, however, continue with testing – United Airlines is next to trial the service, with the same type of modified Cobham AVIATOR terminals used by Hawaiian – and Inmarsat has committed to ensuring that any anomalies are spotted early and resolved before mass rollout.
Secondly, says Kasselman, the PARC "will also recommend that one HF radio may be dropped" from the aircraft "if the aircraft also flies a satcom system that is compliant". There has been a big push within industry for a reduction in HF radios, which are heavy, slow and expensive.
Lastly, and importantly, the PARC agreed that with the deployment of two safety services-supporting communications systems, each system could be qualified to Design Assurance Level (DAL) D versus DAL C. Radios are usually certified as D and avionics are C. "It would be very hard to achieve DAL C with an IP-based system", says Kasselman. SB-S is IP-based.
The PARC recommendation "is a huge step forward and a big milestone," Inmarsat VP safety and operational services Captain Mary McMillan tells RGN. "A lot of people worked a very long time to get it. We gathered over 1.6 million messages, using different areas of our network, different sub-networks. We also developed some analytical tools to extract as much benefit out of the information. And some of the tools we developed will actually assist the stakeholder community in understanding where other problems lie in the communications network so we're excited to be contributing on a very global scale.
"It's the rising tide that raises all ships so the work that was done at PARC even goes beyond what we're going to see at Inmarsat [in terms of] SB-S and broadband in the cockpit … We're not stopping there; we are with United including a couple of additional evaluations to look at enhanced surveillance, working with the community to reduce separation standards" and to start using satellite datalink as a medium to support some NextGen goals in the US, and further Inmarsat's activities with SESAR in Europe.
United's trial on 767s
United's trial of SB-S will get underway shortly. The first aircraft was scheduled to come in for install on 12 September, as part of a major maintenance schedule. "The second aircraft will follow in November and there will be a total of four initially and we are under the hopes that if United is agreeable with this service, that there will be more," says Cobham's Kasselman.
As a former pilot for United Airlines, Inmarsat's McMillan says the capabilities of SB-S versus classic cockpit communications and what that will mean for pilots on the flight deck "really is like night and day".
"To start to use broadband in the cockpit for not only the enhancement of safety, certainly, but to start working on efficiencies and timeliness and the quality of the ride and the experience for the passengers – nothing but really good is going to come from this," she says.
Though a modified AVIATOR satcom system is being deployed on United, Cobham continues to eye the second half of 2018 for rollout of production-ready nextgen AVIATOR terminals. There is one uncertainty to achieving this target, however, and that is the timeline in obtaining EASA TSO. Kasselman notes that there is, of course, no contractual obligation on the part of EASA to "fulfil your desire to do it in the three months we've allocated for that", but Cobham remains hopeful.
Cobham has already seen its SB-S hardware embraced by Airbus, which recently made the so-called AVIATOR 200S 'cockpit-only' light satcom available on the A350 XWB aircraft. This follows a decision in June 2016 to certify Cobham's AVIATOR S Series systems to be offered as a linefit option for the A320 and A330 families.
Cobham's work with Boeing remains less advanced. As previously reported, Cobham had signed a TSA with Boeing to provide two satcom systems – Iridium and SB-S – to ensure redundancy on the 777X. "I think it's common knowledge that we were under TSA contract to be [on] the 777X and we walked away from that at the time because we could not meet what they wanted. So currently, officially, we're out." But the 737 MAX remains an attractive aircraft for Cobham and management "definitely have interest in getting a TSA contract but don't have an offer from them [Boeing] yet".
Status of Iridium NEXT aero development
Meanwhile, one of the major hurdles in executing on an aero product for Iridium NEXT is a "commitment by Iridium on a security architecture similar to what Inmarsat has employed on [the] SB-S network", says Kasselman. He says Iridium has suggested different ways to achieve this but has only very recently committed to working to a set of objectives that were tabled in an ARINC 771 group meeting and also endorsed by Airbus. "So they have not made a final statement of compliance or commitment when this will be done," he says, noting however that he expects this to happen "towards year-end or early in the New Year".
All along, Cobham has proposed a solution that, in terms of box size and connecting interfaces – the cabling, the mounting attachment points for the antenna – would be a duplicate of the SB-S  system "which would be very attractive for the market, because these two systems will compete". There is a fair portion of reuse from the SB-S design – naturally it speaks to the same equipment on the aircraft – "so that can be retained", though the actual antenna and radio would obviously be different, adds the Cobham executive.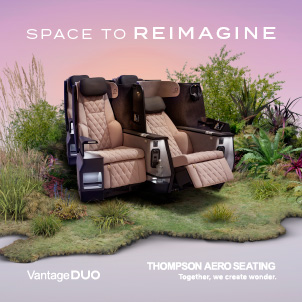 In discussing NEXT aero product development with RGN recently, Iridium CEO Matt Desch said that the so-called Certus 700 service, which is expected to be adopted by commercial airlines, will be supported by "the same profile antenna or lower profile than the competitor because we don't have the look angle they have; at a lower cost with no coverage gaps and better airtime prices. We believe that by the end of next year, and definitely into 2019, we'll have a powerful portfolio of products to offer the industry that won't have any peers in terms of performance."
But it's clear there will be a role for both SB-S and Certus services going forward, as Cobham divulged when it confirmed to RGN it had walked away from the 777X contract and its dual-satcom requirement, and as Thales informed when it announced it is working on a dual-satcom system to support Iridium and SB-S on the 777X.
This type of work is not just about dropping HF, it's more than that, says Kasselman, as dual redundant communications systems will support future 4D tracking. "You cannot simply launch an aircraft with a fully planned flight path and be reliant on a single communications system. It will be a requirement for dual systems. For oceanic, it's pretty much suggested. Whether that will follow on land-based aircraft is interesting point of discussion. But yes, we definitely want to have an integrated solution of satcom. Like Thales and Honeywell and others."
Related Articles: