Now that Southwest Airlines is celebrating delivery of its Boeing 737 MAX 8 (it cancelled last week's press event due to Harvey), there seems to be some questions about whether MAX deliveries to the carrier are carrying Global Eagle Ku-band connectivity or Panasonic Ku, and when a cutover may transpire.
But both Southwest and Global Eagle have reiterated to RGN that the MAXs – at least the initial ones – are fitted with Global Eagle Ku. "I confirmed that our MAX Aircraft are equipped with GEE Ku service," Southwest Airlines communication lead Michelle Agnew said in an emailed statement.
Added Global Eagle VP communications and marketing Mike Miller via telephone: "Michelle is correct that the latest MAXs have Global Eagle Ku. Those coming off the line."
Intriguingly, Miller suggests that Global Eagle recently secured a bit of extra, related business from Southwest. "We are pleased that Southwest has asked us to equip additional aircraft with Global Eagle products and services. Southwest is our biggest customer and we will always help them as need be."
This additional business for Global Eagle may be a result of a delay in Panasonic's program for Southwest (understood to be related to a software optimization issue that will be resolved shortly). Even so, the first Panasonic Ku-fitted Southwest 737-800 has broken cover, as spotted by journalist Paul Thompson and shared on Twitter.
Though the initial Southwest MAXs are not carrying Panasonic Ku, per Southwest and Global Eagle's public statements, it is believed that Panasonic is in line to secure business on some future MAX deliveries beginning in 2018.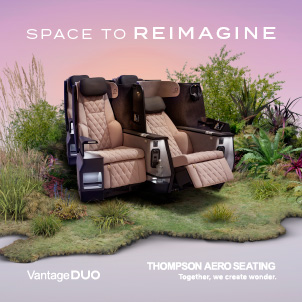 But Panasonic isn't confirming, telling RGN: "Our program with Southwest continues to move forward as expected, and we are thrilled to partner with them on inflight connectivity. Panasonic will continue to provide updates, in partnership with Southwest, as appropriate. Any questions about Southwest's fleet should be directed to the airline's PR team."
If nothing else, the intrigue around Southwest's decision to go dual source – and how that will play out from both a logistical and #PaxEx standpoint – speaks volumes about the hugely competitive nature of the business right now. In short, every tail counts.
Related Articles: