LONG BEACH — Acro, the British seatmaker producing a range of barebones and fully featured economy class seats as well as a soon-to-début premium economy product, is to be acquired by Zhejiang Science and Technology Investment Company, the parent company of Chinese automotive seatmaker Zhejiang Tiancheng Controls, based in the eponymous province to the south of Shanghai, and which has long harboured aspirations to be involved in the aviation sector.
The move follows Acro's substantial growth in product line, headcount, market penetration, and sales. Acro's current turnover is approximately £30m (USD 39m), with staff numbers increasing by fifty percent in the last two years and sales growing by nearly twenty percent over the same period. Perhaps understandably, therefore, ZTC intends to retain the current management, including chief executive officer Chris Brady. "The entire management team and the entire executive team will stay," senior vice president for sales Alan McInnes confirms to Runway Girl Network at the Aircraft Interiors Expo in Long Beach.
As outlined earlier on Runway Girl Network's APEX Expo livestream, Acro intends to continue its growth and market penetration by diversifying its seat market to span the range of carriers between the robust, barebones product its Series 3 seats provide to low-cost carriers and ultra-low-cost carriers and the more fully-featured Series 6 product that it revealed in conjunction with Air New Zealand for the airline's mid-haul trans-Tasman and Pacific Airbus A320 family purchases.
The Zhejiang purchase "will accelerate Acro's access to the Chinese market", the company says, and with the growth of China's aviation sector the purchased Acro is well-placed to benefit from a home market advantage. "Both Boeing and Airbus have established final assembly lines within the Chinese market," McInnes tells RGN. "It is a significant growth area for predominantly single aisle aircraft, albeit Airbus have a twin-aisle final assembly line in Tianjin. To date Chinese airlines have tended to purchase, for retrofit projects, locally produced product. We've put together a dream team of an established seat brand with a production facility that will be established in China, with proven designs and a proven product strategy. That's what will give us access to the Chinese market."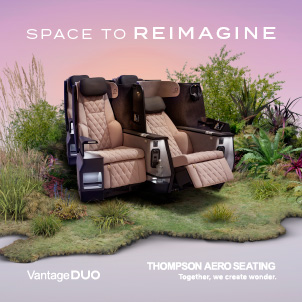 China both needs a substantial growth in the type of fixed-backrest slimline with which Acro burst upon the passenger experience scene earlier this decade — and which is suited perfectly to first-time flyer markets thanks to its sturdy design — and in the more fully featured seating with which it intends to diversify its product line. "Having a product strategy that enables you to go from ultra-low-cost carrier to full network carrier is a critical part of serving any market, including China," McInnes says. "The market is dominated by four major airlines, but there is a significant swathe of other airlines of a significant size. It has been extremely well received as a hard-working seat for a hard-working airframe. Nevertheless, China is not an immature market. The airlines are starting to compete on service, and therefore the network carriers would aspire to a Series 6 type deployment with full inflight entertainment for their intercontinental or transcontinental flying."
With Airbus recently increasing its footprint in Tianjin, and Acro's achievement of Airbus linefit offerability this year, the pieces look to be fitting neatly into place for another period of growth at Acro, which has aspirations to secure Boeing linefit and expand its provision near Airbus' final assembly lines on three continents.
Acro CEO Chris Brady explains: "The acquisition by ZTC is a significant opportunity and vote of confidence in us and our mission to perfect comfort for passengers. While we had not been actively seeking a buyer becoming part of the ZTC group opens up huge potential to reach the Chinese market, which is of major strategic advantage."
"Part of the acquisition by ZTC is that they will speed up our access to the Chinese market," SVP sales Alan McInnes says, but highlights that the seatmaker's headquarters will remain near London Gatwick. "Nevertheless, they recognise that the Acro brand and what it stands for has a value within our industry. The global HQ of ZTC Seating Division will be in Lowfield Heath. It has a number of advantages, including proximity to the Airbus final assembly line in Europe, and we also have a very strong engineering and R&D function there. Lowfield will remain critical to our global production strategy."
Related Articles: