Gogo's big 2Ku connectivity win with Alaska Airlines bodes well for its international partners on the program. Israeli firm Gilat, for instance, is providing the nextgen modem for 2Ku, and is gearing up to see its equipment on "over 1,800 aircraft". Illinois-based Telefonix PDT provides Gogo's advanced airborne server which "is going on every single new 2Ku system out there", the firm noted last year. And, as announced at the Aircraft Interiors Expo in Hamburg, Germany's Kontron is suppling its nextgen MODMAN (modem manager) unit for both linefit and ultimately retrofit 2Ku programs.
The Alaska Airlines announcement "is good news for Kontron", says Kontron VP system and program management, avionics, transportation and defense, Andy Mason. "Right now we're developing the 2Ku MODMAN for Gogo and that's going to be launched early next year."
Supporting inflight connectivity programs in North America since 2006, Kontron is seeing refreshes of systems it deployed in the past, and linefit installations by airframers. For instance, Kontron is aiding Global Eagle's rollout of Ku-band connectivity and live television on the Boeing 737 MAX "with three pieces of [Kontron] equipment linefit on that platform – the server, the WAPs and the modem manager so [our] first support to linefit took place over the last two years".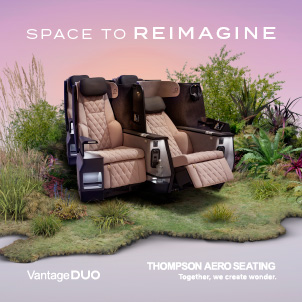 Barreling towards the big APEX EXPO in Long Beach at the end of next month, "there is some other equipment that we're either working on or in discussions with", says Mason. "We do see a lot of momentum for the 2Ku system as well as Inmarsat Global Xpress and the Global Eagle Ku-band system and Kontron is involved in all of three connectivity systems and works closely with those customers."
It is also supporting initial installations for Inmarsat's European Aviation Network. "We announced we're providing all of the cabin wifi equipment – the servers and wireless access points to Inmarsat for the EAN, and that system seems to be getting a lot of traction, with BA and [the broader] IAG Group. There is a lot of activity and business there. And in addition, there is some Global Xpress (GX) involvement between Inmarsat and Kontron so we're supporting that also."
On the wireless IFE front, Kontron agrees with one of its EAN partners, Lufthansa Systems, that these solutions are helping to sort of bridge the gap until certain non-US carriers can afford inflight connectivity.
"It's not true in North America; the airlines almost all have connectivity.  …If you look at Gogo and Global Eagle's customers, they started with connectivity before wireless IFE was even conceived or possible and with 802.11n and 80211.ac now, it's possible to do video streaming of HD to individual devices. When the market just started, it just provided connectivity.
"Overseas, in Asia and in Europe, a lot of these carriers – small to mid-sized especially – are starting with wireless IFE, and there is a lot of focus on local content, especially in Asia, Chinese airlines, Southeast Asia, you'll see a lot of local content being provided regionally. So I think that's very well suited to a low-cost carrier who wants to roll out something who isn't sure about the budget, or have the inclination to roll out a full connectivity system. So I think what we'll see is the continued deployment of connectivity worldwide and we will also see, especially the small to mid-sized carriers, starting with wireless IFE, and establishing the connectivity as an add-on at a later date."
Related Articles: