When it comes to satellite connectivity spectrum the battle over bands shows no signs of abating. We've been treated to rather public discussions of late about Ka versus Ku and their relative merits, and that pattern continued at the recent Paris Air Show, with embedded IFE stalwart Thales reconfirming its dedication to the Ka range, and rival Panasonic Avionics (PAC) continuing to push Ku.
Thales VP IFE William Huot-Marchand was blunt in his assessment, suggesting that Ku solutions do not offer sufficient capacity for what Thales believes is required. "We don't do Ku because we don't believe in this technology for the applications where we want to use connectivity," he said.
For Thales the "applications" referenced are about more than just serving passengers, though that remains the driving factor. "Connectivity is a single technology now that provides connectivity for the pilots, for the electronic flight bag, for cabin crew and for passengers. What is key for the airlines in terms of capacity is the cabin. The capacity for the rest of the systems is there when you select the right technology."
Of course, Thales is still willing to use Ku frequencies for specific broadcast consumption, namely in the form of live television. That is a product better delivered over a wide beam rather than via spot beam technology and Ku offers more options at better economics for such. PAC is a leader in the live television space, using Ku for both TV and connectivity (and mobile connectivity on some installations).
PAC's VP Global Connectivity David Bruner was excited when our conversation turned to live television. "We hear, 'People just want to stream movies.' That's BS. They love live content. They live on live content. With the news going on right now, people want to be connected. They want to know what's going on." To meet this need Panasonic is significantly increasing the number of available channels it offers to airlines.
That demand from consumers will also drive PAC's doubling of live TV-fitted aircraft from the current 650 by the end of the year, according to Bruner, with another "couple hundred" single-aisle planes expected to join that offering starting in early 2018. While PAC did not confirm the specific airlines involved in that push, new PAC customer Southwest Airlines could be seen as highly likely; the airline has been driving significant expansion in available channels. It's also feasible that United Airlines could be a customer of the live television product Bruner describes.
United is first in line for upgrades to the Newtec modems PAC will start deploying in the third quarter of this year, delivering more bandwidth to each connected aircraft thanks to the new HTS satellites over the Americas. That modem upgrade will allow the single antenna to also pull from a wide Ku beam on the same satellite, delivering TV on a wide beam and other data via HTS beams. Bruner has previously suggested that the modem upgrade is part of consolidated terminal hardware solution that will deliver upgraded on-board media capacity and other services.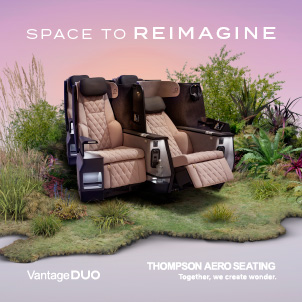 Ultimately Bruner believes that every PAC customer will end up with a live TV solution on board. "Eventually I think everyone has TV. Everybody wants TV." Getting to that point is about economics and delivering the service affordably to the aircraft. As more aircraft are subscribed to the service the cost per aircraft diminishes because it can be carried as a broadcast feed on the wide beam, not in individual HTS beams. This is also why Thales likes the broad beam delivery for TV.
But Thales and PAC have different views on the value of streaming content over the connectivity pipe. Thales markets the streaming capabilities of its Ka connectivity offerings (presently powered by ViaSat Exede and Inmarsat Global Xpress), while PAC's Bruner says: "Streaming doesn't generate value for the long-haul aircraft today. What's going to generate value for the airlines? … Enabling flight attendants and the flight deck crew. Those are the things that are really going to make this successful and valuable for the airlines."
Is the value not there because of Ku is prohibitive or because the consumer demand does not exist? It's true that costs remain high for delivering services in many geographies.
Separately at the Paris Air Show, Inmarsat and Airbus announced a retrofit solution for the EAN hybrid connectivity, which is expected to start flying later this year (IAG is the launch customer). Under the arrangement, Airbus will coordinate the modification kits, including the necessary hardware, installation instructions and service bulletins to ensure the airworthiness of a fitted aircraft.
That effort may yet hit a stumbling block, however, as PAC has joined ViaSat and Eutelsat in a lawsuit protesting the EAN network architecture. The two satellite operators had previously objected to the large terrestrial component of the system, believing it to violate both the spirit and letter of the law with respect to the spectrum allocation. The S-band satellite successfully launched last week from Kourou, French Guiana.
Related Articles: