Aviationgate, part seat marketplace exchange and part seat overhaul facility, is harnessing technology to connect buyers looking for airline seats with growing global demand for secondhand product. And now that the company is increasing automation of capturing its customers' requirements, CEO Thomas Bulirsch tells Runway Girl Network, leadtime for delivery can be markedly reduced.
When enquiring about a particular set of advertised seats, Bulirsch says, "You can add your additional services to it. You can send us comments when you send the Request for Quote, and we answer that RFQ within 24 hours because you've preselected all the information. We know exactly what is the price of the seat, what is the technical information. We are semi-automated, so our systems create a proposal and we send it out. You have the response right away. Years ago, that took like two-three weeks to get something like that. Now, we do it in 24 hours."
Customers can narrow down their own specifications on over a dozen variables, from the seat electronic box through the passenger control unit to IFE, footrests and new arm caps.
It's not just the quote that goes faster now, Bulirsch notes, it's the fact that the seats are located in warehouses worldwide and ready to ship if a customer wants to take them without any work being done. "Our biggest challenge was, once, we had a huge program for the 777. We put our seats in Aviationgate, 777 Zodiac seats, in a ten-abreast configuration — a huge number of seats, three hundred ninety-five passenger places per ship set. We sent our mailing out, and we got the first request. The customer came four days later to inspect the seats in our warehouse, because the first ship set was in our warehouse. He signed off for it, he sent us down-payment, we shipped the seats from our warehouse to the customer by airfreight. We also did the next ship sets. He took another two ship sets. We shipped directly out of the hanger from [the selling airline] to the customer so we could make the complete overhaul project happen within two months. So, they received the seats from listing in Aviationgate to bringing them to the aircraft, and full modification of the aircraft within two months. This is how quick we are with the portal."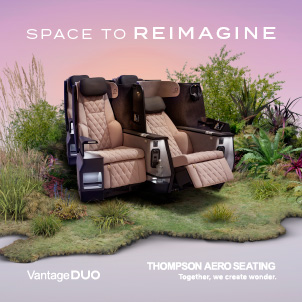 For customers, Aviationgate can also perform a variety of overhaul types on the seats and have them delivered either by air or sea freight, Bulirsch says. "As a one-stop-shop, we also provide the logistics service. We have logistics partners and these logistics partners would also issue a freight quote, and in this case, [the customer] gets not only the price for the seats as removed, they also get the logistic service and now you can add the different services.
Aviationgate offers a number of choices in addition to an "as removed" condition from their warehouse. One option is the clean and tag service, where the seats are essentially cleaned, inspected per the component maintenance manual (CMM), and recertified. Another is a full overhaul, with new cushions, new covers, potentially changes to the colour, and recertification.
With a new configurator, too, airlines can try out colour options on the various sections of seat trim and finish to match their own branding.
Using the search function, Bulirsch notes, "we have currently over one hundred seat models online. I would say thirty percent of these are business class models. It is very easy to use the portal — if you are looking for business class you can search different models."
Particularly for smaller players in the market, this level of flexibility and customisation is a boon. And with supplier consolidation an increase in supplier-furnished equipment as aircraft come off the line, the future for the secondhand market looks to be even brighter.
Related Articles: