When Thales set about designing a new, cutting-edge Customer Experience Center at its ever-expanding Thales InFlyt Experience campus in Irvine, California, the firm was definitely aiming for something a little different. A beautifully laid out, 62,000 square foot facility covering roughly 1.3 football fields, the Customer Experience Center is commonly referred to by Thales execs as the "crowning achievement" of the Irvine facility's growth. And after touring it last week with a contingent of aviation journalists from around the globe, it's easy to see why.
Rather than mimic the boxy, utilitarian design of some contemporaries, Thales sought inspiration instead from a wide range of sources, including everything from Japanese-inspired "lean thinking" principles to the surprisingly progressive Taco Bell headquarters located, quite literally, across the street.
"We canvassed the area for local businesses that we knew had innovative building facility solutions and [Taco Bell] was one of the showcase facilities of the interior design architects who we worked with … so, they said we needed to take a look at it," says Thales InFlyt Experience CTO Fred Schreiner. "They had a nursery for children, gymnasium, cafeteria and they [also] had their history branded on the walls … so, we kind of blended their ideas and our own and what you see here [are] Thales branded colors, shapes, images and just the idea that when you walked in here you'd see something a little bit different that the classic, inflight entertainment connectivity set-up."
"We also went to SpaceX and the thing that we carried over from them are the viewing galleries upstairs [and] the glass walls in some of our conference rooms and common areas that connect the people to the product, so you can look over and see the whole scene with the labs and everything," adds Schreiner. "At SpaceX … there's an office complex in the factory where people can watch all the rocket parts coming together. So, we took that too."
Inspired by the "chat room" and "Obeya-style" collaborative spaces at Hyundai and the cafe and made-to-order kitchen at Google, Schreiner says that the Customer Experience Center's fully-equipped kitchen/social hub, which is set to open in the next few weeks, will provide yet another place for employees and customers to "collide in a social way."
"In this business there's a tendency to organize around functions. You have software people and hardware people and we do have integrated product teams but this will [provide] a centralized facility with an outdoor patio that seats 90-100 people [so] it's an area where we expect people to have regular communication, and that's all part of the image we're creating and that's then propagating into the other buildings here, which are all being built-up and changed over the next year or so … to change the overall culture, the image, the openness to reflect who we really are."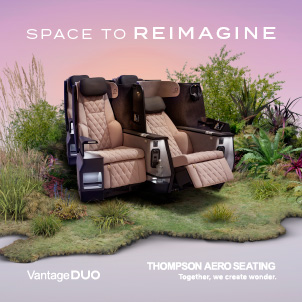 And nowhere is the reflection of who Thales really is on finer display than in the facility's 24,000 square foot, state-of-the-art IFE lab.
"We call this our Customer Experience Center because this is the final integration and test facility where we bring the airlines and the OEMs, Boeing and Airbus, to come witness our integrated IFE solutions … so, really the cornerstone of this building [is] the IFE labs," says Thales Director, Engineering Operations Management, Brian Crossman.
"Our legacy labs were a bit noisy and hot and not very comfortable … they also didn't look so good. So, we went through a design process [here] where we involved all the different disciplines, from facilities to engineering, sales, marketing, and, most importantly, our airline customers, some very top-tier customers, who had some very candid feedback about how we could improve our layouts and our test methodologies to test more like the aircraft, and you see that reflected in the layout of the labs here," says Crossman.
"The labs are really just a replica of the IFE systems that will be installed on the aircraft but they are in a lab environment, so that means it's a little more compacted and put in a more ergonomic form factor so that we can see all the screens at once. For every airline configuration that we deliver, we have to set up a lab … because this is where Boeing and Airbus come to test that the software and the system are working and meeting all the certification requirements, and it's also where the airlines come to make sure that the final branding experience is delivered. So, this facility is literally where they do the final acceptance of their system."
Though we were not allowed to photograph them, the labs feature sleek, specially-designed Thales fixtures which offer team members a modular, scalable environment where they can hang differently sized displays and controllers to often stunning effect.
"We have some labs that are fully representative of the entire aircraft, the entire ship set," explains Crossman. "If there are 300 passengers on the aircraft, you'll find 300 seats … with all of the screens lit up and activated. But we also have smaller labs. We've used some of our patented simulation technology to simulate seats, so you actually don't need all of the seats in the lab to do a testing."
And thanks a remote IT room that houses the headend racks, another thing Thales' relatively quiet IFE lab doesn't require is ear plugs.
"One of the key features of the lab is that we've moved all the headend racks into a remote IT room [which] took all of the noise and the heat associated with the cooling fans and put it into one compartmentalized area." An innovation that Crossman notes was made possible by raising the lab floor throughout and routing more than 250 miles worth of wiring – "From here to Texas!" he jokes – beneath it.
"Right now we have about 40 labs built, but when it's finally said and done, we anticipate around first quarter 2018, there will be 74 labs total in this facility, including in the mezzanine." But at the end of the day, Crossman says that what Thales is probably most proud of is how their corporate philosophy of innovation and openness is reflected in every element of the design of its new Customer Experience Center.
The facility "is very open, so, this is kind of how we are to the market", Crossman says. "We're an open architecture, open communication, and now we have an open facility to reflect that."
Related Articles: