Mitsubishi Aircraft Corp is at a crossroads, with a much-delayed MRJ program, overweight aircraft and little progress to show.
First off, the MRJ program is now back on its much-revised track; the first aircraft will be delivered to launch customer ANA in the middle of 2020, with flight testing continuing from Moses Lake, Washington. ANA had originally expected to receive its 2008 order for the MRJ in 2013. 
There are still weight issues with the MRJ90, which is set to exceed the scope clauses negotiated between US airlines and their pilot unions. However, there are some technological options available to Mitsubishi in order to reduce the weight further. 
"As you know, we have the scope clause limitation and especially maximum takeoff weight is limited to 86,000 lbs," Yugo Fukuhara, VP and general manager, sales and marketing, told RGN during a pre-Paris Air Show briefing. "Under the circumstances, under these restrictions, the range capability of the MRJ90 is limited. Our strategy is to offer flexibility to our US customers: -90 or -70?
"From the beginning of this program we acknowledged the scope clause. The MRJ70 in that range, even under current maximum takeoff weight, will be under 86,000 lbs so our US customers can select MRJ70 instead of -90 if scope clause were not relaxed. And if the scope clause will be relaxed, they can even select the -90. So what we should do is what we are doing to customers is to offer flexibility. Trans States and SkyWest ordered the MRJ 90, but they have conversion rights to the MRJ70."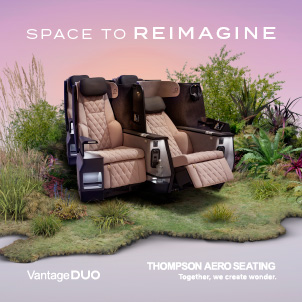 The problem is, of course, that no airline has presently ordered the MRJ70, despite having the option. Indeed, this end of the market is seeming very sparse, with the Embraer E-Jet E2 not having an E-170 version, but instead starting at the larger E-175 E2. MRJ also confirmed that the delivery of MRJ70 aircraft would be one year later, so unable to start until 2021.  
The MRJ is not, however, affected by the issues with the Pratt & Whitney PurePower PW1000G engine family that Airbus is seeing with the A320neo family's PW1100G or that Bombardier saw with the CSeries PW1500G.
On the #PaxEx front, Mitsubishi has yet to make progress on connectivity, with Fukuhara confirming that any linefit offerability "is not yet determined". 
"We are preparing options for customers including wireless IFE in the cabin, connectivity and in-seat power," Fukuhara said, repeating a common refrain. For connectivity, "the requirement depends on the region: satellite based or air to ground based."
But during an interview with RGN at last week's Paris Air Show, Mitsubishi's program management office senior director Alex Bellamy said relative to connectivity. "We're looking at that, but we've got a bit of time to make a selection. We haven't chosen anybody yet, but we know that's really important."
In terms of radome certification, Bellamy said, "We don't have that on our plan for now. I have a couple of people in our product strategy team, who have the roadmap of all of these pieces versus customer demand and what we think we want. Currently we're going through the exercise right now of aligning the priorities along all of those pieces."
MRJ is keeping even the start date of that work close to its chest: "I can't tell you now, but I hope in three to six months, we'll be able to talk in more detail about that," Bellamy promised.
Overall, the approach to connectivity feels very preparatory and not advanced enough if the MRJ is expected to launch in 2020.
The MRJ interior has not changed despite the delay. This seems something of a missed opportunity — Mitsubishi could use the years of delay to mock-up options and play with ideas for potential customers as the passenger experience continues to evolve.
The seats are produced by Zodiac, though Mitsubishi was at pains to highlight that it is using Zodiac Seats California rather than the more troubled parts of the Zodiac constellation in Gainesville or Europe.
"We understand that there is no issue on MRJ's seats because the above issue was happened by the different company from our partner," the firm told RGN in a statement just five days before the FAA issued an expected AD [PDF] mandating removal of unsafe seats from Zodiac Seats California.
There's no suggestion that there are concerns about the MRJ-specific Zodiac seats, but the supplier may be distracted by the airworthiness directive in addition to its well-documented other troubles.
Related articles: