LE BOURGET — Seatmaker Thompson Aero is designing a new fully flat seat with direct aisle access for the Boeing 737 cross-section, which Malaysia Airlines intends to use in a 16-seat business class configuration plus 150 economy seats on its new double-stretched Boeing 737 MAX 10 aircraft for regional premium routes, à la JetBlue Mint, MAS chief executive Peter Bellew revealed to Runway Girl Network at the Paris Air Show. Bellew expects to start operations in 2021 with delivery of the 737 MAX 10, telling RGN that "if we could get it sooner we'd love that."
Bellew highlighted the staggering growth potential of the Chinese market, noting that the percentage of Chinese citizens with passports is in the single digits, and planning for a market of 150m new passport holders in the near future.
Thompson has previously demonstrated to RGN an inward-facing herringbone concept for narrowbody business class, although the success of the seatmaker's Vantage (offering one seat in three as direct aisle access) and Vantage XL (offering all seats with direct aisle access) on widebody aircraft may suggest a staggered product.
"Thompson are coming up with a new design, so it will depend on what the final design is," Bellew told RGN, noting that "you can go quite a ways back" on the 737 MAX 10 from doors 1 to the overwing exits. "We'll be able to be generous with space on that and still be able to get in 166 seats at a nice seat pitch on the aircraft. Believe me, there's plenty of people in Asia who want a nice business class seat, and I think the timescale we're looking at here, the growth of the middle class and wealthy people, there won't be that many business class seats in the market."
"We've been using Thompson Vantage seats at the moment on our refitted widebody aircraft, so we're talking to Thompson" about the new product, Bellew said. "They're in development of a pretty cool new seat, so that's what we'd hope to put on this aircraft, and it'll be a lovely experience for people on board. A lot of people in Asia, for sure, are looking for premium airline seats. It divides two ways: people either want something really, really nice in business, or down the back they're looking for a really good value seat. We think we'll be able to do both on the one aircraft, with unbeatable economics."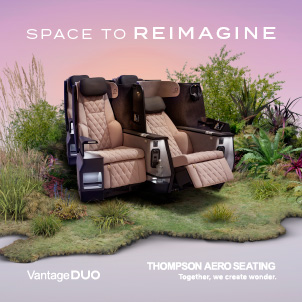 The MAX 10, despite a shorter range than the MAX 9 or the Airbus A321neo, fit Malaysia Airlines' fleet requirements, Bellew said, ruling out A321neo aircraft, which offer a wider fuselage. "I wouldn't do a split fleet. I'm all about making this airline profitable. We know how well we can work with Boeing, we know how well we can work with CFM, and it's a bit of a home run and a no-brainer for us. As soon as they started talking about it, I rang Boeing immediately and said, 'are you really going to do this plane?' because I had this concept of doing lie-flat. It's not extraordinarily expensive to do it, but it makes eminent good sense. We're trying to position the airline as a premium five-star airline over the next couple of years with a business focus, and this really will give us the edge around that. It takes us away from competing with the low-cost world."
Bellew confirmed that MAS expects to install inflight connectivity on the 737 MAX 10 — which was shown with a large K-band radome in PR images — although he told RGN that the airline has not yet selected a connectivity partner. "I think it's moving so fast, the whole connectivity situation, that we have many, many choices. It's rapidly developing. I think that'll be an essential part of the experience, by the time we get to the airplane. The whole IFE world is moving so quickly that it's debatable whether it'll be fixed IFE screens on board, or if it'll be very fast, very broad streaming from embedded devices on the aircraft. It's a great opportunity to do something very cool around that on the aircraft experience."
Related Articles: