Germany's Diehl Aerosystems, a major supplier to the A380 program, remains hopeful that airlines will embrace the new options being made available by Airbus to enhance efficiency of the double-decker aircraft, and it stands at the ready to support a ramp-up should the market ever demand it.
"We are still strongly supporting the A380 and whatever Airbus is coming up with let's say in terms of cabin modification we will support because this is our biggest program still," Diehl Aerosystems president Rainer von Borstel recently told Runway Girl Network.
Diehl supplies the A380's doors and slide management system, slat flat control computer, and cabin lighting, and its joint venture with Thales developed core avionics for the type. So whatever new options are offered by Airbus "we will support because we are still interested in an A380 future. And it's really funny because every passenger loves the airplane, but obviously it is difficult to say, but we will support for sure."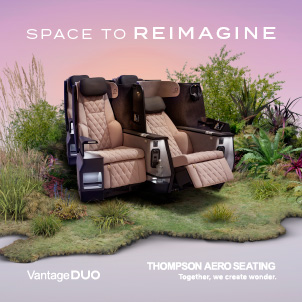 Airbus is eyeing a possible further cut in production of the A380 to less than one per month. But if by some stroke of luck the new options – stair and galley modules which allow operators to add seats, an 11-abreast configuration, and new winglets – were to generate new buyers, Diehl would be able to easily spool back up.
"We have never reached the level which was initially foreseen, which was 48 airplanes per year", notes Borstel. "So we had been in 30; now we are at fifteen – 13 or 15 this year – so yes we can, of course but we have to plan. We cannot keep people … on the spot, shall we say, so we have to adapt. But of course, infrastructure wise and so on we can easily go back to 30. That's the plan."
More broadly, in light of Rockwell Collins' decision to swallow up B/E Aerospace, and Safran's bid for Zodiac Aerospace, we asked Diehl if it is scoping out any potential acquisitions. Says Borstel:
I would say we are carefully reviewing what's happening in the market but as you know, we are a family-owned business. We are totally independent. We are not dependent on banks and so on. We are just reviewing it. We have that on our radar screen but we have no short-term plannings to do anything I would say. But let's say we are ready for any options. But we have not yet made a final conclusion for that.
Does Diehl view consolidation within the industry as a positive? "Yes and no," he says, noting that "when you are a huge company you're losing speed, you are losing flexibility, you are losing quality a bit. You are losing reactivity, you are extremely complex and you may dictate prices to the customers because of your size."
"On the other hand, if you are a small company – and I would say we are still small compared to the others now – normally you are quite reactive. You are quite speedy. Your quality should be high so you are more reactive so beneficial is [a] question for whom – for the customer or for your own? So it could be both."
Diehl believes its size makes it more flexible, enabling it to provide lots of customization and branding inside a cabin to help airlines differentiate their products. The firm is going a step beyond LED mood lighting – for which it excels – in order to offer projection technology featuring moving images and video on aircraft sidewalls. Digital printing on sidewalls and class barriers is also on offer at Diehl. So too is a new galley bar module for long-range aircraft, which Diehl is displaying this week at the Paris Air Show.
It's fair to say that the A380 production cuts hang like a bit of a cloud, though Diehl has extensive work packages on the A350 XWB, and has been adding packages on other types, including with Boeing. Nonetheless, Diehl sees as its "absolute duty and biggest challenge" to keep the operation of the A380 program up even though quantities are going down.
Related article: