HAMBURG — Airbus' subsidiary seatmaker Stelia has finally found customers for a product that Runway Girl Network has been watching with interest for several years, its slide-reclining zero-gravity Celeste narrowbody business class (or widebody premium economy) seat.
As Stelia has evolved the seat — reminiscent in recline function of the 1928 iconic Le Corbusier LC4 chaise longue — Celeste has gained functionality including a separately movable legrest, a plushly padded back support, and a multi-directional headrest with a snooze-friendly pair of wings. These improvements make what was already a superlative seat into one that is simply spectacular from a passenger experience perspective.
Indeed, Celeste was the first of what RGN terms the "zero-gravity" generation of seats, where the dynamics of seat movement expand beyond the seat-back, pan-tilt, leg-up points of movement. With several other products along zero-gravity lines starting to make their way out of hush-hush Aircraft Interiors Expo backrooms into the light of full offerability, Stelia is in a good position to steal a move on the market with a refined and typically elegant product.
Linefit deliveries will start imminently, fresh from the Airbus A320 family factory lines.
"We have four customers on the A320 platform," Stelia head of marketing Claire Nurcombe tells Runway Girl Network, "in three different regions: in South America, in Africa, and in the Middle East. We have two ship sets currently going through production with on dock dates for next month [i.e., May]. And the aircraft deliveries will be I think at the end of June, beginning of July coming shortly."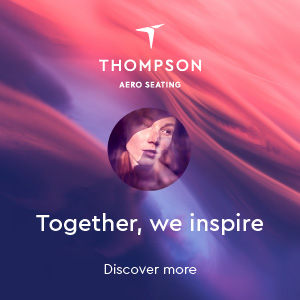 Nurcombe confirms to RGN that the first tranche of customers are currently factory-fresh linefit installations. "We have two customers flying this year, we'll have another two customers flying next year. And one of the customers is actually in retrofit. But what we're delivering at the moment is all full linefit. And so by the end of next year we'll have two hundred seats flying."
At an eight seats per aircraft rate that's 25 aircraft, while at 12 seats per aircraft it's 16.7, suggesting a good two dozen shipsets in service by the end of 2018.
At that point, Nurcombe notes, other customers may bite, including those selecting Boeing aircraft. Despite Stelia's status as an Airbus subsidiary, its products have long been offerable on Boeing widebody aircraft, including Etihad's Boeing 777 fleet.
"We have full offerability on the A320 family, we have offerability on the 737, but with an extended lead time for the first customer. And as I said, we have customers in final discussions so we're quite hopeful that we are going to see more contracts coming soon," Nurcombe explains.
The initial set of customers are for the mechanical version of the recline — Stelia offers both mechanical and electric movement for Celeste. "We do have some requests coming through for electrical," Nurcombe says, acknowledging that "for the moment the ones that we've signed off on are mechanical, but I have no doubt that will be electrical coming through the pipe in the future."
Overall, the industry appears to have dabbled in electrical recline for narrowbody business class or international premium economy recliners, but seems to have crystallised on mechanical for anything with a complexity below the level of something like the Cathay Pacific regional business class. Adding weight and maintenance requirements for recliners — even those as advanced as Celeste — just doesn't seem to balance on airlines' books.
Related Articles: