8:00pm: Global Xpress to go live in commercial service
Get ready for Global Xpress to go live in commercial service. That's the message Inmarsat delivered today, indicating that within "a couple weeks" the product will transition from the current free trial state to the paid implementation. Aircraft installs continue at a brisk clip and Frederik van Essen, Inmarsat VP of Aviation Strategy and Communications, is confident that the next steps for the deployment are imminent, telling RGN, "It gives me confidence that Lufthansa is saying "we're not seeing anything that would make us reconsider." That's the best seal of approval we can have at this point and I don't think Lufthansa will take any strange risks in bringing this to the passenger." Van Essen added that the system is seeing a 98% network availability rate on the deployed aircraft.
These details were shared during a debrief following the outage suffered during a media flight two weeks ago left the demo aircraft out of service for approximately 45 minutes. The company remains quiet on the details around the service failure though it believes the cause identified and a mitigation plan in place:
It was specific to the flight. Where we are is that the tech guys dove into the logs, found what they think is the root cause. They think there is a simple fix and it will not affect entry into service. Lufthansa is confident it will fix it.
When pressed for additional details Van Essen declined, "Until it is completely fixed I don't want to speculate on what the problem was."

2:30pm: Coffee, tea or PED? HAECO's nifty concept offers all three
More and more passengers bring phones and tablets on board for entertainment and work purposes, and HAECO Cabin solutions has a new multifunction option to keep them handy.

1:45pm: HAECO shows off bin-freeing overhead aisle storage option for narrowbodies
With an increasing amount of inflight safety equipment and crew bag storage — let alone passenger bag space — needed on narrowbody aircraft, HAECO Cabin Solutions has a smart way of freeing up the overhead bins.

1:00pm: APEX CEO Joe Leader stays strong in message to solve #ElectronicsBan 

10:00am: Kontron is on the defense with new wireless security software
The importance of wireless security is on the tips of the tongues of many #PaxEx industry stakeholders, and with good reason. Security threats to devices using an airline cabin wifi system can include everything from client-to-client data theft, client-to-server data theft, unauthorized system access and denial of service attacks. That's why Kontron's announcement, that it is launching an Extreme's AirDefense advanced wireless security software package for aviation, is so timely.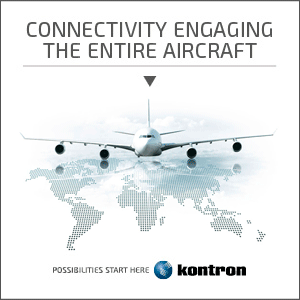 The AirDefense software runs in conjunction with the Kontron Cab-n-Connect A100 cabin wireless access point (CWAP), which received FAA PMA flight approval in September 2016, and which supports the latest 802.11ac wifi standard to deliver next-generation HD video streaming to high-density cabin environments.
"AirDefense is an add-on package to our system security toolbox," Kontron's Andy Mason explains to Runway Girl Network.
Along with the software, Kontron is offering a service package that provides ongoing updates to counter the evolving set of threats that can be anticipated. Multiple IFEC stakeholders have turned to Kontron for wireless hardware.

9:13am: KLM replacing polycarbonate mirrors on 777s with real glass
KLM will be the first commercial airline in the world to upgrade its Boeing 777 fleet with new, ultra-thin and lightweight 'AeroGlass' mirrors inside the cabin. The carrier is certifying Dutch company's AviationGlass & Technology's (AGT) product for its 777 fleet retrofit program including KLM's famous 'Orange Pride'.
"This is important for us because it's the first big retrofit program we're doing with an airline now and also the first Boeing program that we got the mirror certified on. So at this moment we are selling the mirror to a few OEMs for final assembly line, but we are also looking at the retrofit market to replace airlines' polycarbonate mirrors with real glass," Jacob Wiersema, chief operating officer AviationGlass & Technology, tells Runway Girl Network.

9:02am: Gogo can't get enough Ku; opts for 12 more SES transponders
Gogo and SES are at it again, announcing a deal this week at AIX committing 12 additional transponders of Ku-band capacity to Gogo's portfolio. The agreement covers capacity on two SES satellites over the Americas, providing capacity for Gogo to deliver services to aircraft over the US and Canada. With the rapid deployment of Gogo's 2Ku service on Delta's fleet (just under 100 aircraft active today; 300+ expected by the end of the year) the growth in capacity ensures that passengers will continue to see the high performance levels the 2Ku system promises.
RGN also understands that the agreement may involve repositioning some assets in orbit to optimize the coverage and capacity distribution. This sort of tweak represents the increasing value satellite operators like SES are placing on the mobility market and especially the aero segment. With four satellites set to launch in 2017 and a significant focus on the aero/mobility market SES is bullish on growth in this area.

8:33am: Altran's first-generation autonomous robot trolley demo brings the Pringles
RGN brought you news of Altran's self-driving cabin cart last month, but now we've seen it in the wild, trundling its way through a mockup cabin at the Aircraft Interiors Expo. Contributing Editor John Walton shows you how.

8:30am: Is the future of airline seats 3D printing? Altran says maybe
Altran cabin innovations engineer Verena Uhl shows off a 3D-printed airline seat prototype: will this be the future of seat creation in the high-complexity, relatively low-volume #PaxEx industry?

8:00am: Altran explores the potential of cabin crew wearables for #PaxEx
The big boom in wearable electronics has made many in the aviation industry ask just what role they might have in the future for cabin crew and other airline staffers.
Related Articles: