Bellevue, Washington-based start-up Pivotal Commware is making the bold claim that within the next two months it expects to usher in a new era of air-to-ground (ATG) inflight connectivity with a series of developments that will use its proprietary, software- and cloud-based Holographic Beam Forming (HBF) antenna and beam-management technology in various parts of the world.
The company, which was established last year to commercialize HBF, has partnered with 4G wireless solutions provider Airspan Networks, "to attack and dominate the air-to-ground market in a turnkey way, so customers won't need bespoke solutions".
Evidence of their collaboration will come within the next six to eight weeks as the two companies announce the first customer for their HBF-based ATG technology, says Brian Deutsch, Pivotal Commware's CEO.
Initial hints of Airspan's interest in inflight connectivity came at the recent World Mobile Congress in Barcelona, where the firm unveiled its 'AirBridge' brand for the ground portion of the ATG partnership, but did not discuss its relationship with Pivotal publicly.
OTC Markets made note of Airspan's general lack of public disclosures in a warning about trading the security. But Airspan in a statement to RGN says: "Airspan listed on the Nasdaq back in July 2000 and traded as a public company for around 9 years. Then in 2008 our lead shareholder, Oak Investment Partners took us private again, as we transformed our business from WiMAX to LTE and focused on the needs of Tier 1 Mobile Carriers. As a private company we do not report our earnings, but of course continue to consult and inform all of our stockholders, even the small minority that continue to hold shares in the "public stub". Please refer to the following link for the latest publicly available updates. http://www.airspan.com/about-us/shareholder-information/."
Pivotal's management credentials lend weight to its assertions. It is a product of the well-known, Washington state-based Intellectual Ventures Fund technology-startup incubator and is the fourth new company to have spun out of Intellectual Ventures' specialist Invention Science Fund. The Fund also lays claim to high-profile spinoff Kymeta Corporation, as well as Evolv Technologies, a Boston-based security screening-technology company; and Echodyne, which manufactures electronically scanning array radars for civilian and military applications. All four companies use advanced metamaterials technologies and Pivotal's management has experience in working on Defense Advanced Research Project Agency projects.
Pivotal itself has trademarked its transportation-related broadband-connectivity concept under the name 'Access-in-Motion', and it's possible that it will bring the Pivotal/Airspan solution to market under that brand.
Fundamental to the advanced 5G capabilities Pivotal expects to bring to ATG connectivity is the young company's HBF technology. This is so named because – by means of using a metamaterials, proprietary software-driven antenna array and a single, simple, biased control component such as a varactor or transistor at each antenna element – "the technique is used to scatter waves out into the far field [like a laser does], but we're doing radio frequency instead of optical frequencies," says Eric Black, Pivotal's chief technology officer.
Pivotal's HBF technology is "fundamentally different" from conventional phased-array antennas, each element in which requires a phase shifter, a power amplifier and a power-distribution system, producing major cost, weight, size and power-consumption penalties, according to Black.
"Nobody is going to pay for a defense-grade phased-array system commercially, but the market is screaming out for [an affordable phased-array antenna system] economically," says Black. "But we don't need stacked arrays of phased arrays, so the cost goes way down. We use power over Ethernet and it only takes about half an amp to run the whole thing."
Another attribute of Pivotal's HBF technology is that it allows the company to create tightly directed spot beams rather than the broad-angle beams that conventional cellular and wireless antennas produce. Pivotal likens HBF's capabilities to shining tight spotlights on small areas of a theater stage to highlight one person or just a few, instead of using the theater's general lighting to illuminate the entire house.
Additionally, by means of Pivotal's proprietary Beam Management System, its millimeter-wave beams are "promulgated in a panel [software-driven array antenna] which can scan 20-30 times a second, instead of needing a device to move the beam," says Deutsch. This provides the company with an electronically fast beam-switching capability – which Pivotal has trademarked under the name 'Directivity-on-Demand'.
These capabilities give Pivotal's antennas and spot beams various advantages over conventional wireless technologies – and particularly over satcom systems, claims Deutsch. Pivotal says it has already developed antennas for sections of spectrum centered on the 3 GHz, 14 GHz, 28 GHz and 60 GHz frequencies.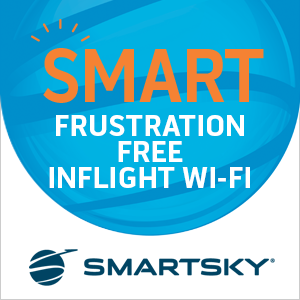 The fact its antennas don't require heavy power-management equipment makes them extremely light – at least an order of magnitude lighter than conventional phased-array antennas, and requiring comparably less power, producing comparably less heat and requiring comparably less cost to make and buy, according to Deutsch.
While its 14 GHz antenna – developed for the 14 GHz spectrum slice the US Federal Communications Commission was planning to allocate for a nextgen ATG network, in an abortive effort which is now "hibernating very hard" – has the same 9.75in-by-9.75in length and width as phased-array antennas designed for the same frequency range, Pivotal's antenna is only 0.25in thick. "I can easily carry it around in my briefcase – it weighs almost nothing," says Deutsch. "It's like a motherboard on a laptop, without the need for any cooling fan or other equipment."
Another advantage Pivotal claims for its technologies is that "the low-hanging fruit for us is being able to direct [beams] where and when we want … [and] the very nice thing is that we have a cloud-based management system, managed into the cloud with a client-server arrangement, so we know the universe of possible beams," says Deutsch. "We know from microsecond to microsecond which beam is being used to form the link, so we can very discretely manage the spatial aspect of the spectrum."
This electronically fast beam-management capability, together with the fact the beams from Pivotal's antennas are very tight and can be redirected almost instantly, will make ATG service much more "spectrally efficient" than any other IFC solutions, insists Deutsch. This means that, for any given slice of the radio-frequency spectrum and for any given broadband bandwidth, Pivotal's service will transmit far more bits than will any other satcom or ATG system, he says.
In comparison with satcom systems, the HBF-based ATG technology – as with any other air-to-ground system – takes much less time for any given signal to travel between the antenna and the aircraft, and vice versa.
While Black acknowledges there are some oceanic areas that no air-to-ground, radio access network (RAN) system can reach, "There is a surprisingly little amount of the Earth that they don't cover," he suggests. (Could ships or oceanic buoys being considered down the road?) Overall, the upside for any customer using the Pivotal-Airspan system will be that "we are going to crush any satellite system from a cost, size and weight perspective".
In a follow-up exchange with Pivotal, it was impressed upon RGN that Black is referring to phased arrays from a C-SWaP perspective, not the satellite industry. Phased array antenna makers supporting satellite solutions include Phasor.
Kymeta also supports satellite connectivity solutions, though as readers are aware, it is not focused on phased array. Kymeta's first products, software-enabled metamaterials-based electronic beamforming antennas and terminals for satellite communications, will keep boats, planes, cars, and more connected.
Meanwhile, the Pivotal-Airspan partnership is seeking largely to be the hardware provider for its HBF-based ATG, both for the terrestrial hardware and the antenna and the receiver on the aircraft, but Deutsch says the partnership is very much capable of providing turnkey solutions. Pivotal does not intend to be the STC holder for any ATG applications: Pivotal says its customers want to hold the STCs. This strongly suggests that Pivotal is willing to work with and support service providers that want to establish ATG networks in their respective countries or regions.
Formally created in 2016, Pivotal is about to close on its first round of independent investment funding, according to Deutsch, who adds that Pivotal is also gearing up to unveil an agreement with a major public cellular company to provide "a global footprint of clean, hygienic [i.e., clutter-free] global [RF] spectrum" for use by its planned ATG and terrestrial wireless applications.
Two other significant developments are in store within the next few months, says Deutsch. One will be the announcement of a second major ATG IFC customer, which will involve a large terrestrial cellular-service provider that wishes to enter the market. The second development – likely to come in the third quarter – will be the launch by Pivotal of a franchise structure under which wireless-service providers throughout the world will be able to sign up to use a branded, bundled package of turnkey hardware, clean RF spectrum and beam-management services for 5G wireless terrestrial and ATG RAN applications. The franchise model Pivotal is planning will be rather like the Cellular One cellular-franchise model developed in the USA for independent operators in the mid-1990s, says Deutsch.
Related Articles: