Acknowledging that passengers expect to be connected in-flight and appreciating that the carrier is behind the eight-ball on this one, Air France is bumping up the timeline for equipping its long-haul fleet with Gogo 2Ku, and gearing up to issue an RFP for connectivity on its medium-haul fleet, company executives told RGN last week.
"We have a calendar to deploy Gogo connectivity on the 777s and the A330s and we are actually tuning the calendar to accelerate it," revealed newly appointed EVP of customer, Anne Rigail, without detailing the timeline. Both firms previously said the first aircraft would be in service at the end of 2017, with the bulk of installs taking place during 2018-2019.
Air France offers Panasonic Ku connectivity on its Boeing 787-9 twinjet, which is flying between Paris and Cairo. On 19 April, it took delivery of its second 787-9 (pictured at top), also line-fitted with Panasonic Ku, and this will begin plying the Paris-Montreal route in May.
Passenger take-up on the first 787 has been "slow of course because only the few passengers [have] connected; it's difficult to say because we are operating on a very short route… We'll have a better idea later" when more 787s are in service, Nicolas Bertrand, VP Air France Fleet Management, told RGN during the delivery flight.
Your author's experience with Panasonic Ku on the 787 flight from Boeing South Carolina to Paris was fair. After some initial difficulties in connecting, I quickly ate up the 120 MB of data allotted to each guest, and sought two more vouchers to remain connected for the duration of the flight. Panasonic's branding on the portal was front and center.
Though Air France says it has a good relationship with Panasonic – which also supplies embedded IFE to the carrier – it selected Gogo 2Ku for the 777s and A330s due "to many factors such as pricing", explained Bertrand.
Did the lower profile antenna factor into Air France's decision, RGN asked? It was "one of them" but not the highest, he said, citing cost for a second time.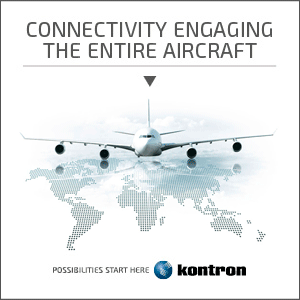 The carrier knows the pressure is on for it to equip its long-haul fleet, with Bertrand calling inflight connectivity "very important". As for the medium-haul fleet, Air France is still studying "all options", he said.
To that end, revealed Rigail a day later in Paris, "we are launching an RFP for the medium-haul connectivity because we don't have any seatback IFE on the medium haul. We have quite long routes, such as Moscow and Tel Aviv on the A320 and so of course the wireless server will be a way to give entertainment."
Offering streaming entertainment with the connectivity is also in the cards. Air France' Press application for iOS and Android devices – which lets passengers download magazines, newspapers and podcasts pre-flight – is helping the carrier bridge the gap until the medium-haul fleet is fitted with connectivity, and could later be provided as inflight content.
But offering a proper Air France-branded portal, with the ability for passengers to access a live link, will be key to enhancing the experience going forward, said Rigail.
Of course, it will seem obvious to you, but … for short connections to give information, to give the ability for a passenger to rebook himself, even if he hasn't bought the connectivity so on the portal you will have [a] free offer of services to be able to handle your travel. That's our goal.

We want our own portal so that it is personalized so that we can recognize you, and we can offer you services that are linked to what we know about [you]. So our goal is really to have our own portal to have personalized service. And of course to have proposals for your destinations – hotels, cars, this is obvious, but also other maybe entitlement at [your] destination so we are currently developing it. But it won't be prepared for this year but for 2018.
Though all of Air France's flight crew already carry iPads, the carrier is in the process of distributing tablets to cabin crew and gate agents.
"At the time we only have pursers and chief pursers equipped. But by the end of the year, and it's beginning now, everyone will have it either on inflight crew or on the ground [agents]," said Rigail. And in a bid to improve operations via connectivity, she added, the carrier ultimately plans "to have IFE connected with the portal of the IFC and to the crew tablets".
Air France covered RGN's flights for this trip.
Related Articles: