SEKISUI Polymer Innovations, LLC, an established thermoplastics manufacturer, has appointed Sharon Haverlak as its new Vice President of People and Culture.
In this new role, Sharon is responsible for SEKISUI SPI's Human Resources strategies, serving on the executive leadership team, and advising and counseling all people on culture-related decisions. Sharon is tasked with reinforcing SPI's company culture, cultivating professional opportunities for employees, and helping everyone contribute positively to their greater communities.
When asked why the role VP of People and Culture was created, Ronn Cort, COO & President replied, "We chose this unique title because our employees are individuals on lifelong journeys of continuous improvement, not assets or resources. We created this position as part of our commitment to providing resources to guide our people on their journey while helping us improve and foster our culture of collaboration, caring, and teamwork."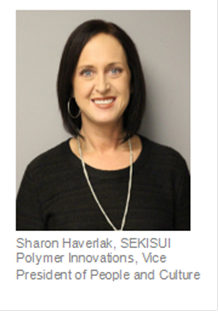 He continued, "We have many opportunities ahead of us, including new manufacturing spaces, training initiatives, and the ongoing commitment to helping our customers and industries grow. One of Sharon's most important duties is to establish people practices that position SEKISUI SPI as a manufacturing career destination and an employer of choice in Bloomsburg, PA and Holland, MI."
Sharon brings over 20 years of Human Resources management experience in industries ranging from education to manufacturing. Most recently, she served as HR Manager for Gentex Corporation in Carbondale, PA.
Sharon is a Senior Certified Professional from the Society for Human Resources Management. She received her BA in English from the Catholic University of America and her MS degree in Human Resources Administration from the University of Scranton.
When Sharon was asked why she wants to work for SPI, she replied "I am energized to join a progressive and vibrant organization with considerable focus on employee development. It is my goal to continue the excellent work laid out before me."
About SEKISUI SPI
SEKISUI SPI is a global thermoplastics leader that is changing manufacturing for the 21st century by challenging how to think, design, and create as a master supplier. Fueled by a team of 300 dedicated professionals, SEKISUI SPI serves customers in 33 countries across a diverse spectrum of major industries including aviation, transportation, medical, agriculture and heavy equipment, and industrial equipment housings. With the collective power of KYDEX® and ALLEN®  thermoplastics product brands, we provide a unique understanding that is built on deeper perspectives resulting in better solutions for all. SEKISUI SPI is celebrating the 30th anniversary of its ownership of KYDEX® Thermoplastics.
SEKISUI SPI is part of SEKISUI Chemical Company http://www.sekisuichemical.com/, an $11 billion global leader in plastics and chemicals. For more information about SEKISUI SPI, please visit: http://sekisui-spi.com/
Featured image credited to istock.com/JakeOlimb