Despite opting to pair Panasonic's eX2 IFE system with Gogo's 2Ku cabin-connectivity service for its Airbus A340-600 and A330-300 fleets, IAG subsidiary Iberia will take the combination of Panasonic's eX3 IFE and eXConnect Ku connectivity linefit for the 16 new A350-900s it is due to begin receiving from the second quarter of 2018, Iberia's chief commercial officer, Marco Sansavini, confirmed to RGN in a wide-ranging interview.
The IFEC selection for the A350-900s is the same as that chosen for Iberia's order for 13 A330-200s, of which the Spanish carrier is still in the process of taking delivery. IFE and C are coupled up on the A350 meaning that if you tick the box for Panasonic IFE, and want connectivity, you either take Panasonic connectivity linefit or push the aircraft into post-delivery retrofit modification. In picking the Panasonic eX3/Ku IFEC pairing on the  A350-900s, Iberia avoids a costly retrofit of Gogo 2Ku or indeed any other Internet service for the new twinjets.
Meanwhile, Iberia is installing Gogo 2Ku in 13 of its 17 A340-600s and all eight of its A330-300s as part of a larger interior retrofit program for those aircraft which will see them outfitted for the first time with premium economy seats. Gogo 2Ku will replace OnAir's L-band-supported connectivity, which the 21 aircraft now have installed.
"Iberia has been one of the early adopters of Wi-Fi on long-haul – it has Wi-Fi on all of its long-haul fleet. Being one of the first, we used one of the first [services available] – OnAir L-band," says Sansavini. "That helped us establish service, but it has some limitations in terms of speed."
The selection of Gogo 2Ku to replace the existing OnAir L-band service in the cabin was made because the airline finds 2Ku "even faster" than Panasonic's offering in terms of bandwidth, according to Sansavini. [Editor's note: IAG brokered the 2Ku arrangement for BA, Iberia and Aer Lingus; the announcement mentioned only "up to 15" Iberia aircraft at the time.]
By offering the Panasonic eX3-Ku pairing on its A330-200s and A350-900s, and Panasonic eX2 plus Gogo 2Ku on its A340-600s and A330-300s, "we will have really state-of-the-art [IFEC] on our long-haul fleet," adds Sansavini.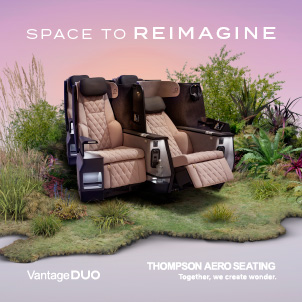 Because Iberia has only recently begun the task of retrofitting the interiors of its A340-600s and A330-300s, the airline hasn't yet settled on a pricing structure for its future Gogo 2Ku service. However, Iberia does have pricing structures for its existing OnAir L-band service (soon to be replaced) and its Panasonic Ku service, at present available only on the carrier's A330-200s.
The limited bandwidth provided by the L-band service persuaded Iberia to price its OnAir long-haul Wi-Fi service based on the amount of data received and transmitted. Business-class passengers receive a free voucher for the first 4Mb they use, but economy-class passengers pay for all usage. Iberia sells OnAir-service vouchers for 10Mb for US$9.95, 25Mb for $19.95, 50Mb for $39.95 and 100Mb for $59.95.
However, for the higher-bandwidth Panasonic Ku service, Iberia has based its pricing structure (priced in Euros, not dollars) on duration of usage, not the amount of data transferred. Business Class passengers receive a free voucher for 30 minutes of usage, but again economy-class passengers must pay for all usage (as will Iberia's A350-900 premium-economy passengers). One hour of usage costs €8.99, while whole-flight usage is priced at €29.99.
Iberia also tells RGN that, before the end of 2017, the airline will start installing terminals for the Inmarsat-Deutsche Telekom hybrid satcom/air-ground European Aviation Network service on its short/medium-haul A320-family fleet. EAN is expected to offer 4G LTE connectivity.
The carrier uses Inmarsat's L-band aeronautical services for cockpit communications. It is conceivable that Iberia will direct SwiftBroadband channels previously used for cabin connectivity to the cockpit, but this has not been confirmed.
Related Articles: