Does Inmarsat's secure, IP connectivity for the cockpit, SwiftBroadband-Safety (SB-S), perform significantly better than current generation analog-based data networks? Yes, without a doubt, according to Cobham Satcom, which modified current generation satcom hardware to support a trial of the service on Hawaiian Airlines' Boeing 767-300 flights over the Pacific, and is expected to do the same this year with an as yet undisclosed carrier on flights over the North Atlantic.
The system – which is transmitting prioritized voice and ACARS/Future Air Navigation Systems data over SwiftBroadband – "gave performance improvements of multiples so basically down from 240 to 90 to somewhere between 7 and 13 seconds" on Hawaiian, reveals Cobham Satcom marketing director Willem Kasselman in reference to the Required Communication Performance (RCP) metric of 240, which requires a 99.9% probability the communications transaction will complete in less than 240 seconds.
While the FAA's Performance-based Operations Aviation Rulemaking Committee (PARC) doesn't express a view about certification, it does express a view on whether a solution meets the requirements for the transfer of ACARS messages. Typically the PARC wants to see 50,000 "events", essentially messages, before it will weigh in on whether a service is meeting spec, notes Kasselman. "So that process is underway. The performance of the system at this stage is fantastically good; everyone is cheerful and chirpy."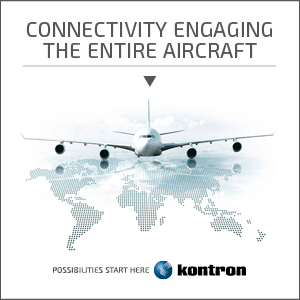 But because the network is currently supported by three L-band satellites, and using different land earth stations and other infrastructure, the PARC would like to see SB-S tested over more than one territory (beyond Hawaiian's Pacific flights), according to Kasselman. As such, "We with Inmarsat have approached an airline, which I cannot disclose today – they fly across the Atlantic to Europe – and as soon as they have joined the fray, and have accumulated a sufficient number of statistical events, then the PARC will make a decision on whether they can endorse and declare the service as sufficient. We expect to start installing on this new airline in May, [and] start flying hopefully early June." RGN previously reported that FedEx would trial the service; while it is still hoped that the cargo carrier will participate, Kasselman says FedEx is not the undisclosed carrier.
"We have permission to create messages, empty messages, to confirm the transmit time of the network so the expectation is that if all parties agree, and performance remains as good as over the Pacific," the PARC will announce the findings and endorse the network during its October/November meeting, he says. This is later than had been hoped by all parties, including Inmarsat, which in the fall of 2016 said it anticipated a PARC recommendation before the second quarter of 2017.
The original target to receive a PARC endorsement was "essentially now", notes Kasselman. "As a community, we are going to see it slip by approximately six to eight months."
This delay will give industry time to build the terminals. Because while Cobham modified its current generation AVIATOR satcom hardware for the Hawaiian trial, the next-gen AVIATOR terminals to support SB-S commercially are still under development.
"The terminals to be supported by the network don't exist today," explains the Cobham executive. "Cobham has its own work, and I'm sure Honeywell and Thales have theirs and are busy with developments, but nobody has suggested delivering terminals before that, so [the delay in a PARC recommendation] won't pose a problem to the industry. I'm not aware of anybody's terminals being ready this year. At this stage, we will complete our development in the latter part of this year, in September or October. Then we will qualify and we expect to complete that in February 2018 and then, obviously we will submit to the FAA and our expectation is our TSO will be approved by May 2018. So the commercial rollout will come after that."
Cobham is coming to the market with its SB-S terminal later than previously expected, and with good reason. Says Kasselman:
We projected those terminals at least a year and a half earlier, but we won the contract from Airbus for development of SB-S systems for the cockpit so Airbus' security requirements slapped us with tremendous security architecture requirements, requiring virtually a redesign of the operational system on these units. But we've accepted that because the premise is that these units have to be able to withstand all anticipated hacking events for the next 20 years. So there have been lots of workshops to design or develop the threat scenarios for the next 20 years and the long and the short of it is there are two main requirements – it means that every single function has to be segregated from every other function, and every line has to be protected by two security gates. So it's tough enough to break in, but if someone manages to break into a function, it will not compromise any of the other functions in the system, and obviously once known of a break, obviously we can look at fixing it. That has essentially cost Cobham the best part of 18 months and we're pretty sure that will be the same case for any other development.
Cobham is hopeful of securing at least five years of exclusivity with Airbus. But it acknowledges there will be others supplying to Airbus at some point, as the industry eschews monopolies. Even so, the Airbus contract "to us is worth gold because it's essentially an endorsement of the product. When I go to an airline now they don't ask whether it will work; Airbus has suggested it will work."
The British company's work with Boeing, however, is not as advanced. "Boeing indicated they want our product but the redesign [for Airbus] put such pressure on the schedule for 777X [terminal development] that we had to agree to part ways on that one," according to Kasselman. He explains that the work would have entailed offering both Iridium and SB-S on the 777X. "They want two satcom systems on the aircraft that are not similar so that they have redundancy if one satcom system fails. And the reason they want that is the polar coverage Iridium [provides]. And they expect to get permission from ICAO to reduce the number of [HF] radios" which are notoriously slow, but work as a back-up. This would drive weight savings as well.
Cobham has not yet begun work on an Iridium radio for aero, though it received an invitation to bid when Iridium launched RFPs for product manufacturers for NEXT [-powered Certus], and was selected as one of the four, notes Kasselman. A maritime terminal from Cobham will roll out in the next few months, but the firm "decided not to embark too early on an air terminal for two reasons. The software radio module is still in a slight state of flux [and they're] still making changes to it so if you're too early, you might have to make redesigns. We have already paid the price of being early on SB-S, so we don't want to do that with Iridium," he says.
Historically, Iridium has produced transceivers for its Value Add Manufacturer (VAM) partners to integrate into their final configurations for each specific market, confirms Iridium director of product management Brian Pemberton. "Iridium has developed a fully functional transceiver that we have made available to the Iridium Certus manufacturing partners. However, due to our commitment to ensuring a first-class level of support and efficiency for our partners, Iridium is also evaluating possible alternative arrangements for technology transfer, if needed."
Now that the Iridium NEXT satellites are launching, and the network is starting to crystallize, adds Coham's Kasselman, "it is now about the time to start" development of the terminals.
Meanwhile, even though Cobham could not meet Boeing's requirement on the 777X, there "was an amicable parting and it does not mean we will not play", he adds. "It is our intention that our Iridium radio will basically be a replica of our SwiftBroadband radio except on Iridium [NEXT]. So the same terminal and same interfaces make it quite attractive, and the radio portion inside – one will be Iridium and the other SwiftBroadband." Though difficult to commit to a date, Cobham expects to offer this dual satcom solution in the 2020 timeframe "and we surely will go back to Boeing and see if we can at least secure a supplier position on the 777X."
He believes Airbus is likely to ultimately embark on a dual satcom solution for its widebodies. "This is purely our assessment", stresses Kasselman, but it's a feature that promises benefits that outweigh any of the downsides of installing. Iridium agrees, with Pemberton telling RGN:
Airbus and Boeing have both indicated that they see a future where dual-similar SATCOM or dual-dissimilar SATCOM systems will be equipped on aircraft. This is of course great news for SATCOM providers, and it is showing the overall movement away from HF, which has also been championed by the airframe manufacturers.
Meanwhile, Cobham is eyeing other work with Boeing in the nearer term, but Kasselman is not at liberty to discuss the subject at this time.
Hawaiian, Cobham and Inmarsat discuss the carrier's inflight evaluation of SB-S in the video below.
Related Articles: