Having underperformed significantly in failing to reach the bottom end of the range of 2016 aerospace revenues it forecast in the sales guidance it issued early last year, Astronics Corporation has learned an important lesson and has made what CEO Peter Gundermann calls "higher quality" aerospace sales-growth projections for 2017.
Answering analysts' questions during Astronics' 2016 fourth-quarter and full-year results conference call on 17 February, Gundermann admitted that in missing by $60 million the $594 million midpoint aerospace-sales guidance it had originally given for the year, the company had failed to foresee two important factors which slowed its 2016 aerospace business considerably.
"We certainly did not expect the drop-off in some of the weak parts of our business that we got … that's a big part of it," said Gundermann, referring to the antenna systems and VVIP aircraft–installation aspects of its avionics business, both of which saw lower sales in 2016 than in 2015. Astronics' AeroSat unit produces the Ku-band antenna used by Gogo for its traditional Ku offering installed on Delta and JAL aircraft, but Gogo's next-gen 2Ku antenna, made by ThinKom, is now the firm's flagship Ku satellite connectivity solution.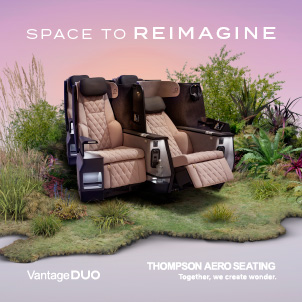 Another factor for Astronics, which enjoys a dominant position in the in-seat power market, was "lower growth rates in demand on the parts of some of our customers" which strongly affected growth in larger areas of Astronics' aerospace business – particularly the Electrical Power & Motion segment, which provides the in-seat electrical power outlets and seat-motion systems, and accounts for over half its overall aerospace-industry revenues.
The 3.1 percent growth rate Astronics' Electrical Power & Motion business achieved in 2016 was "well off of where we've been [in the past] and it's a big number," said Gundermann. "So you take that [slowdown in Astronics' avionics business) and you calculate what could have been, and usually has been, 12-15 percent growth rates [in its Electrical Power & Motion business] and you pretty quickly make up that [$60 million] delta on the aerospace side."
For 2017, Astronics' initial guidance is that it will achieve aerospace sales in the $560-$600 million range, the midpoint being $580 million. "I'd like to think we're one year older and one year smarter," said Gundermann. "I guess we're a little more cautious" in issuing the guidance for 2017 sales growth.
"Even though we're seeming to sense strong demand and strong enthusiasm on the part of our customers, we're a little reluctant to bake those things into the numbers, into our projections. Last year we thought we could claw our way out of our antenna situation a little bit more quickly than we have … so we've got those dialed in at a little more conservative rate," added Gundermann. "I'd like to think there's a higher quality to our projected growth rate this year than there was last year."
However, Gundermann noted that, depending on how quickly its new-product programs mature in terms of manufacturing, certification and sales, Astronics' aerospace-industry sales could begin to see strong growth later this year.
"We feel like we're on a good track and we feel our customers are pretty enthusiastic," he said. "It's a question of when those programs are going to hit the ramp stage. We're trying to get a good weighting in 2017, but it'll be the second half of 2017 at this point … From the best we can tell, we've got a good shot at getting a meaningful portion [of new-program business] in 2017, and that's what we're shooting for."
Asked for his estimate of total retrofit market-penetration today for in-seat power outlets in widebodies and narrowbodies, Gundermann responded, "It probably hasn't changed much over the last six months or a year. Widebodies are a more mature market on a per-seat basis, in the 50-60 percent range of available seats."
However, for widebodies, "we discount some seats," those on older aircraft which are nearing retirement and receive "less investment and less updating", he said. "The narrowbody side is much newer, much younger", and there is "much lower penetration – probably we'd say somewhere shy of 20 percent on a per-seat basis."
Asked for a breakdown of Astronics' in-seat power business between the retrofit and new-build markets, Gundermann said the company's "working assumption" is "roughly 50-50", but in any given period the balance can swing to "60-40" either way. He provided the estimate with the "caveat" that after Astronics ships its products to major customers, "for instance our IFE customers, we don't know where they're sending it – to Seattle [for example] for a new-build linefit or … Singapore, China, wherever," for retrofit.
Related Articles: