Expecting to have its Gogo Biz 4G air-to-ground (ATG) connectivity solution operational during the first half of this year, Gogo has added Western Aircraft as its latest authorized dealer. Boise, Idaho-based Western is also working to obtain supplemental type certification (STC) to support installations of Gogo Biz 4G hardware on Dassault Falcon 2000 series jets.
Through mostly software modifications to its network of more than 250 ATG towers, Gogo will enable high-speed 4G connectivity across the continental US "and large portions of Canada and Alaska" for the business aviation community, notes Gogo Business Aviation director of public relations and communications Dave Mellin.
Western joins Duncan Aviation and Constant Aviation among the Gogo Biz 4G dealers announced thus far. Duncan is developing STCs for the Falcon 900, Global Express, Challenger 600 series and Gulfstream 200, while Constant is working on the Embraer 145, Legacy 600/650 and Phenom 300, and Gulfstream GV. Mellin says: "Both Duncan and Constant will participate as partners for hardware sales and installations on other business aircraft."
For Western, which is developing a 4G 'Wi-Fi Only' STC for the Falcon 2000 series, the type was chosen "because of the relatively large number of aircraft in service. We've seen extensive interest from Falcon operators and we've performed the first ever prewires on a Falcon 2000EX and Falcon 7X. There are currently no plans for additional STCs," says Kasey Baker, director of marketing & communications at Western's parent, Greenwich AeroGroup.
Installation of the lightweight line replaceable unit (LRU) and antennas will be by FAA DER Approval, explains Baker. "Installation will be via standard FAA-approved installation practices. The 4G LRU will typically be located below the cabin floor along with existing avionics LRUs. Two 4G antennas will be mounted on the lower fuselage faring using engineered shims. A typical installation takes 20 working days.
"Crew and passengers will communicate with the 4G LRU using compatible iOS and Android devices via Wi-Fi, making calls and receiving data. Calls can also be made using optional Gogo One Handsets."
Once the technology is installed and the service running, the real test for any connectivity system is its reliability and simplicity in use, backed up by efficient, knowledgeable customer care provision.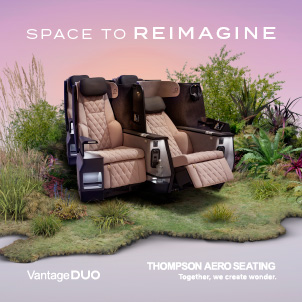 As an authorized Gogo MRO provider and dealer, Baker says: "In partnership with Gogo, Western Aircraft receives installation training and troubleshooting classes for its avionics technicians. Gogo also provides sales support. Western Aircraft provides all after-sales care in the event of failure, queries or upgrades, working with Gogo to maintain customer satisfaction."
And will customers see real benefits from Biz 4G? Naturally Mellin insists that they will and explains: "The system is not only about increased speed, but also increased broadband; both are important, although speeds will be markedly faster. It'll provide a reliable 4G experience with superior connectivity over existing technologies.
"Biz 4G will enable capabilities including streaming video – for live TV – and audio, email with attachments, faster web browsing and face-to-face conversations. It also integrates Gogo Vision [wireless IFE], providing the latest movies, TV, flight tracker, weather reports and other features.
"Gogo Text & Talk is included, allowing passengers to call and text with their personal smart phones and numbers."
Complex safety functions, including data delivery into the cockpit and information download, are also enabled. Mellin notes that Gogo's deal with The Weather Company, using the latter's Turbulence Auto PIREP System to take turbulence data off aircraft and combine it with forecaster created alerts to deliver real time weather and turbulence reports to the cockpit – Biz 4G provides all the bandwidth operators need to use the pioneering service.
Related Articles: