When the world's first 'carbon fibre' airliner made the transition from commercial aircraft to corporate jet, completion centres initially struggled with the structural modifications required for bespoke interiors.
Drilling holes for attachment points in an aluminium alloy fuselage is straightforward because metal has the same strength in all directions and is well understood. But choosing attachment points and drilling holes in a carbon fibre airframe such as the Boeing 787 is more complex, because the structures typically comprise many different layers, each with fibres orientated in different directions.
Now Airbus Corporate Jets (ACJ) has developed a solution, dubbed Easyfit, for its first corporate aircraft with a carbon fibre fuselage, the ACJ350 XWB.
"Easyfit comprises the pre-installation of a couple of hundred attachment points, before the aircraft is delivered to cabin outfitters, greatly simplifying their work," says David Velupillai, 
marketing director at Airbus Corporate Jet Centre.
"ACJ did a lot of preparatory work with outfitters experienced in VIP widebodies, ensuring that all will go smoothly when the first ACJ350 is delivered for completion. The aircraft is available for green delivery from 2019."
The corporate version of the popular A350 commercial airliner, the ACJ350 will be capable of 22-hour missions with 25 passengers and luggage aboard, and Velupillai says the latest technologies will ensure they arrive entertained, refreshed and rested. "Customers typically want a VIP widebody because they need to carry more people than a smaller private jet and want 'non-stop to the world' range. Most are governments that need to transport large delegations, including senior advisors, support staff, guests and journalists, as well as the head of state," he says.
"ACJ layouts typically include an office/bedroom for the head of state, a conference/dining area, first and business-class seating for senior advisors and guests, and economy seating for support staff and journalists. In the Middle East – the largest market for VIP widebodies – aircraft often include a Majlis, the large meeting area found in homes in the region.
"Other features typically include large, high-definition TV screens, connectivity via the latest Ka-band technology and more temperature-controlled zones than in competing aircraft."
Where speed has the priority over range and space, Airbus has a finger in a very different pie, with responsibility for the design of airframe structures, fly-by-wire, fuel system and landing gear on Aerion's AS2 supersonic business jet (pictured at top). Its futuristic design includes a trijet powerplant, but how much will the real aircraft resemble the artists' impressions?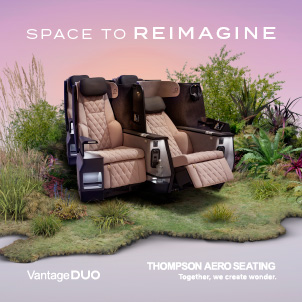 "The 'artist impressions' are derived from CAD geometry that reflects actual engineering," says Aerion VP of marketing and communications Jeff Miller. "The futuristic look is the result of necessary aerodynamic shaping to minimize wave drag that occurs at supersonic speeds. We expect a trijet configuration, but the final design will not close until after engine selection."
The aircraft will be capable of Mach 1.2 'Boomless Cruise' over land, accelerating to Mach 1.5 over water, but considerable work lays ahead before supersonic flight over land becomes routine.
Miller notes: "Our expectation is that the AS2 will operate around .95 Mach over land and up to 1.5 over water. Post certification we'll work with authorities to approve Boomless Cruise over land."
He expects Aerion to have a global support network in place at certification, "with standards reflective of the industry's top-of-the-line product. The aircraft's systems and structures will not differ significantly from today's business aviation and airliner products, while cabin design and systems will reflect the state-of-the-art at the time of certification." That milestone, and service entry, are anticipated for 2024.
Related Articles: